Baylor Bears
Scott Drew: 'We Were All Embarrassed' By Iowa State Loss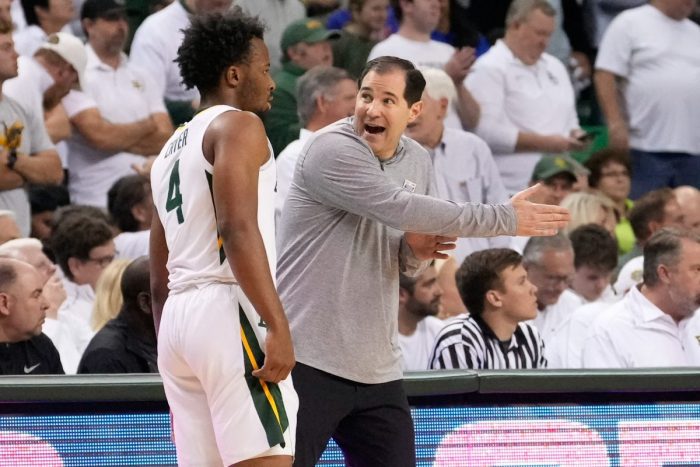 WACO, Texas — Baylor head coach Scott Drew was looking for any silver lining he could after his Bears lost to the Iowa State Cyclones on Saturday, 73-58, at the Ferrell Center.
He came up with "no one got hurt."
That's how underwhelmed he was by his team's performance on Saturday, the last game before the Big 12 Tournament next week in Kansas City.
"I know we were all embarrassed," Drew said.
The Bears (22-9, 11-7 in Big 12) fell behind by 11 points by halftime because their shots just didn't fall in the first half. Baylor shot less than 30 percent from the floor as Iowa State ran different defenses at the Bears.
Baylor guard Adam Flagler said the Cyclones were picking up screens well throughout the game and pushing the Bears further out from their comfort area.
But, in the second half, the Bears actually cut the lead to four points on a 10-0 run that went into a TV time out.
After that, the Cyclones ran away with the game, and Drew struggled a bit to explain why. It may have had more to do with Iowa State at that point than Baylor, as the Bears' shooting touch struggled after that run.
"I know what happened on that 10-0 run, but I don't know what happened after that," Drew said. "Give them credit — they (Iowa State) answered, and for most of the year we've had an answer to that."
Baylor did get a bit of good news on Saturday. Guard Keyonte George returned to the lineup after a one-game absence due to an injury. He scored seven points in 26 minutes.
Flagler led the Bears with 20 points, including five 3-pointers, while LJ Cryer added 13 points. But they were the only Bears in double figures. Dale Bonner had eight first-half points but didn't score after that.
Baylor also shot an uncharacteristic 56 percent from the free-throw line.
Drew did manage to find one additional silver lining after the loss, one that will make the Bears eager to get things right for Kansas City.
"I think the good thing about playing like this is you should be really motivated to play better the next game," Drew said.
You can find Matthew Postins on Twitter @PostinsPostcard