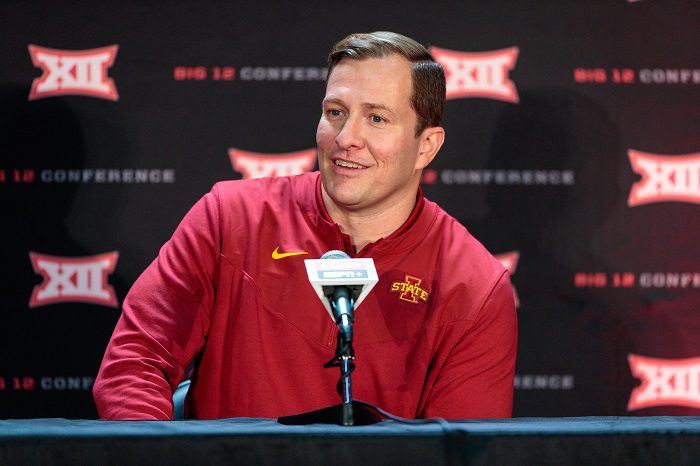 More than a seven-point underdog, T.J. Otzelberger's Iowa State Cyclones upset the seventh-ranked Baylor Bears 73-58 on the road, and he didn't stop short of making that his only statement Saturday afternoon. Otzelberger opened up just about how he really feels about the Big 12 Conference and what, perhaps, makes this victory seen more commonplace than it otherwise would in 2023.
"I think our league, you could take everybody," Otzelberger said. "I know that's not what the metrics say and I know that's not where things stand right now, but we've been on the court with the nine other teams and we know what they can be on their best night. And that's a team that can go and win not only a game but win two games.
"So, however it all shakes out, there's people that are a lot smarter than me that do the math and the metrics and the numbers and all that stuff. But what I can tell you is this is the best league in the country, it's an honor to coach in it, it's an honor for our young men to play in it and we're excited to go embrace this tournament."
To his point, the last place team in the Big 12, Oklahoma, handed 22nd-ranked TCU its backside in a 64-50 Saturday defeat as well. That's after the Horned Frogs smoked the Sooners 79-52 earlier this season in Fort Worth.
There truly is no off night in this league. And if you don't bring it, the cellar dwellers are there to bite.
Currently, the Big 12 is projected to send seven teams to the NCAA Tournament. That includes West Virginia, who likely moved itself off the bubble with a huge 89-81 win over Kansas State, who is also safe to make the field. Others include Iowa State, that Baylor team Otzelberger's crew whipped, Kansas, TCU and Texas.
Meanwhile, the Big 12 Tournament convenes next Wednesday in Kansas City. If the regular season is any indication, it should be quite the show.