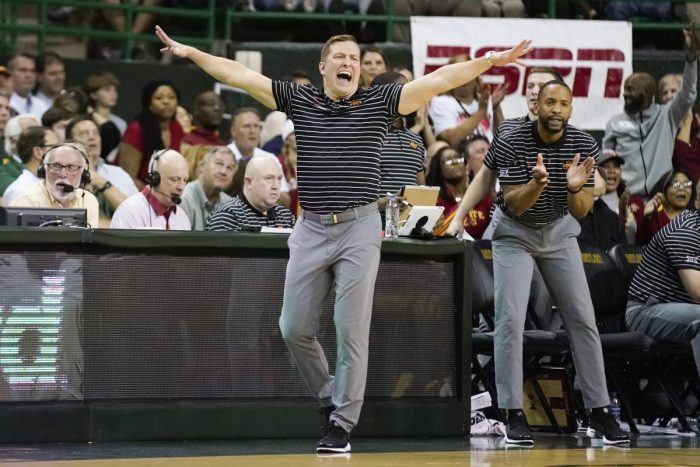 The Big 12 wrapped up men's conference play on Saturday with five games. Here are three thoughts on the final set of game in the 2022-23 regular season.
Desperate Teams, Desperate Measures
Iowa State was a desperate team, having lost four straight games and sitting on the fence as a team that could play on Wednesday or Thursday at the Big 12 Tournament, depending upon how things went on Saturday.
The Cyclones did control their own destiny, though, and by beating Baylor, 73-58, they avoided any chance that they would play on Wednesday night.
In fact, Iowa State probably played its best game overall in a few weeks, despite the tumult with the dismissal of Caleb Grill and the starting lineup change to Tre King.
Everything seemed to work for Iowa State, and the Cyclones needed that momentum going into Kansas City.
Also desperate to win was West Virginia. While the Mountaineers couldn't move into the No. 6 spot after Iowa State's win, the Mountaineers could move into the No. 7 spot if they beat Kansas State and Oklahoma State fell to Texas Tech. WVU played early in the day while OSU played the season's final game in Lubbock.
Well, West Virginia did its part. Erik Stevenson scored 27 points, Kedrian Johnson scored 23 points and Emmitt Matthews Jr. scored 20 points as the Mountaineers won, 89-81.
So, all WVU needed at that point to get the No. 7 seed was for Oklahoma State to lose.
Well, the Texas Tech Red Raiders couldn't do the Mountaineers a solid, though it was close. But Oklahoma State pulled out the 71-68 win.
It was just about the only thing in the Big 12 that went to form on Saturday.
Texas With Something to Play For
By the time the Texas Longhorns started their game with the Kansas Jayhawks on Saturday, they knew that both Baylor and Kansas State had lost games. Texas' destiny for the No. 2 seed in the Big 12 Tournament was in its hands.
And Texas delivered. The Longhorns won, 75-59, getting a much-needed break down the stretch. Now, the Longhorns will play the winner of Game 2 of the Big 12 Tournament on Thursday evening, a decided advantage.
Sir'Jabari Rice led Texas off the bench with 23 points, while Tyrese Hunter had 20 points. Marcus Carr only had six points, but he also had six assists.
Kansas' Jalen Wilson was the only Jayhawk in double figures with 23 points.
Texas has had Kansas' number at home of late, and it certainly came in handy. Had Texas lost, the Longhorns would have been a No. 3 seed. Not much worse, but in what could be the most difficult Big 12 Tournament in memory, one will take any edge it can get, real or perceived.
Oklahoma Won't Die
Give it up to the Sooners. They hosted TCU and just lit into the Horned Frogs, 74-60. Tanner Groves had a double-double (23 points, 10 rebounds) on senior day and Grant Sherfield added 20 points. Just a great performance at home for the Sooners.
What does it mean? Well, the Sooners are now one game under .500. That still doesn't make them an NIT team right now, much less an NCAA Tournament team. But, what if the Sooners can win their Wednesday night game and then exact an upset on Thursday, most likely against Kansas?
Well … the Sooners would be one game over-.500 and perhaps the discussion is about the NCAA Tournament and not the NIT.
That's how incredible this Big 12 Tournament could be. It could be legen — Wait for IT — dary.
You can find Matthew Postins on Twitter @PostinsPostcard