Big 12 Basketball
West Virginia Likely Secures NCAA Tournament Berth with Win over Kansas State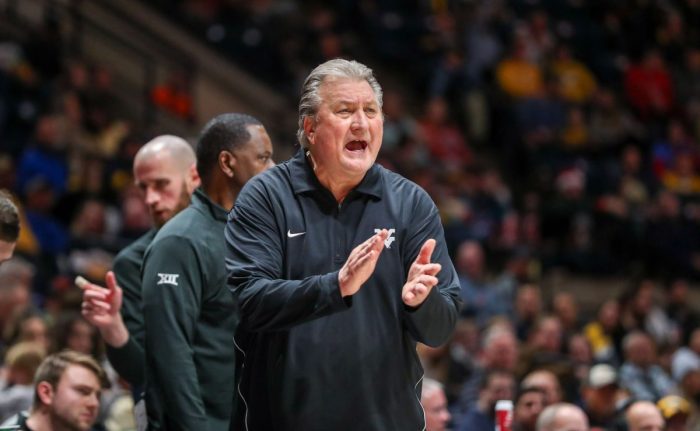 The West Virginia Mountaineers were already in good position to make the NCAA Tournament, but they almost certainly sealed the deal on that Saturday afternoon in Morgantown. Listed as one of the last four byes entering the weekend, they took down the 11th-ranked Kansas State Wildcats 89-81.
After starting league play 0-5, the Mountaineers went 7-6 to close out conference play. That includes a final week sweep of ranked opponents—they took down the Iowa State Cyclones on Big Monday—which has them at 18-13 entering next week's Big 12 Tournament.
In this high-scoring affair, West Virginia obviously had to battle. It would have to overcome a double-digit deficit in the first half. It did, using a 15-3 run to go from down 28-18 to up 33-31.
Things stayed close the remainder of the first half. West Virginia held a 39-37 lead at intermission.
From there, West Virginia never trailed again. Early in the second half, a pair of free throws by guard Kedrian Johnson staked the home team to a seven-point lead at 48-41.
It led by that same amount on guard Erik Stevenson's 3-pointer with 10:20 to play. His triple inside nine minutes to play put the Mountaineers up by double digits for the first time.
That advantage would swell to as much as 15 down the stretch. And they cruised to the finish line.
Stevenson exploded and led all scorers with 27 points on 11-of-22 shooting. Johnson and forward Emmitt Matthews Jr. both also crossed the 20-point threshold, with 23 and 20, respectively. Forward Tre Mitchell, too, finished in double figures with 14.
For Kansas State, guard Markquis Newell and forward Keyontae Johnson poured in 24 points apiece. Guard Cam Carter added 13.
Now the two will get prepared for next week's Big 12 Tournament. And they're both almost certainly doing so as locks.