Baylor Bears
Postscripts: Pac-12 on the Brink, Big 12's Kansas City Play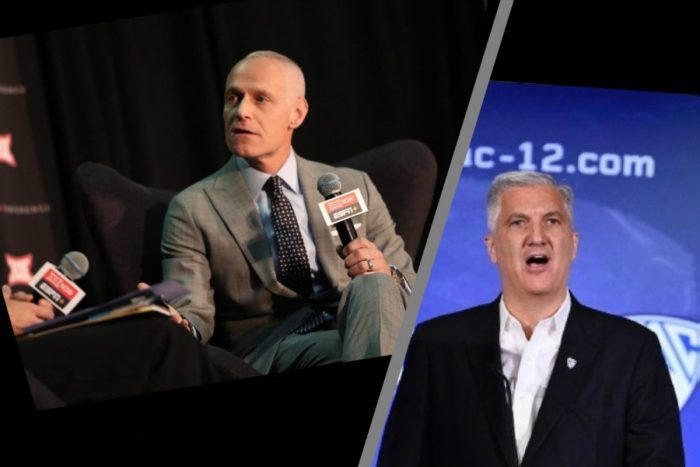 What's going on in the Big 12 and beyond? I expand and explain every Sunday in Postscripts at Heartland College Sports, your home for independent Big 12 coverage.
This week, the Big 12 is going on all-in on the experience in Kansas City, is the Pac-12 about to boil over and here's why you may hear sportswriters complain next week (if you're into that sort of thing).
The Big 12's Kansas City Play
The Big 12 has decided to go all in on making the men's and women's basketball tournaments as much of an experience as possible.
Let's start with TV. All men's and women's games will be televised, as last year. But it will have a 'Big 12 Network' type treatment. I love the idea of a dedicated studio show, along with pre-game and post-game shows, even if they are on ESPN+. I really love the idea of access to the locker rooms and in-game huddles. I'm interested to see if that yields something valuable for the viewer.
Plus, Dick Vitale will call the men's championship game. I'm not sure Vitale has ever done that. Yes, Fran Fraschilla is ESPN's voice of the conference and his expertise will be missed. But ESPN has taken care of that and will use Fraschilla, Chris Spatola and Rick Hollenberg — all of which call Big 12 games every week — as additional commentators. I'm not sure if that will be a separate broadcast or not. So the title game could get crowded.
This at least GIVES Big 12 fans who aren't in KC a reason to watch more than just the game. We'll see how that goes over.
The Big 12 will also have post-game entertainment Friday night with Fat Joe (it's a VIP thing so I'm sure the fact that I don't have my invite yet is just an oversight) and a Saturday night set in the Power and Light District with DJ Diesel (you know him better as Shaquille O'Neal — again, I'm sure I'm on the list). Jordin Sparks will sing the national anthem for the men's game.
My guess here is that the Big 12 is going for an NBA All-Star Game feel. How that goes over at a four-day conference tournament is going to be an experiment to say the least. But, at least the Big 12 is trying something different. And that seems to be commissioner Brett Yormark's drive right now — to differentiate the conference. Maybe it works, maybe it doesn't. But at least try, right?
Oh, and, yes, the league ALSO announced that it would serve dishes inspired by each of the 10 schools at the concessions at the T-Mobile Center. As a good journalist, I shall 'eat my way around the Big 12' and report back to you next week on my findings.
In the immortal words of Katniss Everdeen, "I volunteer as tribute."
I'll be there for the entire tournament. If you see me, say hello. I'll be the one with his head buried in the laptop between plays.
This Week in 'As The Pac-12 Turns'
I thought it was going to be a relatively quiet week for the league.
Up until Friday, the most interesting piece of the week was the one written by John Canzano, who writes for The Oregonian, hosts a radio show and a podcast. Last week he talked with Oregon State president Jayathi Murthy about what's up with the Pac-12. Now, Murthy said a lot of nice things about the league, but one note stuck out — the Pac-12 IS considering uneven revenue sharing for its new TV contract.
"There have been discussion about unequal shares, unequal media rights or the CFP monies," she said. "We have had those discussions. They're fair discussions to have. But nevertheless, I know that what sits underneath is a commitment to the Pac-12. We want to hang together. We find a lot of value to each other, so we work out what needs to be worked out."
That's a worrisome note for someone that has followed the Big 12 for a decade. The model doesn't work. This league used it for a while, and frankly it's still actually a thing. While the current members share the TV contract and CFP revenue equally, Texas and Oklahoma retain their third-tier media rights. The other eight teams pool their rights with ESPN. That's why the Longhorn Network exists (I, for one, cannot wait to see how the Longhorns react when their media rights are treated the same as Vanderbilt's when they get to the SEC).
There's a reason why the new TV deal with the re-made Big 12 is equal for all parties.
Then, on Friday, The Athletic came along and blew everything up.
The site published a long story, with the hook being that there was "renewed optimism" that the 'Four Corners' schools — Arizona, Arizona State, Colorado and Utah — might join the Big 12.
The Athletic laid it out, but it doesn't take a genius to figure out what's up. The Pac-12 is struggling to get a TV deal that satisfies its membership, certain schools are still angling to join the Big Ten and the league's presidents can't seem to agree on how to move forward with expansion (the single biggest thing it could do to increase its value and boost its potential for a TV deal that might come close to matching the Big 12).
I have never openly rooted for the demise of a conference and never will. But the Pac-12's survival is at stake now and I'm not sure everyone in that world gets it. While the school presidents seem to be looking for a good academic fit, the athletic directors have to be worrying about whether they can make payroll in 16 months when the Pac-12's current TV deal expires. I'm not talking about NIL. I'm talking about employees. We're getting to the point where people's jobs might be at stake, rank-and-file athletic department employees who just want to work.
That sounds alarmist. But most schools budget out at least a year in advance, if not further. These athletic directors need some cost certainty.
We're getting to decision time for the Pac-12's member schools. By the end of March I expect that they'll either have a deal they can live with or a league that some members can live without.
The Drive to be Pro
I came across this little nugget from the NFL Scouting Combine.
While I certainly respect McDonald's drive to prove himself, this is one of those situations where the NFL should just say, "Dude, chill" and let him move on to his pro day.
McDonald is going to be a first-round pick. I think that's clear to just about anyone who saw him play at Iowa State.
I Leave You With This
Thus comes the season of "My office for the week" pictures from sportswriters on social media. The ones we post from the Big 12 Tournament will look different this year.
In October, commissioner Brett Yormark told everyone that the media seating would be moved for sideline VIP seating. The object is to drive revenue. I get it. I'm not thrilled about it, but I get it. This means our 'office' for the week at T-Mobile Arena will likely be in what they call the 'hockey press box,' which is at the top of the arena.
I've covered many Dallas Mavericks games from that type of box. You lose some nuances of the game that you're able to pick up being closer to the floor, as I have been in past years. Basketball is that one sport where proximity to the court or playing field can be an asset, especially if something unusual happens.
Look, you as the reader don't care where I sit, and I get that. Yet, you'll probably see some of my colleagues complaining about the seating. Those complaints will depend entirely upon the set-up. For a few, it will simply be about 'tradition.'
For every Big 12 basketball game I cover in person I sit in a media box in the stands that isn't close to the floor. Baylor, Oklahoma, TCU, Texas, Texas Tech — they all have the same set-up. When I'm there, my job is to write and report, no matter where I'm sitting. I've covered Super Bowls from the upper deck of stadiums in a makeshift auxiliary box.
To me, this is one of the best weeks of my year. It's wall-to-wall basketball for five days (don't forget about the women over at Municipal Auditorium). I work as hard as I work for that opportunity. I learned a long time ago to not worry about the things I can't control. I also had a journalism instructor tell me way back in college, "If you can't do the job from the back row, then you can't do the job."
So, if I'm doing the job from the back row next week, I'll do it with a smile. I'm there to do a job for you, the reader, and I won't be worrying about where I'm sitting.
I will, however, be worrying about how many of those West Virginia-themed pepperoni rolls I can sneak on the flight back. I will, after all, have the HCS credit card next week.
You can find Matthew Postins on Twitter @PostinsPostcard