Baylor Bears
Big 12 Basketball Tournament: Ranking Top 10 Runs in Conference History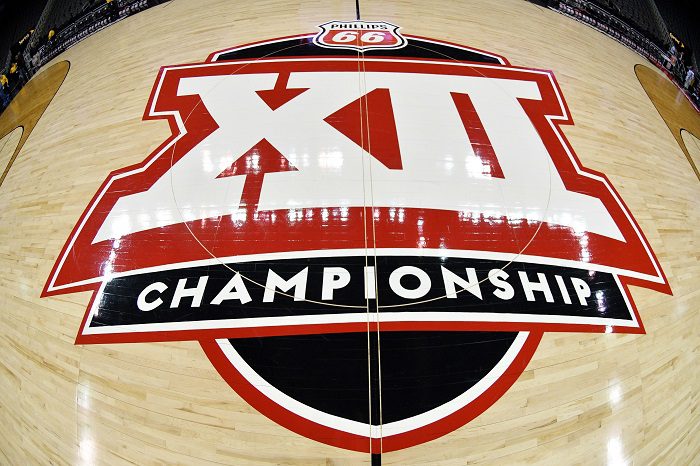 As the regular season comes to a close, all eyes turn to Kansas City for the Big 12 Tournament. It'll be a special one too and for the first time since 2019, it actually feels normal. In 2020 they played two games before canceling the tournament, in 2021 it was a reduced crowd and a Semifinal got canceled. Then last year Oklahoma state was banned, and there was just one game on Wednesday. For the first time in four years, all 10 teams will be there, and fans will be in the stands to watch nine games in four days.
Another great thing about this tournament is it's the last time we'll have 10 teams, as the field will expand to 14 next year, and go back to the original 12 in 2025. An important thing to note, is that since moving permanently to Kansas City only once has a team South of Lawrence, Kansas won, and that was Texas during the covid year where their semifinal was an automatic win. To help encourage fans of the four teams playing Wednesday night, three of which are south of Lawrence here are the 10 most improbable runs in Big 12 Tournament history.
10.) 2008 – No. 12 seed Colorado makes the Quarterfinals
Okay, I know what you're thinking, this means they only won one game, but it was over fifth-seeded Baylor who made the NCAA Tournament and came into this one knowing they were on the bubble. Colorado on the other hand went just 3-13 in conference play and even lost to Baylor by double digits in Boulder. It took double overtime, but the 12th-seeded Buffs became the first 12-seed to win a game in the 11th edition of the Big 12 Tournament, as they knocked off the Bears 91-84. Then in the quarterfinals, they faced off with fourth-seeded Oklahoma, a team that would make the second round of the NCAA Tournament. They played pretty well as they held Blake Griffin to just four points in a 54-49 defeat.
9.) 2003 – No. 7 seed Texas Tech makes the Semifinals
The first team to win two games on this list was the 2003 Texas Tech team and this wasn't Texas Tech from the last five years either. No, this was a 6-10 Texas Tech team that had to square off with 5-11 Baylor on the opening night. It was a tight one as they knocked off the Bears 68-65, to set up a Friday night clash with AP #3 Texas. Yet again Andre Emmett's Texas Tech pulled it off, downing a Texas team that would be in the Final Four just a few weeks later, 92-81. The road wouldn't get easier in the Semifinals they faced off with AP #6 Oklahoma, who would make the Elite Eight. It was a valiant effort but ultimately Texas Tech would fall 67-60 in Overtime.
8.) 2021 – No. 5 seed Oklahoma State makes the Final
Maybe this one's controversial, after all, the top seven in the Big 12 that year could all beat each other, but this was an exciting run and had they not had to play a Texas team with a day off, may have won the whole thing. In the first round, the Cowboys downed Top-15 West Virginia 72-69, to set up a date with future National Champions and current #2 Baylor. Baylor was an absolute wagon that year going 27-1 entering the Big 12 Tournament. However, that wagon was derailed in the Semifinals, as Cade Cunningham had 25 points, 8 boards, and 5 assists, en route to an 83-74 win. The final was a brutal draw for Oklahoma State, as Kansas had a Covid-19 outbreak the day prior, meaning Texas had a rest day before the final. Ultimately Texas would win 91-86, in a back-and-forth game.
7.) 2017 – No. 8 seed TCU makes the Semifinals
TCU used to be a legitimately bad basketball team. In fact, 2017 was the fifth straight year since joining the Big 12 that they had to play on Wednesday night, but the 2017 Big 12 Tournament may have signaled the turn of a program. TCU downed the ninth-seeded Sooners easily on Wednesday night with an 82-63 thrashing, but it was what they did the next day that put them on this list. Going up against national #1 Kansas in Kansas City, TCU sprung an 85-82 upset over the Jayhawks, to put this in perspective TCU lost by a combined 25 points in their two previous meetings with Kansas, and this was the Jayhawks' first exit before the Semifinals since 2009. In the Semifinals, TCU would fall to Iowa State 84-63, but went on to win the NIT, and the next year made their first NCAA Tournament appearance in two decades. Since this Quarterfinal, TCU has been a legitimate team in the Big 12.
6.) 1998 – No. 10 seed Texas makes the Semifinals
At number nine on my list, Texas Tech pulled a huge upset on a favored Texas team in the Quarterfinals. This time the roles would be slightly reversed, as in the first round a 6-10 Texas would knock off a 7-11 Texas Tech to make the Quarterfinals. However, the reason they made this list was because of what they did to the two-seed Oklahoma State in the Quarterfinals as the Longhorns knocked off a ranked Cowboys team that had defeated them by 22 just 10 days prior, 65-62. Their run would end with a Saturday, Semifinal loss to arch-rivals Oklahoma 68-55, though.
5.) 2014 – No. 7 Seed Baylor makes the Championship
In 2014 Baylor was a bit unlucky to be a seven seed, as they went 9-9 in Conference, and would actually make the Sweet Sixteen, but it still left them with a tall task of having to win three games in three days to make the Championship. It would start with arch-rivals TCU, who they defeated 76-68, next up was Oklahoma who was ranked #17 nationally, but again the Bears won a tight one 78-73. On Friday night in the Semifinals they faced three-seed Texas, which was their only loss in the past month. Unlike the first two, this was no contest as they blew Texas out 86-69, in the end, the Bears would fall short as they couldn't overcome Iowa State, and they're traveling fans, falling 74-65 in the Championship.
4.) 2019 – No. 10 seed West Virginia makes the Semifinals
In 2019, West Virginia was in the midst of a brutal down year, going 13-20 overall and 4-14 in Big 12 play finishing dead last in the conference. For a team playing on the opening day, they had a brutal draw, opening with Tournament bound Oklahoma. The Mountaineers would pull off the upset 71-70, as Oklahoma's Christian James' buzzer-beating shot was narrowly ruled a two instead of a three. In the Quarterfinals West Virginia would follow it up with one of the most surprising upsets in the tournament's history, as they had to take on a Texas Tech team that won a share of the Big 12, nine straight, and would play for that National Title. It went well for the Mountaineers, as they beat Texas Tech 79-74, behind Emmitt Matthews 28 points, before falling to Kansas 88-74 in the Semifinals.
3.) 2009- 9 seed Baylor makes the Championship
The 2009 Baylor team was far different than the past decade of Baylor as they struggled to a 5-11 Big 12 record. However in the Big 12 Tournament they took down an 8-8 Nebraska, 65-49 to start it off. Next up was top seed #11 Kansas, who they again pulled a 71-64 upset over. In the Semifinals, they took on their hated rivals 90 minutes south in Texas, and once again won a tight one 76-70. It came to an end in the Championship however as they fell to #14 Missouri 73-60. Despite their Tournament hopes ending, they would win four more in the NIT, before falling to Penn State in the Final.
2.) 2019 – No. 5 seed Iowa State wins the Championship
So the only team on my list to ever win the Title goes to the Cyclones, and notably, this is the second time a 2019 run made this list. In fairness, they were ranked but were the fifth seed behind Baylor, Kansas, co-champs Texas Tech, and Kansas State, and had dropped five of their last six. Their first test against Baylor proved not to be an issue as they downed them 83-66 behind 21 from Horton-Tucker. In the Semifinals, they took on top-seeded Kansas State in Kansas City, and again had their leading scorer drop 21, but this time it was Shayok, en route to a 63-59 win. The final was one of their toughest tests, however, as they took on Kansas on Saturday night just 40 miles from Lawrence. Much like in 2009 though, Iowa State fans showed up in a big way, and behind Wiggington's 17 points, and Weiler-Babb getting 8 rebounds and 5 assists, they won the Championship 78-66.
1.) 1997 – No. 10 seed Missouri makes the Championship
The most improbable run on this list came way back in the first-ever Big 12 Tournament, from a Missouri team that went 5-11 in the Big 12, had a losing overall record, and lost their last four. It started with a competitive upset over seventh-seed Nebraska, 78-72. In the Quarterfinals, they faced off with Texas, who had the third-best record but was given the two seed by virtue of winning the South. Again it was a tight one, but yet again Missouri prevailed, this time 80-75. On Saturday they faced another underdog story in Oklahoma, who was tournament bound and rode their offense to another win, 89-80. Despite their offense carrying them into the Final, it then stalled out as Kansas blew them out 87-60. Despite having no players selected to the All-Tournament Team, the 1997 Missouri team remains the only double-digit seed to reach the Championship.