Baylor Bears
HCS All-Big 12 Women's Basketball Team, Defensive Team, and Freshman Team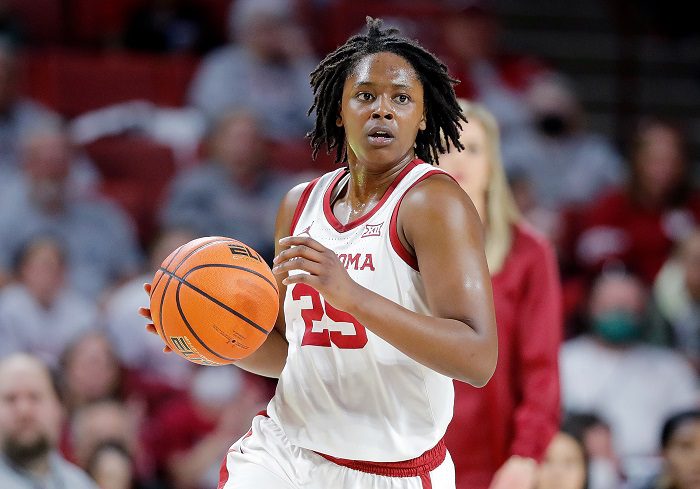 The 2022-23 Big 12 women's basketball regular season has concluded and it's time for Heartland College Sports to release its All-Big 12 team.
The team mirrors the way the Big 12 does its official team. There is a first team with 10 players and a second team with five players. There is also an all-defensive team, an all-freshman team, and an all-newcomer team.
The superlatives for the Big 12 as selected by HCS can be found here.
The Big 12 will release its official team closer to the Big 12 Tournament. For now, here is ours.
All-Big 12 First Team
G Sarah Andrews, Baylor, Jr.
G/F Ashley Joens, Iowa State, Sr.
C Taiyanna Jackson, Kansas, Jr.
G Gabby Gregory, Kansas State, Sr.
F Madi Williams, Oklahoma Sr.
G Ana Llanusa, Oklahoma, Sr.
G Naomie Alnatas, Oklahoma State, Sr.
G Rori Harmon, Texas, So.
G Bre'Amber Scott, Texas Tech, Sr.
G Madisen Smith, West Virginia, Sr.
Notes: The only team with multiple players on the first team is Oklahoma. Williams and Llanusa had tremendous final seasons for the Sooners. Andrews was the Bears' top outside threat and had the sixth-best average in 3-pointers per game. Joens was the HCS Player of the Year and averaged 20 points for the fourth time in her career. Jackson was the only player in the Big 12 to average a double-double for the season. Gregory transferred to K-State from Oklahoma and impressively filled the scoring gap for the injured Ayoka Lee. Oklahoma State would not be an NCAA Tournament team without Alnatas. Harmon is one of the best all-around players in the conference and certainly its best point guard this season. Thanks to two shortened seasons, people forgot Scott could score in buckets. She's a big reason why the Lady Raiders will make some kind of postseason play. Smith was part of a trio of Mountaineers that stayed after the coaching change and she was the steady hand that kept things together.
All-Big 12 Second Team
G Zakiyah Franklin, Kansas, Sr.
G Taylor Robertson, Oklahoma, Sr.
G Serena Sundell, Kansas State, So.
F DeYona Gaston, Texas, Jr.
C Caitlin Bickle, Baylor, Sr.
Notes: Franklin improved her scoring average by nearly four points this year and became more of a go-to option for the Jayhawks. Robertson broke the national 3-point record earlier this season and will go down as one of OU's most decorated players. Sundell directed traffic for the Wildcats all season while becoming a better defender and rebounder. Gaston caught fire in Big 12 play with increased playing time and there's no question she kept Texas on track to winning the Big 12 regular-season crown. Bickle was the glue player for a Baylor team that didn't quite meet its own high expectations and one of the few 50-40-80 players in Division I basketball.
All-Big 12 Defensive Team
C Taiyanna Jackson, Kansas, Jr.
G Rori Harmon, Texas, So.
G Jaelyn Glenn, Kansas State, So.
C Bella Cravens, TCU, Sr.
G JJ Quinerly, West Virginia, So.
Notes: Jackson led the Big 12 in blocks. She's the most imposing presence in the paint. Harmon defends every other team's top guard and does it with a relentlessness that her coach, Vic Schaefer, loves. Glenn, however, bested Harmon for the steals lead in the league and vastly improved as an on-ball defender. Cravens was a bright spot for TCU inside. Quinerly is just a sophomore but she's already one of the most problematic defenders in the league.
All-Big 12 Freshman Team
Darianna Littlepage-Buggs, G, Baylor
Bella Fontleroy, G, Baylor
Denae Fritz, G, Iowa State (redshirt)
Bailey Maupin, G, Texas Tech
Jasmine Shavers, F, Texas Tech (redshirt)
Notes: Littlepage-Buggs was the HCS Freshman of the Year and she was named Freshman of the Week more than any other freshman in Big 12 play this season. In fact, all five members of the freshmen team were the ONLY five freshmen to earn the weekly award entering the season's final week. Fontleroy, along with Littlepage-Buggs, are the future at Baylor. Fritz bounced back from an injury as a redshirt and grew into a solid fourth offensive option for Iowa State, along with being a solid defender. Maupin and Shavers were two big reasons the Lady Raiders will finish the season better than .500 for the first time under coach Krista Gerlich.
All-Big 12 Newcomer Team
G Naomie Alnatas, Sr., Oklahoma State
G Wyvette Mayberry, Kansas, Jr.
G Shaylee Gonzales, Texas, Sr.
G Sonya Morris, Texas, Sr.
G Tomi Taiwo, TCU, Sr.
Notes: Alnatas led a cavalcade of transfers that made a difference in conference play this season. She was the HCS Newcomer of the Year. Mayberry transferred to KU and gave the Jayhawks instant offense from a distance. Gonzalez and Morris had some bumps, but they both ultimately integrated themselves into the Longhorns' way of doing business. Gonzales' play came on late. Taiwo was the offensive bright spot for the Horned Frogs, transferring in from Iowa and becoming TCU's leading scorer.
You can find Matthew Postins on Twitter @PostinsPostcard.