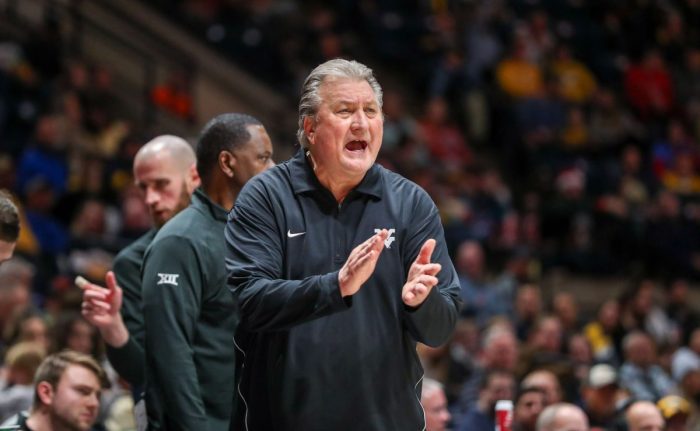 Here is everything you need to know about the West Virginia Mountaineers and the Texas Tech Red Raiders in our Big 12 Tournament men's basketball preview.
Game 1: No. 9 Texas Tech (16-15, 5-13) vs. No. 8 West Virginia (18-13, 7-11), 6 p.m. CT, ESPNU
Season series (1-1): West Virginia def. Texas Tech, 76-61, in Lubbock, Texas, on Jan. 25; Texas Tech def. West Virginia, 78-72, in Morgantown, WV, on Feb. 18.
Winner gets: a Thursday quarterfinal game with No. 1 seed Kansas at 2 p.m. CST on ESPN2
Projected starting lineups
Texas Tech: G De'Vion Harmon, G Jaylon Tyson, G Richard 'Pop' Isaacs, F Kevin Obanor, F Fardaws Aimaq.
West Virginia: G Kedrian Johnson, G Erik Stevenson, F Emmitt Matthews Jr., F Tre Mitchell, F Jimmy Bell Jr.
Players to Watch
Texas Tech
G De'Vion Harmon: Harmon is the Red Raiders' second-leading scorer, averaging 13.6 points per game. He also dished out 3.6 assists and had 1.6 steals per game. Lately, Harmon has been the one hitting big shots for this team, and he was one of the players that fueled the Red Raiders' mini-surge in February. With the recent events in Lubbock, his leadership will be vital to winning on Wednesday night.
West Virginia
G Erik Stevenson: Sometimes the decision is obvious. Stevenson transferred to West Virginia and has had his best season of college basketball, averaging 15.5 points per game. He also had 2.6 assists per game. Lately, he's been filling it up. In the Mountaineers' last five games, Stevenson has averaged 24.6 points per game as the Mountaineers finished with a 3-2 surge to end the regular season. Slow Stevenson down and you slow down West Virginia.
Key storylines
Texas Tech
Head coach Mark Adams won't be in Kansas City after Texas Tech suspended him on Sunday for making an "inappropriate, unacceptable, and racially insensitive" comment to a player. It's unclear if it will cost Adams his job. But for Wednesday's game, his staff will handle the coaching duties. After an 0-8 start to Big 12 play, the Red Raiders were able to make a bit of a surge in February, winning five of seven league games to give the fan base a bit of hope. But at this point, the Red Raiders — who have five players averaging in double figures this season — will have to win the Big 12 Tournament to reach the NCAA Tournament.
West Virginia
West Virginia lost its first five games, but its NCAA NET rating and KenPom ratings didn't seem to suffer much. A conference season on the bubble appears to have the Mountaineers pointed toward the NCAA Tournament. The turnaround started with a home win over TCU on Jan. 18 and the Mountaineers went 8-6 from there, including their Big-12 SEC Challenge win over then-ranked Auburn. WVU won three of its final four to likely cement its place as an at-large bid in the NCAA Tournament. After Stevenson, watch forward Tre Mitchell (11.5 points), Kedrian Johnson (11.0), and Emmitt Matthew Jr. (10.3) as they support Stevenson in the starting lineup. Joe Toussaint is one of the best sixth men in the Big 12.
Prediction
West Virginia 74, Texas Tech 70. The first game of the 2023 Big 12 Tournament should be a great one. I have no idea how Adams' suspension will impact the Red Raiders. But I believe the Mountaineers are the hotter team and Stevenson will have another big game to leave WVU to the next round.
You can find Matthew Postins on Twitter @PostinsPostcard.