Big 12 News
Bill Fennelly on Future Big 12 Tournaments Being on Separate Weekends: 'I Don't Like It'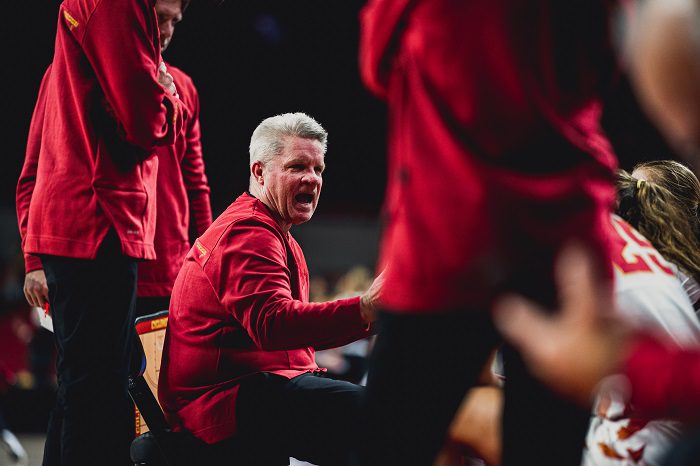 The Big 12 Men's and Women's Basketball Tournament is currently on the same weekend at the T-Mobile Center and Municipal Arena, respectively. But that's about to change.
The conference recently announced it voted to keep the tournaments in Kansas City through 2027. But with that, the women's tournament, set to also be at T-Mobile Center in the future, will shift to the weekend before the men's. And that's a change that Iowa State head coach Bill Fennelly isn't exactly fond of.
"I'm not gonna lie, I don't like it," Fennelly said. "I think the way we're doing it now is absolutely perfect for everyone. But kind of like at home, my vote doesn't really count. So yeah, I don't know what else to say. I've been on this track forever. Our administration has been on this track forever. I think to have them at the same time in the same city is the best way to do it. I think it's the best for the fans. I don't know how many fans are going to take 10, 11 days off of work. I don't think most people could do that. I think it's going to split the media. That's just my opinion. And I'll probably get in trouble, but that's okay. I've been in trouble before. I won't have to worry about it too much longer.
"So, I'm just disappointed. Our kids love it. I think the idea and the fans going back and forth and having a pep rally together tomorrow, and everything that's a celebration of basketball in the Big 12, to me, has been better when it's together. But smarter people and people that make those decisions don't agree."
In regards to the move, the league is apparently concerned with the amount of locker room space currently available at Municipal Arena. Right now, only higher seeds are afforded their own locker room at certain times.
There are some other factors as well, and the decision has been made. It's one that Fennelly is not pleased with, and perhaps others as well, although none have been outspoken yet.