Trending Now
Brett Yormark at Big 12 Tournament: 'I Want to Truly Be a National Conference in Every Respect'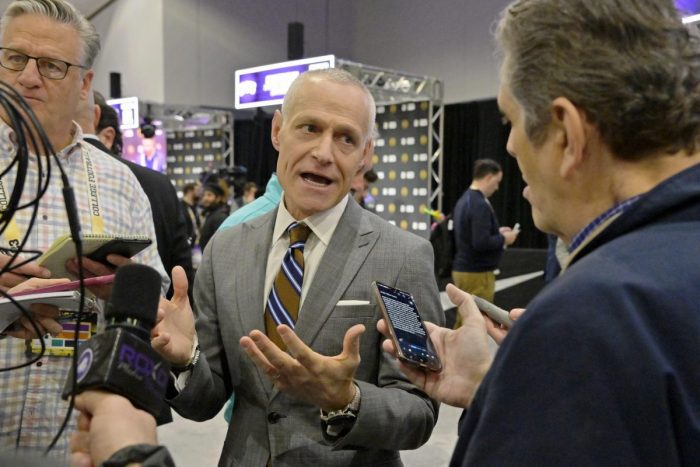 Big 12 Commissioner Brett Yormark has not been bashful about his desire to broaden the Big 12's horizons and grow the conference's brand since taking over leadership last summer.
Just a few weeks ago, Yormark joined John Canzano and Jon Wilner on the Canzano & Wilner: The Podcast and spoke about his desire to move the Big 12 towards the West Coast.
"I'm not targeting anyone specifically," Yormark said. "I've been saying it. I've been pretty transparent and intentional that we'd like that fourth time zone to create more value for our media partners. Would I like to be a national conference in all the different time zones and from a geography standpoint have our Big 12 flag all over the country? One-hundred percent…we'll see where we end up."
On Wednesday, just ahead of the Big 12 Basketball Tournament tipping off, Yormark was again discussing his vision for a wider-reaching Big 12 conference.
"I love the composition and the makeup of our conference right now going forward," Yormark said during an interview with KMBC News 9. "So, we'll see where future expansion is. Obviously I'm watching what's happening on the West Coast. It's no surprise, I've been very intentional. I want to get into that fourth time zone. I want to truly be a national conference in every respect, both brand and geographic footprint."
Yormark has put the Big 12 in position to grab any teams that might defect from the Pac-12 during struggling media rights negotiations. While nobody has jumped ship yet, things have been on the brink of going sideways for months now.