Big 12 News
Brett Yormark on Gonzaga's Potential Big 12 Future: 'There's Other Things Right Now I'm Focused On'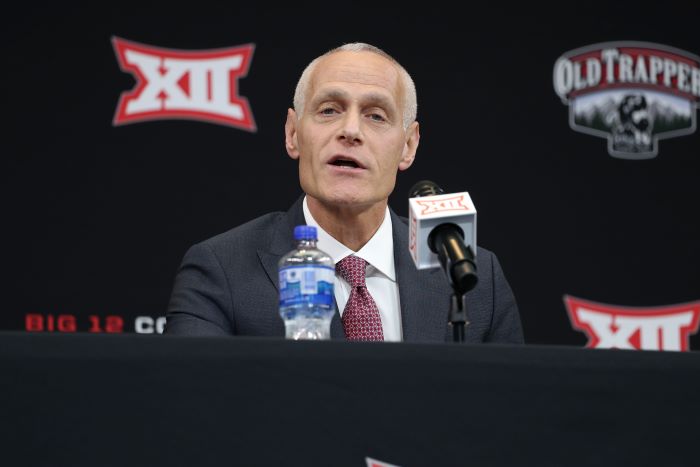 The 2023 Big 12 Basketball Tournament tipped off Wednesday from Kansas City, and before the games got underway, commissioner Brett Yormark addressed the media to discuss his first year on the job, the future of the league and much more.
Yormark was asked about his interest in the Gonzaga Bulldogs, which has reportedly long been a target of Yormark as he continues to build the basketball brand of the league.
Yormark responded, "I like Gonzaga, obviously a great program. My focus right now is to see what happens throughout our industry. There's a lot of moving parts. I continue to have conversations with Gonzaga, but I think, as I prioritize what our next move might be in expansion, there are some other things right now that I'm focused on."
Here's the video of Yormark's comments.
Most recently, The Athletic reported Yormark was 'deep in discussions' with the Bulldogs. The commissioner strongly believes basketball is undervalued in this latest round of television rights talks, The Athletic reports. And he's hinted at the possibility of separating it from football and selling those rights uniquely when the Big 12 next hits the open market in 2030-31, which makes Gonzaga an attractive future option.
However, if any of the Four Corner schools (Arizona, Arizona State, Utah and Colorado) are incredibly frustrated with the Pac-12 television contract conversations, the Big 12 is anxiously waiting in the wings.
As we reported earlier this year at Heartland College Sports, the Big 12 Conference has run circles around the Pac-12 Conference in recent months. The Big 12 beat the Pac-12 to a TV deal in large part because of how each league went about its business.
At this time, Pac-12 Commissioner George Kliavkoff was using Doug Pearlman to negotiate his potential next television contract. Pearlman is the founder and CEO of Sports Media Advisors, a boutique advisory firm which he has operated since 2009. Pearlman and Kliavkoff have a relationship that dates back to their days at University of Virginia Law School. While his resume included senior roles at the NHL and IMG, a deal of this magnitude may have been more than he could handle.
The Big 12 was already off and running with Endeavor, a multi-billion dollar firm with over 7,000 employees. While the Pac-12 was misreading the market, the Big 12 Conference jumped in, didn't over or under ask, and agreed to a fair deal.
Less than one month after hiring Endeavor, the Big 12 had a new media rights deal with FOX and ESPN. The six-year media rights agreement was reported as being worth a total of $2.28B, an annual average of $380M. The Big 12, which has two years remaining on its current deal, runs through the 2024-25 season at an annual average of $220M in its final years.
But it's clear Yormark is already thinking about where this conference will be for its next TV contract, which is closer than we all want to admit.