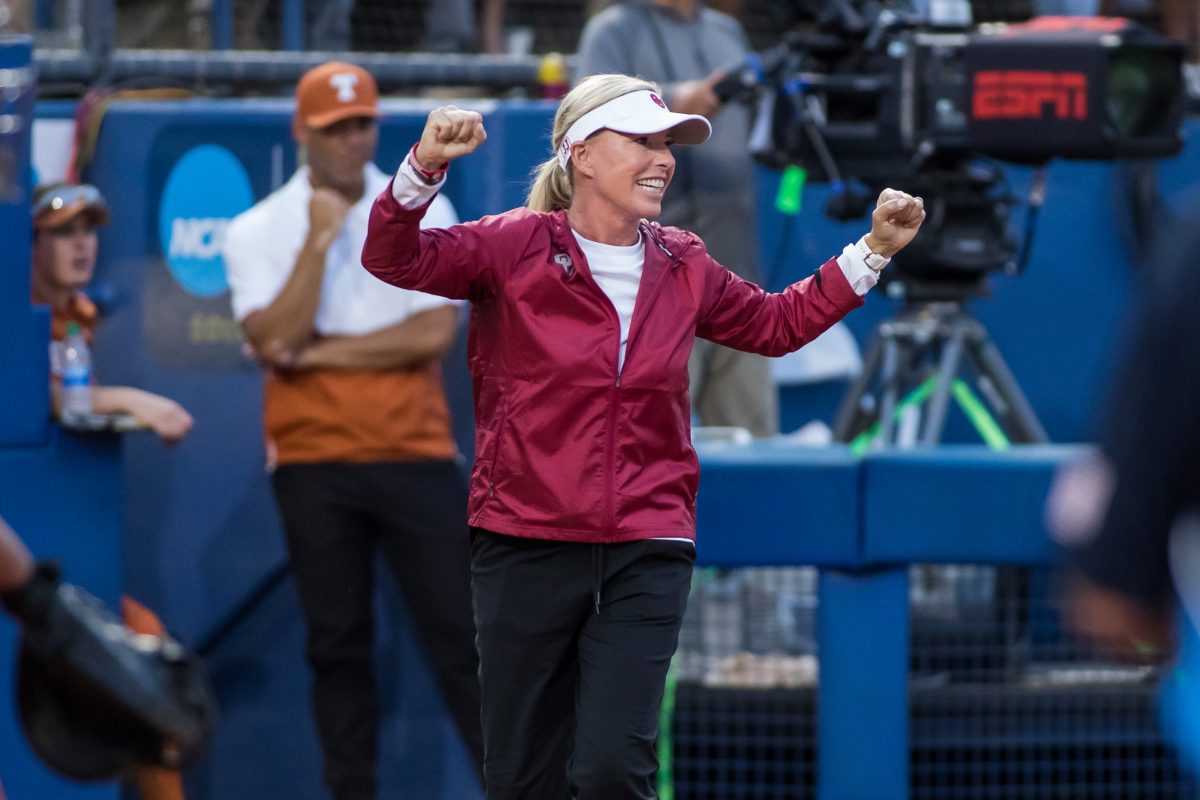 College softball is in full swing, with conference play already going for some and right around the corner for others, and every week from here on out I'll be releasing updated rankings. Here's this week's edition.
1. Oklahoma – The Sooners are exactly the force they were expected to be heading into the season on a three-peat trek. They've responded in a huge way from their lone loss at Baylor, most recently with a perfect game by Alex Storako in an 18-0, run-rule win over Kentucky and perfect 4-0 weekend on the heels of their 14-0 blowout of UCLA in a 1-2 matchup the weekend before.
2. UCLA – Nothing has changed for the Bruins since the preseason. They're still very justifiably in the second spot, with only the one ugly loss. They collected a couple of run-rule wins last weekend and blanked Howard 4-0 Tuesday night.
3. Oklahoma State – Like UCLA, the Cowgirls still only have one loss. That's to a team in my Top 25, and since then they've rattled off 16 wins in a row. You could also easily make a case for Kelly Maxwell and Oklahoma State at No. 2. And they'll get a chance to really make that case this upcoming weekend—more on that in a second.
4. Tennessee – Like the previous two, the Lady Vols only have one hiccup. That's a 5-4 loss to a pretty solid Cal State Fullerton team that also hung tough with UCLA the other day. Tennessee is riding an 11-game winning streak.
5. Clemson – Just missing out on a Women's College World Series berth in the youthful days of its program last year, the Tigers appear poised to punch that berth this season just a few weeks in. They're, too, among that one-loss list, and that one loss is a one-run loss to the team in front of them. Clemson dropped a 1-0 decision to Tennessee, but has since rolled to the tune of six more victories.
6. Florida State – FSU endured that shocking upset loss to Longwood, along with setbacks to Alabama and UCLA, but other than that the road has been clean. The Seminoles will carry their 11-game winning streak with them to the state of Oklahoma, where they'll square off with Oklahoma State in a best-of-three and face top-ranked Oklahoma in the midweek next Tuesday.
7. Stanford – This is a team I'm very tempted to place in the Top 5. But I'm reserving a bit of judgment on the Cardinal until I see what happens in a huge non-conference game at Wichita State—it's also in my poll—that will take place Thursday night. Stanford has won 17 in a row.
8. Arkansas – The Razorbacks suffered a bit of a shocking setback to in-state foe Central Arkansas earlier this week. But, while it forced me to push the Hogs down in the ranks, it's actually not as bad as it may seem. Central Arkansas is 14-5 and also boasts a win over Utah, while it lost closely to LSU a pair of times.
9. LSU – Speaking of the Tigers, they check in just behind. Now in her 12th season already, Beth Torina has LSU with only one loss, sandwiched around 10- and seven-game winning streaks. The Tigers went 5-0 last week in the Judi Garman Classic in Fullerton, Calif.
10. Washington – Washington is a bit of a tough team to rank based on a stunning upset by McNeese State and getting smoked in a run-rule by Kentucky, but its otherwise very solid resumé. I tend to project when it comes to the Huskies, because they lost very narrowly in a 5-4 decision to Oklahoma and have been dominant besides that. They've shut out seven of their last eight opponents since that loss to Kentucky.
11. Texas – However you feel about Mike White's stalling situation against Kentucky back in February, his Longhorns are cruising now. They've only dropped one game since that 4-4 tie that was essentially a loss, and that's a 6-5 decision to Virginia Tech, which they avenged with an 8-2 win a day later. Texas took down Louisiana twice last weekend during a perfect 5-0 showing at its Longhorn Invitational, and it's claimed nine straight.
12. Baylor – I have a tough time putting Baylor below Texas, and perhaps I should have these flipped. I went back-and-forth on this for quite some time on it. But that recent win streak for the 'Horns, coupled with the Bears' second loss of the year, to Texas A&M, barely puts the Bears below them. Still, Baylor lays claim to the nation's only triumph over Oklahoma and Dariana Orme has simply been on fire. It's a Women's College World Series contender for sure.
13. Duke – Look out for the Blue Devils. They suffered a loss to Notre Dame, but took two of three in their opening weekend of ACC play. They own victories over Arkansas and Stanford as well.
14. Virginia Tech – If you can't already tell, the ACC is going to be a slugfest this year. The Hokies recently split a pair with Texas, and they swept their opening series of league play against North Carolina State.
15. Alabama – Most everyone seems to have the Crimson Tide higher than me right now, and that's probably for a couple reasons: prestige and Montana Fouts. Wearing that Bama logo as well as any player ever has, Fouts tossed a perfect game against Longwood, part of a perfect weekend in which the Tide didn't surrender a single run. It'll be interesting to continue to keep track of Alabama's season, as it currently sits at 18-3.
16. Florida – The Gators are quite the curious 14-3 team. Yes, they responded nicely with a pair of run-rule shutouts over UAB, plus a 4-1 win to cap off a series sweep. But they were dreadful in Palm Springs the week before, shut out themselves twice in run-rules, by UCLA and Oregon, by a combined 18 runs. They also lost 5-4 to Cal State Fullerton. So, the jury is still out on Florida, whether or not it needs to be higher again.
17. Kentucky – The Wildcats endured that 18-0 perfection of a beating in Norman and also lost 7-1 to the Sooners, but don't let those fool you. This is a very good ball club, as evidenced by a run-rule victory over Washington last month in Palm Springs and, for all intents and purposes, a win over Texas as well.
18. Oregon – The Ducks have flipped in and out of the rankings, but they're firmly in now. That's after going 4-1 in their most recent week, their lone blemish a 4-1 loss to Minnesota. They run-ruled Cal Poly and Loyola Marymount to go along with wins over Fresno State and San Jose State in the Judi Garman Classic.
19. Georgia – Stetson has been a tricky team, and Georgia was its latest victim last weekend. But the Bulldogs responded nicely run-ruling Samford and beating both Ball State and then Samford again. Coupled with their victory over Ball State to start the weekend, the Dawgs went 4-1.
20. Arizona – After losing two of three at Arkansas as part of the Razorback Invitational, the Wildcats posted a 4-1 showing. Their lone loss came to Nebraska, who has entered the Top 25. Arizona beat Virginia Tech earlier on, so that's a nice little feather in its cap.
21. Auburn – The Tigers are the lowest-ranked team on this list when it comes to total wins. They've already captured 20 victories, compared to two losses. Quality of wins leaves something to be desired, but the volume is impressive. The setbacks are to Pittsburgh and South Alabama for Auburn, who's won its last two and four of five in its Jane B. Moore Memorial.
22. Wichita State – The Shockers are on fire. They've won 11 in a row and will look to push it to 12 in that huge non-con clash with Stanford. Sydney McKinney is one of the best shortstops in the country, hitting a ridiculous .708 to lead the way for Wichita State.
23. Maryland – A bad weekend at the Baylor Tournament, which included tallies in the 'L' column from Baylor and Minnesota twice, is the difference in the Terrapins not being in the Top 20 right now. They're a very solid team, as evidenced by dealing Oklahoma State its only loss and topping Oregon in the season opener.
24. Nebraska – Nebraska has mowed through its competition as of late, brushing aside nine straight opponents. That included a 5-0 run through the Hillenbrand Invitational, one of those a dominant 10-3 victory over Arizona. The Huskers could be a team to watch.
25. Texas A&M – The Aggies wanted to get greedy and sweep their former Big 12 rivals. However, they had to settle for a series split at Getterman Stadium when Baylor walked them off 2-1 in eight innings on Sunday. And ultimately, it's that split because of a Saturday victory that keeps them in the rankings. They went 2-2 with a similar split against 8-13 Sam Houston.
Just missed: Arizona State, Louisiana, Missouri, Northwestern, Utah