Basketball
Kevin Durant Tweaks Ankle Prior to, Has to Miss Expected Home Debut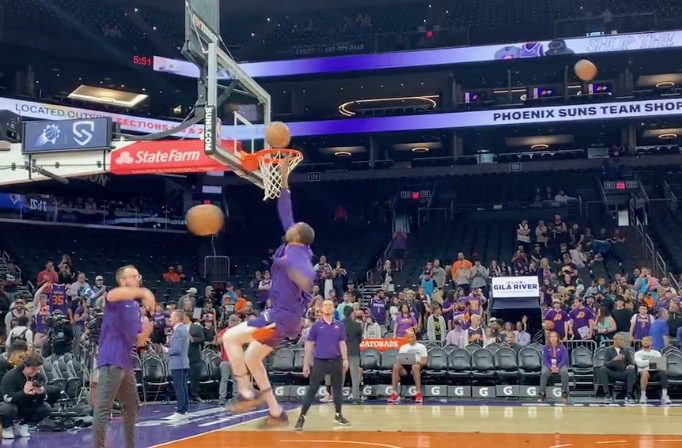 On the shelf for a bit since a trade from Brooklyn and expected to finally make his home debut for the Phoenix Suns after only appearing on the road so far, Kevin Durant will have to wait a little bit longer. That's because he tweaked his left ankle going up for a layup in warmups prior to a contest against the Oklahoma City Thunder Wednesday evening.
It was certainly an awkward looking sequence as he slipped while going up with his right hand driving from the left side of the basket. Take a look.
Clearly, it's frustrating for Durant, who was shipped from the East Coast to the desert almost exactly a month ago. And it's frustrating for fans who had purchased tickets and anticipated seeing No. 35 for the first time in the Suns' purple and orange at the Footprint Center.
When he's been on the court this season, Durant has averaged 29.5 points, 6.8 rebounds and 5.2 assists while shooting 56.6% from the field. Phoenix is 3-0 since his return from a knee injury.
"I don't look at it as a risk, either," said Suns owner Mat Ishbia on the Durant trade on Arizona Sports' Bickley & Marotta. "I look at it, like, this is the right thing to do at this time and we're going to continue to try to win all the time."
Many people think that's exactly what's going to happen after this trade. In fact, despite sitting in fourth place in the Western Conference at the moment, Phoenix's +440 odds to win the NBA Finals per FanDuel Sportsbook are the best in the west. They're behind only the Milwaukee Bucks' and Boston Celtics' identical +320 odds.
Obviously, that's with Durant factored into the equation. But the Suns will have to wait just a little while longer for him to step on the court at home in his new uniform.