Basketball
Syracuse Head Coach Jim Boeheim Announces Retirement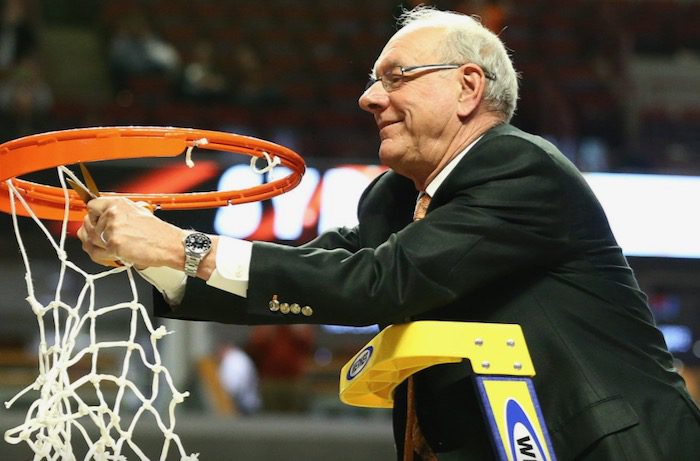 A storied, 47-year career has come to a close. Syracuse head coach Jim Boeheim officially announced his retirement Wednesday following a 77-74 loss to Wake Forest and exit in the ACC Tournament.
"I have spent my entire career surrounded by the biggest and best names in professional and intercollegiate athletics. Few people are on the same playing field as Coach Boeheim," said Syracuse Director of Athletics John Wildhack. "Jim Boeheim is synonymous with excellence, grit and determination. Jim is a rare breed of coach, building a program that is among the best in college basketball for nearly five decades. I am incredibly grateful for what he has done for Syracuse Basketball, Syracuse Athletics and Syracuse University as a whole."
During his nearly half-century career with the Orange, Boeheim directed them to the 2003 national championship, in addition to Final Four appearances in 1987, 1996, 2013 and 2016. Syracuse made the NCAA Tournament 35 times under his watch.
Boeheim, the 2010 Naismith College Coach of the Year and Associated Press Coach of the Year, was named the National Association of Basketball Coaches District II Coach of the Year 10 times, the United States Basketball Writers Association District II Coach of the Year four times and was also a four-time BIG EAST Coach of the Year. He compiled a 1,015-440 (.698) career record, including a 48-28 mark in the Big Dance.
"There is no doubt in my mind that without Jim Boeheim, Syracuse Basketball would not be the powerhouse program it is today," said Syracuse Chancellor Kent Syverud. "Jim has invested and dedicated the majority of his life to building this program, cultivating generations of student-athletes and representing his alma mater with pride and distinction. I extend my deep appreciation and gratitude to an alumnus who epitomizes what it means to be 'Forever Orange.'"
With Boeheim stepping aside, longtime assistant and former player Adrian Autry has been named the new head coach. Autry played for Boeheim from 1990-94 before embarking upon to a successful professional career primarily in European leagues, as well as in the United States Basketball League (USBL).
He then started his coaching career in 2006 at Bishop Ireton Catholic High School in Virginia. He ascended to the college ranks at Virginia Tech, before Boeheim brought him on as an assistant prior to the 2011-12 season. Autry was promoted to associate head coach in March 2017.
"There have been very few stronger influential forces in my life than Syracuse University and Jim Boeheim," Autry said. "They have both played such important roles and without either of them, I am certain I would not have this incredible opportunity before me," says Autry. "I have spent much of my time in the game of basketball learning from Jim and am so grateful to him for preparing me to carry on the winning tradition that is Orange Basketball. It's hard to imagine a world without him on the bench, but together with our coaches, student-athletes and fans, we will build on decades of success as a winning program."
The Orange finished the 2022-23 campaign with a 17-15 record. That included a 10-10 record in the ACC.