Baylor Bears
Big 12 Women's Tournament Preview: Iowa State vs. Baylor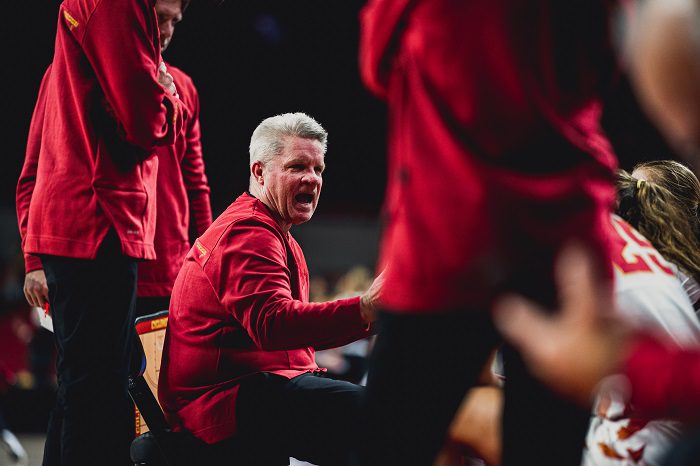 Big 12 Women's Tournament Preview: Iowa State vs. Baylor
Here is everything you need to know about Iowa State and Baylor in our Cyclones vs. Bears Big 12 Tournament women's basketball preview.
Game 6: No. 3 Iowa State (19-9, 11-7) vs. No. 6 Baylor (19-11, 10-8), 7:30 p.m. CT, Friday (time is dependent on completion of Game 5)
Season series (Tied 1-1): Baylor def. Iowa State, 76-70, in Ames, Iowa, on Feb. 4; Iowa State def. Baylor, 81-77 (2 OT), in Waco, Texas, on Feb. 18.
Winner gets: a semifinal game against the Game 5 winner at 2:30 p.m. on Saturday.
Projected starting lineups
Iowa State: G Ashley Joens, G Lexi Donarski, G Emily Ryan, F Nyamer Diew, F Morgan Kane.
Baylor: G Sarah Andrews, G Ja'Mee Asberry, G Darianna Littlepage-Buggs, G Jaden Owens, F Caitlin Bickle.
Player to watch
Iowa State
G Ashley Joens: I mean, obviously, right? She was the women's player of the year for Heartland College Sports and the Big 12 coaches' team. She was named All-Big 12 First Team as a result. She leaves the Cyclones as its all-time leading scorer and rebounder, along with a host of other records, once her career ends this season. The fifth-year senior is averaging 21.0 points and 9.4 rebounds this season. She's averaged at least 20 points per game each of the past four seasons. It's rare to see sustained greatness at this level. Enjoy it while you can.
Baylor
G Sarah Andrews: She's grown into Baylor's leading scorer this season, averaging 15.1 points, 3.4 rebounds and 4.2 assists per game. She's improved her averages for scoring and rebounding each of her first three seasons in college basketball, and she had at least four assists per game for second straight season. Andrews was on the All-Big 12 First Team as named by both the coaches and Heartland College Sports and she's a prime candidate to be next year's preseason player of the year.
Key storylines
Iowa State
While the Cyclones have had a good season, it could have been great. On Jan. 8, the Cyclones lost center Stephanie Soares to a torn ACL. The 6-foot-6 center was supposed to be a differentiator for the Cyclones, and she was. When she was hurt, she was averaging a double-double. That turned the Cyclones' upside down, as they had to revert back to the way they played a season ago when they reached the Sweet 16. It's been a bumpy road to get the No. 3 seed in Kansas City, but they won four of their last six heading into the tournament.
Baylor
Baylor was supposed to be loaded, but they lost two key transfers along the way. Aijha Blackwell suffered an injury and was never able to get back on the court consistently. Meanwhile, Dre'una Edwards had issues with her transfer waiver and never hit the floor. It robbed Baylor of 32 points and 22 rebounds from last year. But it opened up playing time for Darianna Littlepage-Buggs, the Big 12 Freshman of the Year, and Bella Fontleroy. Baylor lost five of its last eight going into the Big 12 Tournament.
Prediction
Iowa State 71, Baylor 69. This could be the best game of the day. But it's Ames South, and that gives the Cyclones a bit of a homecourt advantage.
You can find Matthew Postins on Twitter @PostinsPostcard.