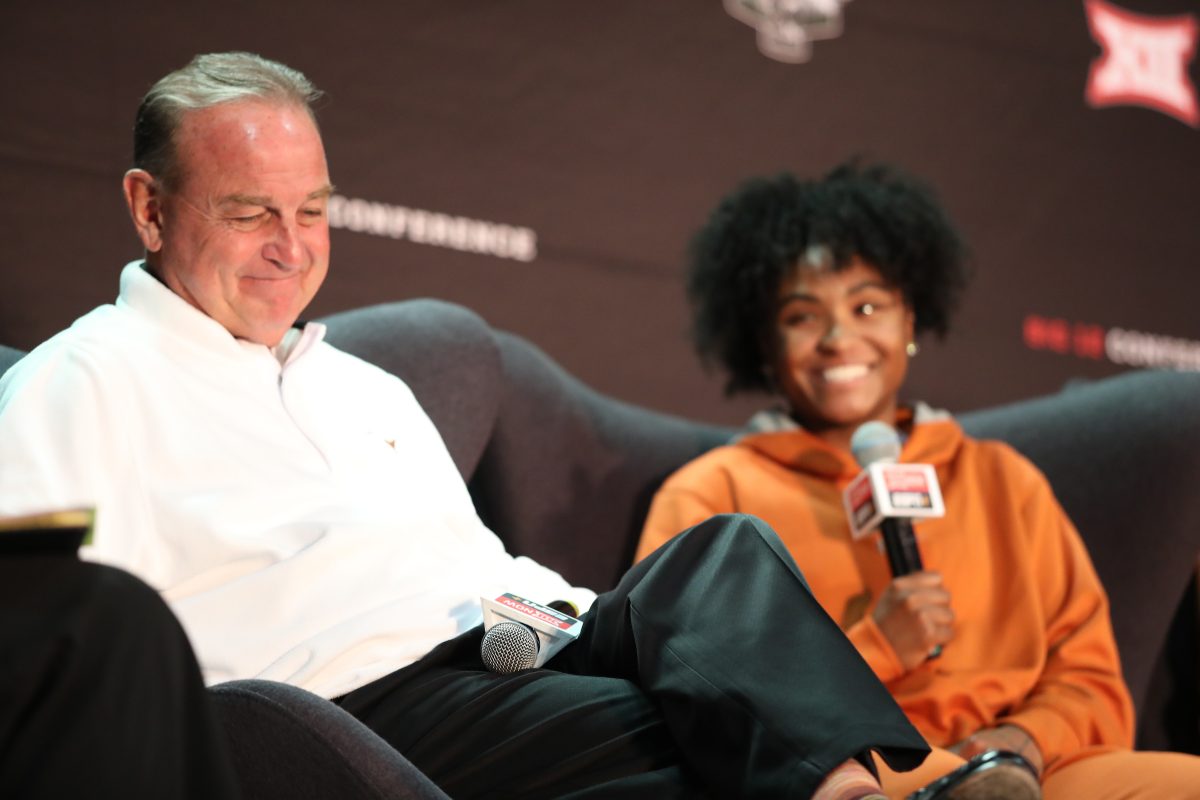 Here is everything you need to know about Texas and Kansas State in our Longhorns vs. Wildcats Big 12 Tournament women's basketball preview.
Game 4: No. 1 Texas (23-8, 14-4) vs. No. 9 Kansas State (17-15), 1:30 p.m. CT, Friday, ESPNU/Big 12 Now (time is dependent on completion of Game 3)
Season series (Texas 2-0): Texas def. Kansas State, 87-41, in Austin, Texas, on Dec. 31; Texas def. Kansas State, 80-52, in Manhattan, Kan., on March 4.
Big 12 Tournament results: Texas: First game. Kansas State: def. Texas Tech, 79-69
Winner gets: the winner of Game 3 in the semifinals at noon on Saturday.
Projected starting lineups
Texas: F Khadija Faye, F DeYona Gaston, G Rori Harmon, G Shay Holle, G Shaylee Gonzalez
Kansas State: G Serena Sundell, G Jaelyn Glenn, G Brylee Glenn, G Gabby Gregory, F Sarah Shemasti.
Player to watch
Texas
G Rori Harmon: It all starts with Harmon, who was an All-Big 12 First Team guard and named by the Big 12 coaches as the Defensive Player of the Year. She is one of the best all-around players in the conference, capable of scoring, passing, rebounding and defending. She runs head coach Vic Schaefer's offense to near perfection. For the season she is averaging 11.9 points, 5.0 rebounds and 7.3 assists. She also averages 2.3 steals per game. Her high-quality, well-rounded game is, at times, not recognized the way it should be outside the league.
Kansas State
G Gabby Gregory
Gregory earned All-Big 12 First Team honors from both the league's coaches and from Heartland College Sports. She spent the entire season reminding the Big 12 that she was a top-level scorer, after an injury reduced her playing time at Oklahoma last season. Gregory averaged 18.7 points, 5.4 rebounds and 2.0 assists per game and turned into the Wildcats' leading scorer in the wake of the loss of Ayoka Lee, who had knee surgery before the season and returns for 2023-24. In the Big 12 Tournament opening win over Texas Tech, she had 26 points. She is the first player you must stop if you want to slow down Kansas State.
Key storylines
Texas
Texas came into the season with high expectations, fueled by winning the Big 12 Tournament and reaching the Elite Eight last season. Texas also imported a quartet of transfers that they expected to make a significant impact. Some of them, such as Shaylee Gonzales, have. Others, like Taylor Jones and Sonya Morris, have battled injuries this season. Rori Harmon, who was banged up to start the season, has been consistent through it all. But the elevation of DeYona Gaston's game throughout the season, and moving Shay Holle back into the starting lineup, has sparked a month-plus surge that helped Texas share the big 12 championship with Oklahoma and earned the No. 1 seed in Kansas City.
Kansas State
The Wildcats knew they would be without Ayoka Lee to start the season. Going into Big 12 play the Wildcats had to feel pretty good. Gregory's play helped the Wildcats to an 11-2 start. It was also clear that holdover guards Serena Sundell, Jaelyn Glenn and Brylee Glenn had improved in their sophomore seasons. But, once Big 12 play started, the Wildcats had to deal with the reality that Lee made a difference. Kansas State never had a winning streak in league action and enter the Big 12 Tournament on a three-game losing streak.
The Wildcats beat Texas Tech behind Gregory, Sundell (19 points) and Eliza Maupin (10 points). With the win, the Wildcats kept their faint NCAA Tournament hopes alive. It's more likely the Wildcats will get a high seed in the WNIT — unless it pulls off the upset on Friday.
Prediction
Texas 82, Kansas State 61. Kansas State hasn't had much success against Texas this season and it's hard to see that changing now.
You can find Matthew Postins on Twitter @PostinsPostcard.