Big 12 News
Lance Leipold Offers Best Wishes to Bill Self: 'It's Unfortunate That It Happens at This Time for His Team'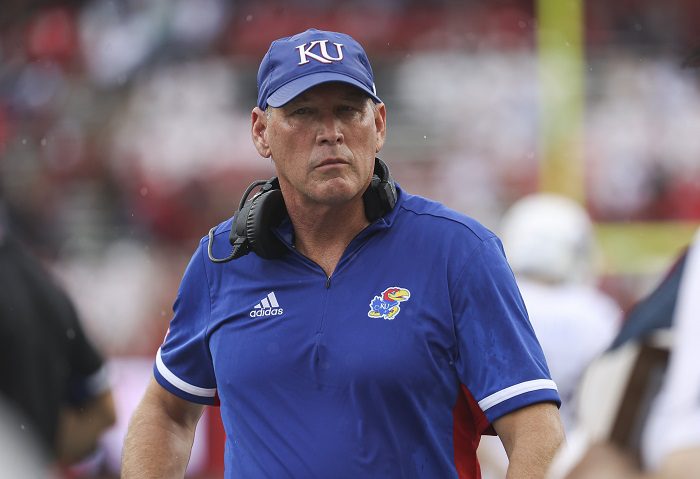 Kansas head coach Bill Self is not on the sidelines for today's Big 12 Tournament Quarterfinal Game against West Virginia, as he's recovering from an illness that's hospitalized him at the University of Kansas Health Systems, and assistant Norm Roberts is serving as the acting head coach in the meantime. In light of that, Jayhawks football coach Lance Leipold was asked about the news at a Thursday media setting, and he quickly offered his sympathies.
"It sounds like he's in good care and those things and I wish him the best," said Leipold, via Lawrence Journal-World sports editor Matt Tait. "It's unfortunate that it happens at this time for his team.
Leipold didn't want to speak further on the matter, however. That's because he "doesn't know enough to comment more out of respect to family," per Tait.
After the news broke, Kansas Basketball confirmed that Self is doing well and is receiving care at the University of Kansas Health Systems.
The Kansas Jayhawks (25-6) are the top seed in the Big 12 Tournament and are the betting favorite to win it after winning the regular season Big 12 crown. However, missing a first-ballot Hall of Fame coach certainly is something that could derail the Jayhawks' chances.
The Jayhawks entered Saturday as a four-point favorite. They've thus far fared well, leading at halftime.
West Virginia came into the contest after dismantling Texas Tech on Wednesday night, 78-62. The Red Raiders were without their head coach as well, although Mark Adams was suspended for racially insensitive comments and proceeded to step down as TTU's head basketball coach after the game concluded.