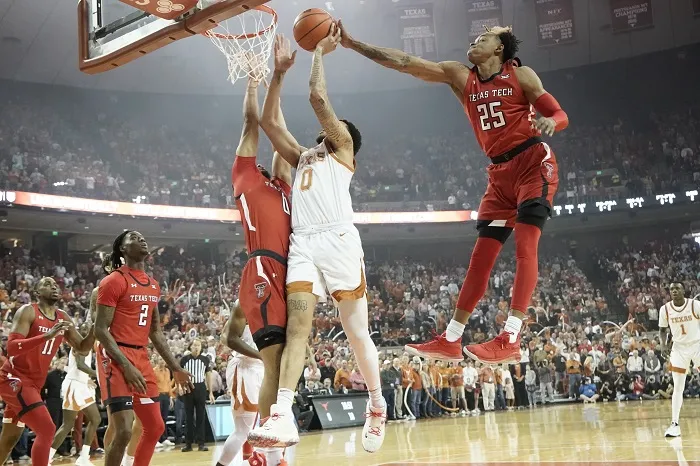 KANSAS CITY, Mo. — Texas interim head coach Rodney Terry described forward Timmy Allen as "day-to-day with a lower leg injury on Thursday night.
For that reason, Allen didn't start for Texas when it faced Oklahoma State in the Big 12 Tournament quarterfinals, a game that the No. 2-seeded Longhorns won, 61-47.
Allen, a forward who is averaging 10.5 points, 5.5 rebounds and 3.5 assists, suffered the injury against Kansas last week.
"Well, Timmy got nicked up a little bit in the Kansas game, and we immediately started working on his recovery," Terry said. "We got one of the best trainers in the country, John Reilly, strength coach. They have been working with him the last couple days, and we just made a decision that we are going to go day-to-day, and he's getting better each and every day. But we'll put him back out there when the opportunity presents itself to where he's 100 percent."
Without Allen in the lineup, the Longhorns started guard Sir'Jabari Rice, who was named the Big 12 Sixth Man of the Year on Sunday.
Texas received solid games in Allen's absence from Rice, guard Tyrese Hunter and forward Dylan Disu.
Rice — who was a starter at New Mexico State before he transferred to Texas at the start of this season — scored 15 points with eight rebounds and three assists. Disu, whose play has tracked up the past few weeks, scored 11 points and grabbed 11 rebounds for a double-double.
Hunter, who like Disu has been a starter all season, scored 11 points.
The Longhorns also got 10 points out guard Marcus Carr and another 10 points out of freshman Arterio Morris, who stepped into Rice's role off the bench.
Texas held Oklahoma State to 27 percent shooting, forced 20 turnovers and scored 22 points off those turnovers. Texas led 35-26 at halftime and never trailed.
You can find Matthew Postins on Twitter @PostinsPostcard