Big 12 Basketball
Big 12 Women's Tournament Preview Oklahoma vs. Iowa State Preview, Prediction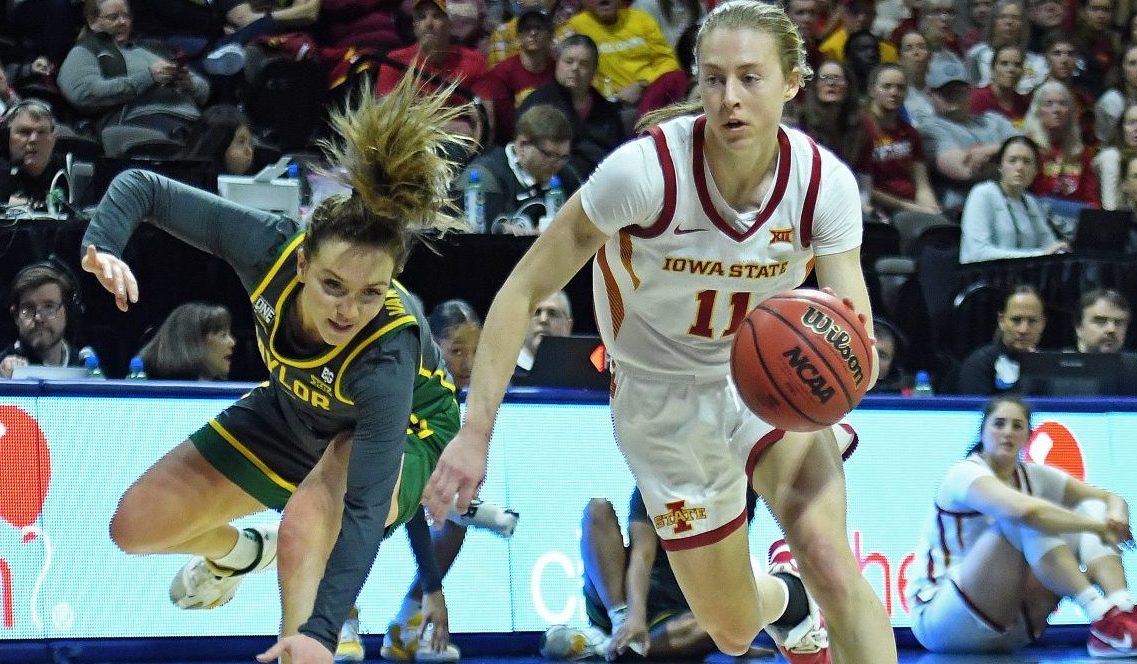 Here is everything you need to know about Oklahoma and Iowa State in our Sooners vs. Cyclones Big 12 Tournament women's basketball preview.
Game 7: No. 2 Oklahoma (25-5) vs. No. 3 Iowa State (20-9), 2:30 p.m., Saturday (or 30 minutes after the end of Game 6)
Season series tied 1-1): Oklahoma def. Iowa State, 82-79, in Norman, Okla., on Jan. 8; Iowa State def. Baylor, 86-78, in Austin, Texas, on Jan. 28.
Big 12 Tournament results: Oklahoma: def. TCU, 78-77; Iowa State: def, No. 6 Baylor, 74-63.
Winner gets: a berth in Sunday's Big 12 Championship Game.
Projected starting lineups
Oklahoma: G Taylor Robertson, G Ana Llanusa, G Nevaeh Tot, F Madi Williams, F Liz Scott.
Iowa State: G Ashley Joens, G Lexi Donarski, G Emily Ryan, F Nyamer Diew, F Morgan Kane.
Player to watch
Oklahoma
F Skylar Vann: Mark my words — next year Vann could be the Big 12 Player of the Year. The only reason the two-time Big 12 Sixth Player of the Year doesn't start for Oklahoma is because three super-seniors are in front of her — Robertson, Llanusa and Williams. But she has been vital to OU's run all season, and she was the player they turned to for the game-winning basket against TCU on Friday night, as her lay-up with 2.2 seconds left secured the win. She had 21 points, five rebounds and three assists off the bench. Whatever OU asks her to do, she does, and she does it at a high level.
Iowa State
G Ashley Joens: After the game she had against Baylor, she remains the player to watch. Against the Bears she had a double-double — 30 points and 15 rebounds. She also played all 40 minutes. She was the women's player of the year for Heartland College Sports and the Big 12 coaches' team. She will leave the Cyclones as its all-time leading scorer and rebounder, along with a host of other records, once her career ends this season. Entering the Big 12 Tournament the fifth-year senior was averaging 21.0 points and 9.4 rebounds this season. She's averaged at least 20 points per game each of the past four seasons. It's rare to see sustained greatness at this level. Enjoy it while you can.
Key storylines
Oklahoma
The Sooners entered the season with a stacked roster and high expectations after reaching the second round of the NCAA Tournament under first-year coach Jennie Baranczyk. For the most part, the Sooners have lived up to those expectations. Despite being swept by Texas, the Sooners were able to win a share of the Big 12 regular-season title and earn the No. 2 seed in the Big 12 Tournament.
The opener of the Big 12 Tournament against TCU was anything but optimum. The Horned Frogs played at a high level and nearly became the first No. 10 seed to be a No. 2 seed in Big 12 history before Vann's heroics at the end of the game. Robertson had 17 points and Aubrey Joens had 15 points, all of which were in the first half.
Iowa State
While the Cyclones have had a good season, it could have been great. On Jan. 8, the Cyclones lost center Stephanie Soares to a torn ACL. The 6-foot-6 center was supposed to be a differentiator for the Cyclones, and she was. When she was hurt, she was averaging a double-double. That turned the Cyclones' upside down, as they had to revert back to the way they played a season ago when they reached the Sweet 16. It's been a bumpy road to get the No. 3 seed in Kansas City, but they won four of their last six heading into the tournament.
Iowa State's game with Baylor, a 74-63 win, was paced by Joens. But, guard Emily Ryan had a fine game, scoring 15 points. Morgan Kane added 10 points.
Prediction
Iowa State 79, Oklahoma 78. It's a neutral court but in a real sense it's a home game for Iowa State and their 'Hilton South' fans. The Cyclones win in a squeaker.
You can find Matthew Postins on Twitter @PostinsPostcard.