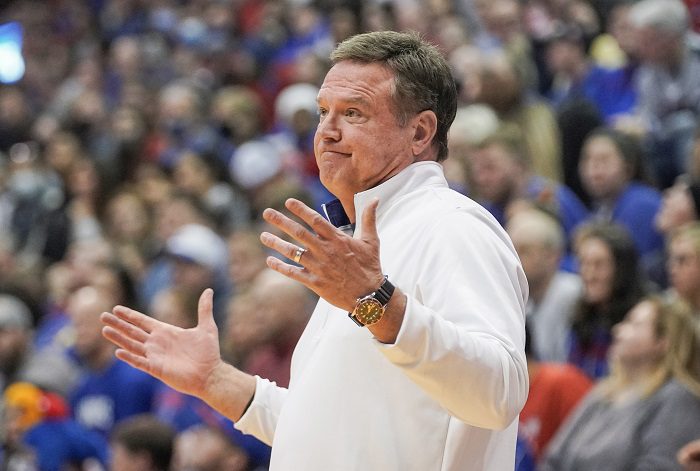 KANSAS CITY, Mo. — Kansas players and coach got a surprise visitor during their Friday morning pre-game meeting — head coach Bill Self.
Well, virtually anyway. Self called in to the meeting and listened in as his interim coach, Norm Roberts, went through the game plan.
Roberts described it as a long conversation and said the players enjoyed hearing from their head coach.
"He's just getting better," Roberts said. "He's just getting better. We talked to him today, earlier this morning. Went over the game plan of how we wanted to guard and what we wanted to do."
The Jayhawks learned before Wednesday's game with West Virginia that Self had been taken to the hospital for what Kansas athletics termed a "standard procedure." There was plenty of speculation before the game about his condition, but Kansas made it clear in a statement that he did not have a heart attack.
The Jayhawks will be without Self for the rest of the Big 12 Tournament. Kansas announced that shortly after Thursday's game.
Kansas forward Jalen Wilson — who had 25 points in Friday's Big 12 Tournament semifinal over Iowa State — said it was great to hear from Self.
"It was great to talk to him, hear his voice," Wilson said. "He was super proud of how we did last game (vs. West Virginia), and I am sure he will be proud of us, how we did today. He said just go out there, continue to play the right way and continue to play Kansas basketball. It was great."
Roberts said he talked to Self after the game as well.
"He talked to us right after the game," Roberts said. "He was so excited about how the guys played. You know, he gets excited about defense more than anything else and he said, hey, we really guarded today, and he was really happy for our guys."
You can find Matthew Postins on Twitter @PostinsPostcard