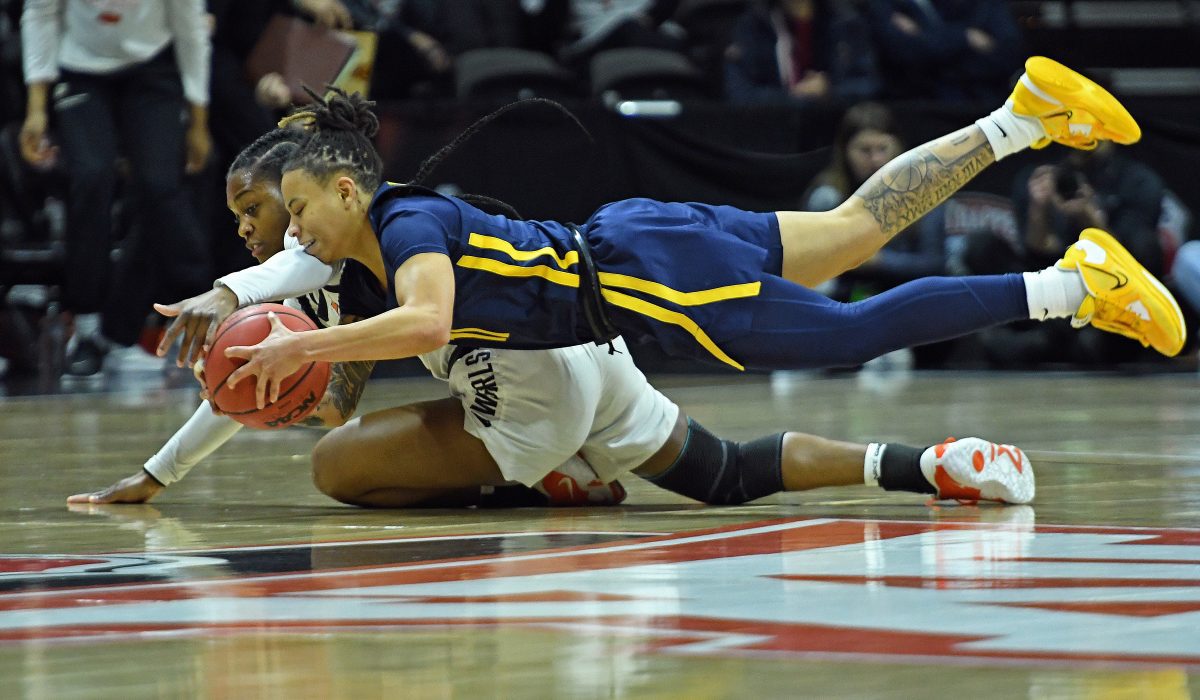 KANSAS CITY, Mo. — The Oklahoma State Cowgirls beat the West Virginia Mountaineers, 62-61, in the Big 12 Women's Tournament quarterfinals. Here are three thoughts on the game.
How Oklahoma State Won
In the most compelling way possible. After staging a rally from double-digits to start the fourth quarter, the Cowgirls were down one point with 13 seconds when senior guard Terryn Milton did this.
It capped a 20-8 fourth quarter for the Cowgirls and Milton finished with 12 points.
But the Cowgirls' (21-10) day was anything but easy. Oklahoma State never seemed to get anything going consistently. The offense looked disjointed at times. The turnovers (20 of them) got under coach Jacie Hoyt's skin. Way too many of them from a team that prides itself on possessing the ball. The defense was there. That's part of the reason the Cowgirls weren't out of it.
An OSU run in the third quarter was keyed by defense. But it faded. In the fourth, with the Cowgirls down six, 58-52, and with less than five to play, they went to work. Naomie Alnatas drove to the basket, drew contact, made two free throws to cut the lead to four. Then Lior Garzon drained a 3-pointer to cut it to one point. Taylen Collins stole a post-entry pass but she couldn't make it pay off on the other end.
WVU's Madisen Smith made a 3-pointer to push the lead back to four with 2:02 left, but Garzon answered.
With a minute left, Milton actually made a basket for the lead, but she was called for a charge and West Virginia got the ball. After WVU's Kyah Watson missed a mid-range jumper, Oklahoma State got the ball and Milton got her redemption.
Alnatas had 16 points for OSU. Collins had a double-double — 14 points and 15 rebounds. Garzon had nine points, all on 3-pointers.  
How West Virginia Lost
It was the fourth quarter. For three quarters West Virginia (19-11) controlled this game. Their defense was as good as it was against Baylor on Saturday. Madisen Smith had another impressive game, scoring 23 points and making five 3-pointers. JJ Quinerly had 18 points and fought leg cramps the entire game. The second bout was so nasty that she had to leave the floor for the final minute. If you saw her in person, as I did, you would have thought she tore up her knee. She was in pain.
But in the fourth quarter it just seemed to fall apart. OSU outscored the Mountaineers 20-8 and had a 15-3 run in the final six minutes. The defense that had served them so well in the first 30 minutes just seemed to collapse.
Given the final score, it's a little hard to believe that the Mountaineers went on a run of their own, outscoring the Cowgirls 15-7 to end the third quarter and taking a 53-42 lead.
If anything, West Virginia needed a little more help offensively. Outside of Smith and Quinerly, no other Mountaineer was in double figures and Danni Nichols was the closest with six points. WVU could have used one more scorer.
Oklahoma State's Blue-Collar Mentality
Hoyt is quick to remind that the Cowgirls were picked to finish ninth in the Big 12's preseason poll. They appear headed to the NCAA Tournament next week, but they entered this Big 12 Tournament on a three-game losing streak. Plus, for three quarters against WVU, the Cowgirls didn't play well.
But that's an encapsulation of the season for Oklahoma State. The Cowgirls fight for everything.
"I don't feel like we think it comes easy," Hoyt said. "We're very blue collar, we have to put in the work and we pride ourselves in that we do put in the work and don't back down for a minute. And I don't care who we're playing, I don't care what the situation is. We always believe we can win. And we have that belief because we work so dang hard. And I just feel that we've kind of had our backs against the wall all season long, when we got picked ninth. And you know, we win big games and still it's just kind of like (she shrugs), and I don't know what the deal is with that. But I know that we're used to it. I know that we're used to people betting against us."
You can find Matthew Postins on Twitter @PostinsPostcard