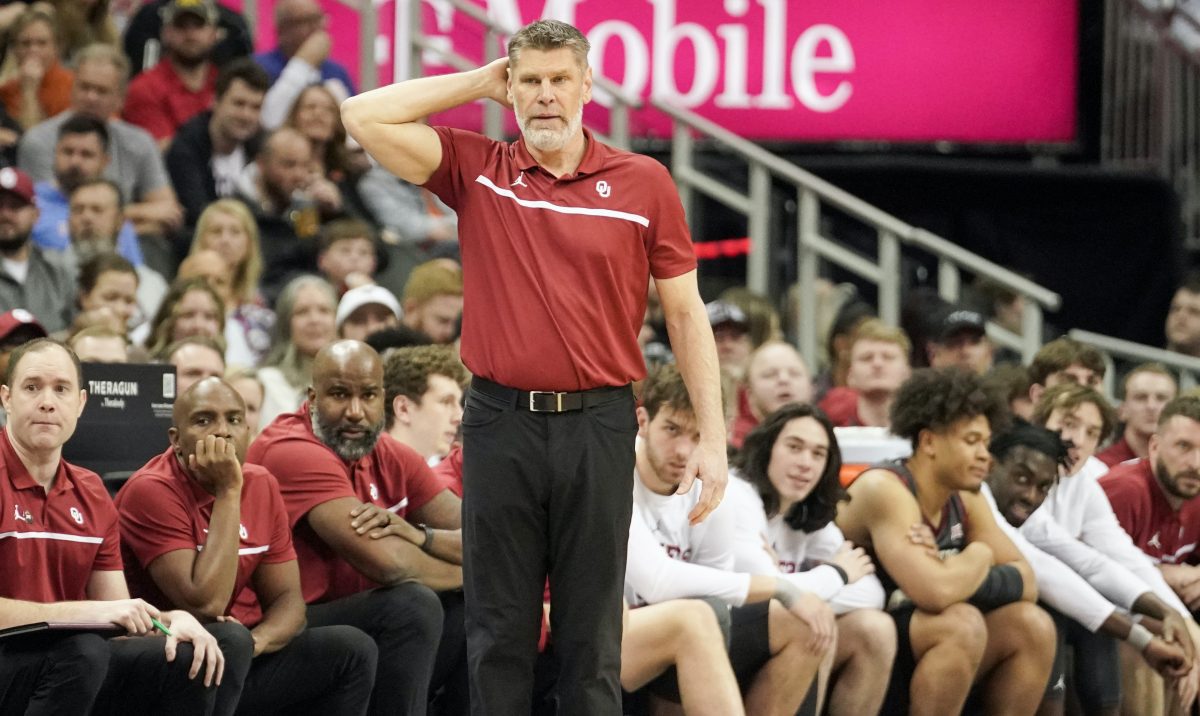 KANSAS CITY, Mo. — Oklahoma men's basketball coach Porter Moser knows that a bid to the NCAA tournament is out of the question at this point.
But, even with the Sooners two games under .500 at the conclusion of its season, is there a chance that they could be invited to the NIT?
And if so, would Moser accept the invitation?
He talked about that a little bit after the Sooners lost to Oklahoma State on Wednesday in the first round of the Big 12 Tournament.
"I always like to compete," Moser said. "It's in my blood, and I want to compete. So, you know, I want — I don't want to stop coaching Tanner Groves, if there's the opportunity. So my mind hasn't been there yet, so I've got to process that. But I know just the way I'm wired, I just love to compete."
The NIT selects its field after the NCAA Tournament selects its field. Oklahoma just missed the NCAA Tournament a season ago and was a top seed in the NIT.
The difference was that Sooners team had a winning record going into selection Sunday and a 7-11 Big 12 record. OU finished the season 19-16.
This Sooners team is 15-17 overall with just five league wins. But does that preclude it from being selected?
The NIT — which is owned by the NCAA — has three principles for establishing its bracket. First, select the 32 best teams. Then, seed them and then bracket them.
There is nothing in the guidelines for NIT that a team must have a winning record to play. The by-laws state the goal is to "select the best available teams to fill the NIT field."
The question is whether a Power 6 team with a sub-.500 record should be considered among the Top 32 teams after the NCAA selections. Even with Wednesday's loss, the Sooners have an NCAA NET rating of 67, one of the primary tools the NCAA Tournament uses for its selection process. The NIT committee can use that tool too, if it wishes.
OU played 20 Quad 1 games and went 6-14. This season. It is 3-3 against Quad 2 teams and a combined 6-0 against Quad 3 and Quad 4 teams. The Sooners are also 2-8 on the road.
The Sooners also play in the Big 12, considered by most to be the best conference in the country. Would that quality carry them to the NIT?
We won't know until Sunday. But we do know that Moser doesn't want to stop coaching this team.
You can find Matthew Postins on Twitter @PostinsPostcard