Trending Now
AAC Commissioner on Conference Realignment: 'This Is a Trend, It's Not Going to Stop'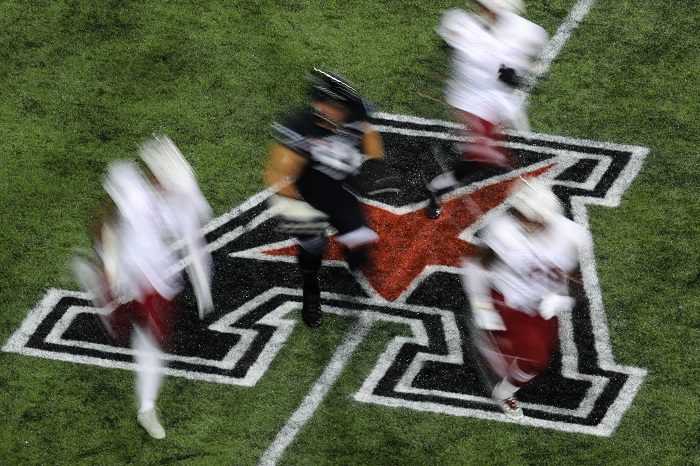 The American Athletic Conference is just about to lose three of its members to the Big 12, and in a transition year 'The 12' will be 14. American commissioner Mike Aresco has obviously seen those defections from his league firsthand, so it's not surprising if he had a bit of a jaded stance.
With all that in mind, Aresco indicated he thinks the collegiate landscape will continue to transform in the foreseeable future.
"This is a trend. It's not going to stop," Aresco said, according to CBS Sports' Dennis Dodd. "There's going to be more consolidation."
Of course, a number of Pac-12 schools have been linked to the Big 12 in recent days. The so-called four-corner schools (Arizona, Arizona State, Colorado, and Utah) serve as those.
"[Brett] Yormark continues to pursue the Pac-12's Four Corners schools: Arizona, Arizona State, Colorado and Utah," Dodd writes. "There have been "weekly" conversations between the Big 12 and those four programs as talks have heated up, one league insider tells CBS Sports.
"Big 12 sources were waiting anxiously to hear the results of a Colorado Board of Regents meeting held to discuss the program's future in the Pac-12. The CU regents met in a special session, according to multiple reports.
"It may only take one of the Four Corners schools to bolt from the Pac-12 for the other three to follow, Big 12 sources say."
With Colorado seemingly looking to jump ship, it could be just a matter of time before the proverbial dam breaks and the Big 12 expands even further, and that is what Dodd is being told as well. And well, that would corroborate Aresco's sentiment.