Iowa State Cyclones
Iowa State Women's Coach Bill Fennelly on the Big 12 Splitting Men's, Women's Basketball Tournaments: 'It's Disappointing'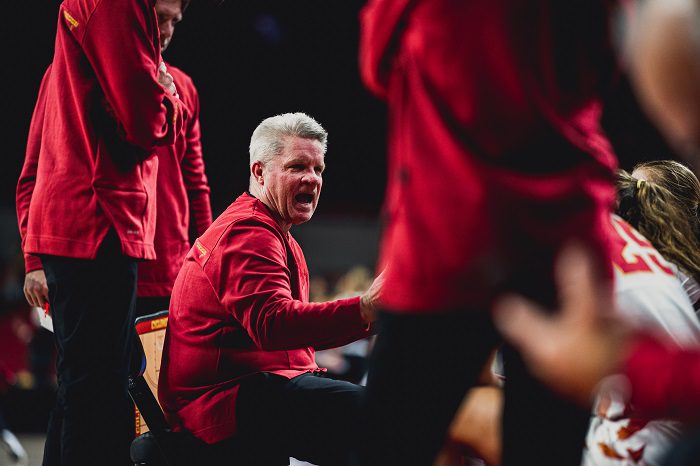 The 2023 Big 12 men's and women's basketball tournaments are taking place in Kansas City this week, but starting in 2024, the women will be playing a week prior to the men. The thought process by the Big 12, which made this decision under the old regime, was to give the women the higher-quality facilities at T-Mobile Center, where the men play, rather than having to use Municipal Auditorium.
However, it seems like some pushback may be starting to build against the idea.
Cyclone Fanatic's Chris Williams talked with Iowa State women's basketball coach Bill Fennelly after the Cyclones beat Oklahoma in the semifinals on Saturday, and Fennelly told him, "I like them [the men's and women's tournaments] together. I love KC. I don't know how many people are going to be able to spend 10 days down here. I don't know many people who have that kind of a job."
Fennelly added, "This is the greatest tournament – beside the NCAA Tournament – there is the country. And we changed it. It will hurt the fan base, no question. Some schools have men's fans. Some have women's fans. Our school has fans. They root for both."
It will be interesting to see what happens going forward. If Fennelly's emphatic statement causes other women's coaches and athletic directors to push back as well, then the Big 12 Conference could make this a "one-and-done" plan.
Earlier in the day on Saturday, we shared Williams' compelling thread on why the move to separate weeks for the Big 12 men's and women's basketball tournament is a bad idea. You can read it below.
Granted, the move was done in good faith, in order to provide better facilities and amenities for the women's teams. However, it will likely come with a trade off, as Williams notes in this thread.
This is something to watch as the Big 12 plans for future Big 12 Tournaments, which is contracted to stay in Kansas City through at least 2027.