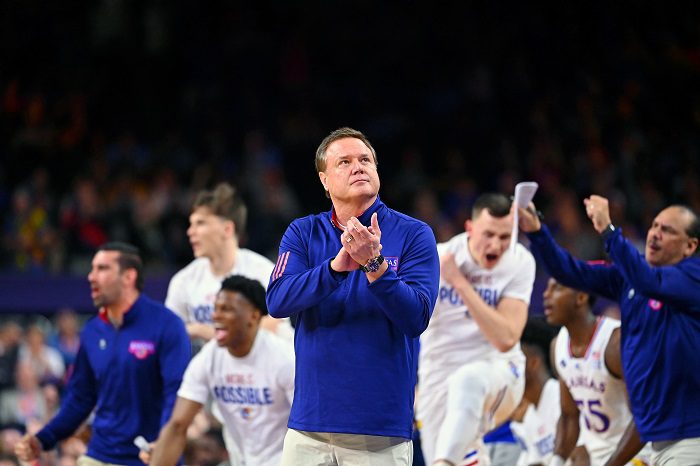 KANSAS CITY, Mo. — Kansas interim coach Norm Roberts said the expectation is that coach Bill Self will be back on the bench next week when the NCAA Tournament begins.
Roberts made the comment after the Jayhawks lost to the Texas Longhorns in the Big 12 Championship game, 76-56, on Saturday at T-Mobile Center.
"He's doing well," Roberts said. "We plan on him coaching next week."
During a pre-game radio show appearance, Roberts said that Self, like Friday, spoke to the coaching staff on Saturday morning about the game plan for Texas.
On Friday Self spoke to the players, in addition to the coaching staff, as Roberts led them through game-planning and preparation for Iowa State.
"He's just getting better," Roberts said on Friday. "He's just getting better. We talked to him today, earlier this morning."
The Jayhawks learned before Thursday's game with West Virginia that Self had been taken to the hospital for what Kansas athletics termed a "standard procedure." There was plenty of speculation before the game about his condition, but Kansas made it clear in a statement that he did not have a heart attack.
The Jayhawks were without Self for the rest of the Big 12 Tournament.
Without Self, Kansas beat West Virginia and Iowa State before losing by 20 to the Longhorns.
Now, Kansas will wait to see how it is seeded in the NCAA Tournament. Even though the Jayhawks didn't claim the automatic bid to the tournament, they are still expected to be a high seed. Kansas was ranked by ESPN's Bracketology as the No. 1 overall seed before Saturday's game, so it's possible it won't fall off the No. 1 seed line, even with the loss.
You can find Matthew Postins on Twitter @PostinsPostcard