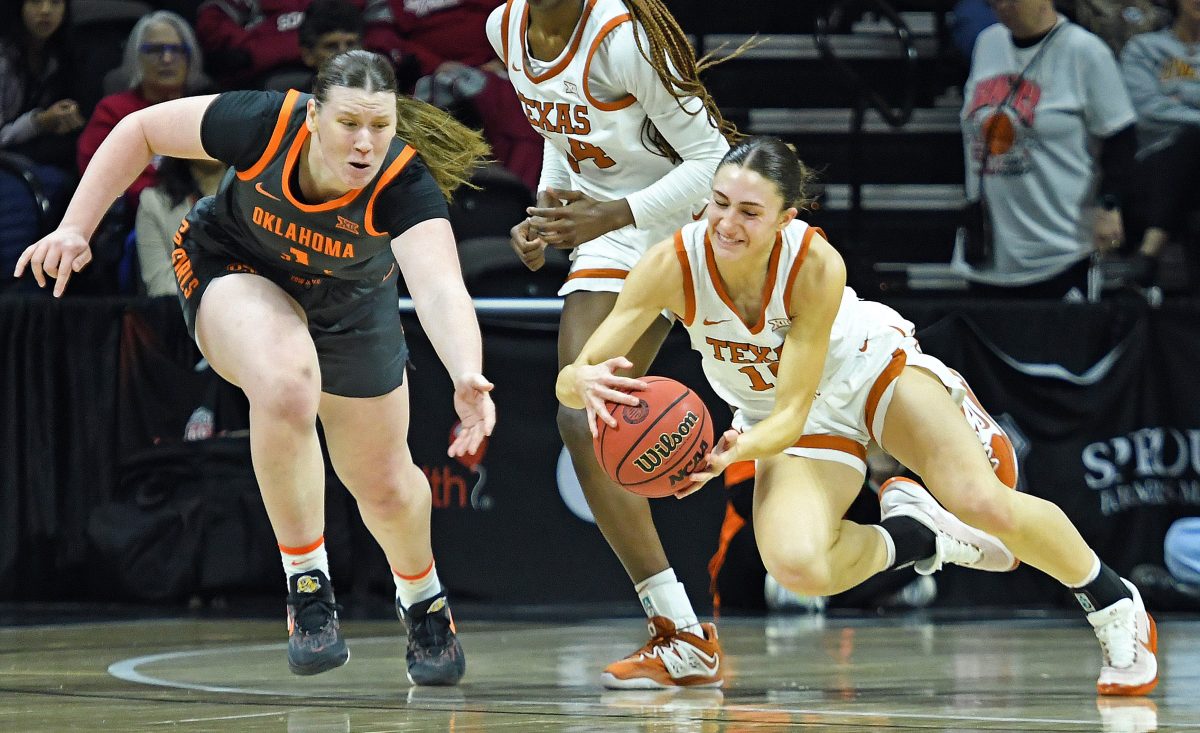 KANSAS CITY, Mo. — The Texas Longhorns beat the Oklahoma State Cowgirls, 64-57, in the Big 12 Women's Tournament semifinals on Saturday. Here are three thoughts on the game.
Texas moves on to the Big 12 Championship Game at 1 p.m. Sunday.
How Texas Won
How Texas and its head coach, Vic Schaefer, likes to win games — defense. Most specifically turnovers and points off turnovers.
Texas loves to be aggressive on man-to-man defense, put hands in each player's face and try to create chaos. It worked with Oklahoma State. The Cowgirls ended up with 17 turnovers in the game. However, Texas had 11 of its own.
Here's where the points make all the difference. Texas turned OSU's mistakes into 21 points. OSU was only able to turn Texas' mistakes into seven points.
It was the clearest difference in the game for Texas. The Longhorns finally gained control midway through the third quarter on a 6-0 run in a span of 1:05 to push their lead to 45-35 with 4:51 left. DeYona Gaston, Shay Holle and Shaylee Gonzales each hit a basket in the run.
From there, Texas maintained its edge. OSU cut it to a half-dozen a couple of times, but each time Texas had an answer.
Guard Rori Harmon had another great game, with 11 points, 10 assists and seven rebounds, which was a first in Big 12 Tournament history. She was one of four Texas players in double figures. Gonzales had a game-high 17, while Gaston had 14 points and Holle added 13 points.
How Oklahoma State Lost
It was one of those weird games where, statistically speaking, Oklahoma State was practically Texas' equal. The shooting percentage difference was negligible (Texas was 42.1 percent, OSU was 40 percent). Texas was slightly better from the 3-point line but OSU hit eight to Texas' five. OSU outrebounded Texas by three overall by one on the offensive end.
The differences were slight when it came to paint points (Texas 26-22) and second-chance points (Texas 13-11). OSU led in bench points (16-5).
Honestly, it was the turnovers and the points off the turnovers that did Oklahoma State in. Additionally, the OSU offense lacked rhythm, the same as its quarterfinal win over West Virginia. The difference on Saturday was that the offense didn't jolt itself back into rhythm in the fourth quarter as it did against WVU.
Naomie Alnatas led with 13 points. Lior Garzon — who started — and Kassidy De Lapp each had 11 points. There was some good news. Claire Chastain got back on the floor in a bench role and played 11 minutes.
Shay Holle, Glue Player
For the past two seasons Shay Holle has been a late-season addition to the starting lineup.
Last season coach Vic Shaefer put both her and DeYona Gaston in the starting lineup in late January and it served as a spark to the Texas chemistry, as they rode that all the way to the Elite Eight of the NCAA Tournament.
This season, Holle settled into a bench role to start the season. But, lately, she's returned to the starting lineup and — guess what — she's sparked the Longhorns down the stretch.
She had a great game against OSU and showed that she's now less conscious of mistakes. In the first quarter she missed a 3-pointer, but Texas got the rebound and got it back to her and she drained the next attempt. Her 13 points was the third time she's scored 10 or more points since returning to the starting lineup on Feb. 8 against Texas Tech.
Now, she's in the starting lineup due to the injury to Sonya Morris, so there was logic to her bench role before the injury. But, she was a Top 100 recruit. She does everything Schaefer and the staff ask of her. She's a great fit. She's a plus defender and she's emerging as a quality shooter from distance.
Next season, Holle needs to be a starter on this team. If she's not, then someone needs to have a talk with Vic.
You can find Matthew Postins on Twitter @PostinsPostcard