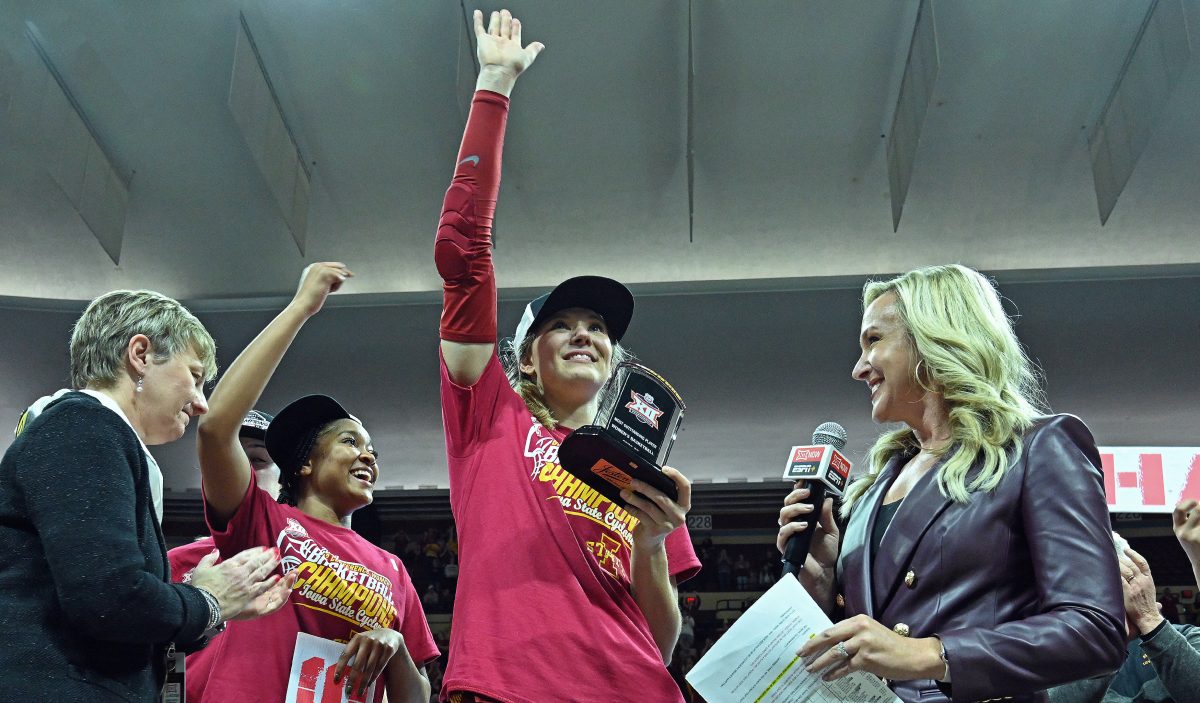 KANSAS CITY, Mo. — Ashley Joens was barely one year old the last time Iowa State won a Big 12 women's basketball tournament championship in 2001.
So Sunday's title has been a long time coming for the Cyclones, and a long time coming for Joens.
Iowa State coach Bill Fennelly set the stage for Joens' crowning weekend before the tournament began, with words he thought would resonate with his All-American, fifth-year senior who was the Big 12 Player of the Year.
"The one thing we talked about as she was finishing (her career) was that the great players play best at the biggest moments," Fennelly said. "And the other thing, not that she needs any validation by any means, but when you lead a team to a tournament championship, you're in rarefied air there."
It was a sweet ride for Joens, who in the final minute of the Cyclones' 61-51 win over Texas stood at the free-throw line and heard ISU's fans chant "M-V-P!" over and over again.
She heard it. But she also needed to focus.
"I mean it was special," Joens said.
Joens ripped through three games in the Big 12 Tournament, averaging 26.6 points and 11 rebounds to earn Most Outstanding Player honors. She had the award with her at the podium.
She's aware of the legacy she's leaving at Iowa State. She's the program's all-time scorer and rebounder for starters. She's now one of 14 players with 3,000 career points (she passed that mark in Friday's semifinal win over Oklahoma).
She's only the second in the Big 12 to do it, joining Baylor's Brittney Griner.
But this Big 12 Tournament title proved elusive throughout her five years at Iowa State. Last year, the Cyclones fell to Texas in overtime in the semifinals. The Longhorns went on to win the tournament.
No one mentioned the sweet irony of claiming the program's first tournament title in 22 years, doing it in Kansas City and doing it against the team that sent them home last year.
Knowing Joens, she would have side-stepped any semblance of controversy.
But she knows what she did this weekend is a big deal.
"Yeah, it means a lot," Joens said. "Obviously I got the opportunity to come back and to be able to play with this team and for these coaches, it's as good as it gets. They work as hard as they can and we are able to come out every day and compete. I don't know how much the coaches have gotten any sleep all weekend."
So does Fennelly as the clock ticks down on this season and his time coaching Joens, who is rightfully the best player in Iowa State history.
"She was incredible," Fennelly said. "Incredible for three days."
You can find Matthew Postins on Twitter @PostinsPostcard