Baylor Bears
Baylor Awarded No. 3 Seed in 2023 NCAA Tournament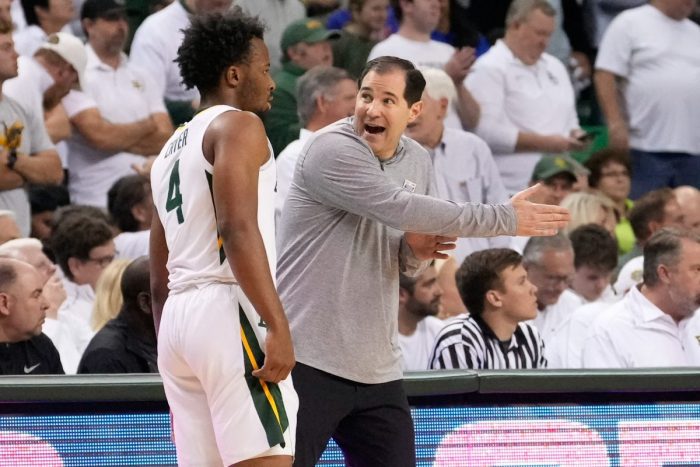 The 2023 NCAA Tournament selection committee has tabbed the Baylor Bears as the No. 3 seed in the South Regional.
Baylor will take on No. 14 seed UC Santa Barbara on Friday in Denver, Colorado. The winner will take on No. 3 seed Creighton or No. 11 seed NC State.
It was a very short stay for the Bears in the Big 12 Tournament. They saw their conference tourney title hopes evaporate in a 78-72 loss to the Iowa State Cyclones in the quarterfinal round, thus forcing them to shift their focus to the bigger tourney in the coming days.
Baylor finished the regular season with a 22-10 record, including an 11-7 mark in Big 12 play.
The Bears, combined with the Kansas Jayhawks, make for the past two national champions. They, of course, took down the title with an 86-70 victory over Gonzaga back in 2021, and they'll be looking to get back to that stage once again.
They can certainly rely on what's the best backcourt in the country, boasting trio of guards LJ Cryer, Adam Flagler and Keyonte George. The three are all pouring in more than 14 points per game, with George's 15.8 leading the way and Flagler and Cryer's 15.5 and 14.5, respectively, just behind him.
With all that production, Flagler was an All-Big 12 First Team selection. George was the league's Freshman of the Year.
Directed by Scott Drew now in his 20th season, Baylor has made a total of 14 NCAA Tournament appearances throughout the program's history, while reaching three Final Fours, with that one title just two years ago. The Bears have an overall record of 21-15 in March Madness.