Big 12 News
Bill Self Released From Hospital, Plans to Rejoin Team for NCAA Tournament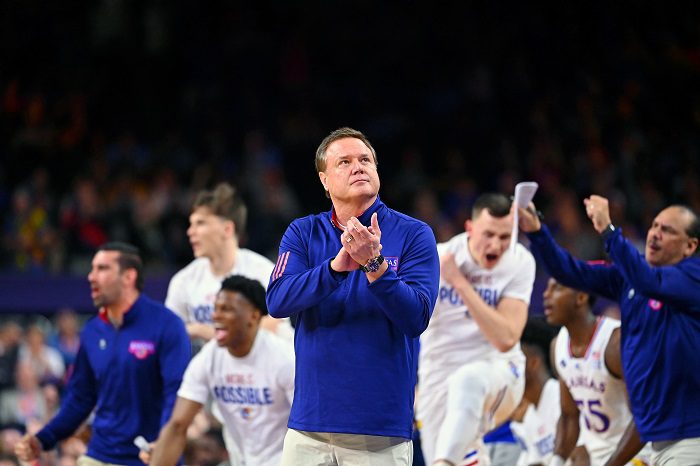 Really good news has surfaced regarding Kansas Jayhawks head coach Bill Self. He has been released from the hospital and expects to be available for the NCAA Tournament next week.
"KU Coach Bill Self was discharged from The University of Kansas Health System today in good condition," the hospital started in the statement. "He arrived at the emergency department Wednesday evening March 8, complaining of chest tightness and balance concerns. Clinical Service Chief for Cardiovascular Medicine and Interventional cardiologist Dr. Mark Wiley said Coach Self underwent a standard heart catheterization and had two stents placed for the treatment of blocked arteries. Coach Self responded well to the procedure and is expected to make a full recovery."
Self also expressed his gratitude for the care over the last few days.
"I'm so thankful for the amazing staff at the University of Kansas Health System for the excellent care I received," Self said in a statement. "I am proud of our team and coaching staff for how they have handled this and am excited to be back with them as the best time of the season gets underway."
During a pre-game radio show appearance for the Big 12 Tournament Championship, assistant Norm Roberts, in the meantime filling in, said that Self spoke to the coaching staff on Saturday morning about the game plan for Texas. On Friday Self also spoke to the players, in addition to the coaching staff, as Roberts led them through game-planning and preparation for Iowa State.
"He's just getting better," Roberts said on Friday. "He's just getting better. We talked to him today, earlier this morning."
The Jayhawks learned before Thursday's game with West Virginia that Self had been taken to the hospital for what Kansas athletics termed a "standard procedure." There was plenty of speculation before the game about his condition, but Kansas made it clear in a statement that he did not have a heart attack.
The Jayhawks were without Self for the rest of the Big 12 Tournament. Without him, Kansas beat West Virginia and Iowa State before losing by 20 to the Texas Longhorns in the championship.
They've compiled a 27-7 overall record, including a 13-5 mark in Big 12 play en route to the regular season title. Now the Jayhawks eye another postseason run as they look to defend their national championship.