Kansas Jayhawks
Kansas' KJ Adams on NCAA Placement: 'I Was Just Shocked We Didn't Get the Second Overall Seed'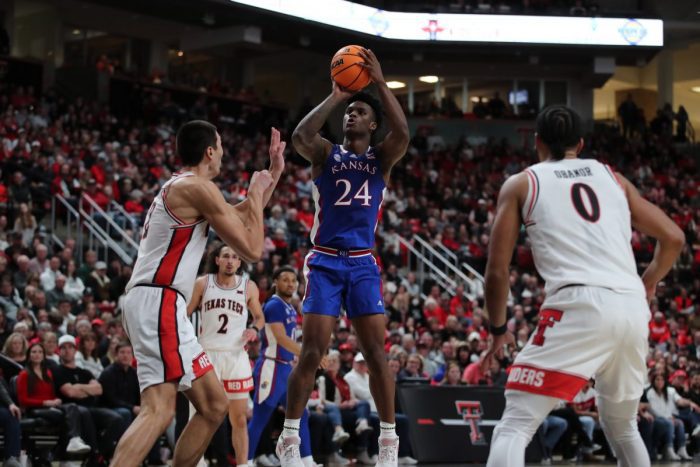 Reaction has constantly been pouring in since it was announced that Houston, and not Kansas, is in the Midwest Region. The Jayhawks were, by many people, expected to get a home court advantage in Kansas City as the No. 1 seed there.
But that's not the case. And count Kansas forward KJ Adams among those that's bewildered.
"I was just shocked we didn't get the second overall seed," Adams said, via 247Sports. "But that happens sometimes. I'm just excited that we get to play again. [We] had a tough loss last night, but now it's getting ready to bounce back and have a good game wherever we play…we're just going to do what we have to do to get to where we need to be."
Norm Roberts, who stepped in as head coach while Bill Self was in the hospital over the weekend, also commented on the team's placement.
"That's a tough deal for the committee," Roberts said. "It's never easy. No one's ever going to be happy. But we tell you this at Kansas, we are not going to be upset about being a one seed in whatever region that is. We're very happy where we're at. And now we got to focus in and play."
Chris Reynolds, the Vice President for Intercollegiate Athletics at Bradley University and NCAA Division I Men's Basketball Committee Chair, offered an explanation on that decision immediately after the bracket was released.
"Well, when you look at Houston, a combined 15-2 in the Quad I and II, compared to Kansas 21-7 in the Quad I and II," Reynolds said. "And Houston, they were competitive in all their games that they lost, except for today. And we understand today they were without their best player. And so for that reason, we kept Houston at number two."
As for the exact matchup Kansas will have when it opens play in the West Region, it will take on No. 16 Howard on Thursday in Des Moines. Howard is in the NCAA Tournament for the first time since 1992. The winner will play either No. 8 seed Arkansas or No. 9 seed Illinois.
Kansas finished the regular season with a 27-5 record, including a 13-5 record in Big 12 play.
The Jayhawks are the defending National Champions after beating North Carolina last season 72-69. KU trailed that game by 15 points at halftime before an all-time comeback to win their first National Title since 2008.
The Jayhawks are led by forward Jalen Wilson, who averaged 20.4 points and 8.1 rebounds per game this season. He was named the Big 12 Player of the Year last week and has also been named a semifinalist for the National Player of the Year.
Kansas has made 51 NCAA Tournament appearances, while reaching 16 Final Fours, plus four National Championships (1952, 1988, 2008, 2022). The Jayhawks have an overall record of 115-48 in March Madness.