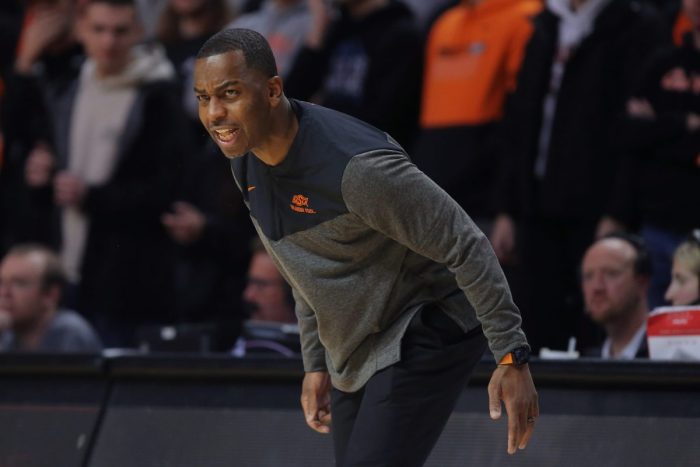 The Oklahoma State Cowboys will be the only Big 12 team in the men's postseason National Invitation Tournament in 2023.
The Cowboys accepted the invitation on Sunday night after the NCAA Tournament committee passed the Cowboys over after being eliminated in the Big 12 Tournament quarterfinals.
The Big 12 ended up with seven teams in the NCAA Tournament.
Oklahoma State will be a No. 1 seed in the Top Left Bracket of the NIT and will play Youngstown State in the first round on Wednesday at 6 p.m. central.
Normally, as a No. 1 seed, Oklahoma State would not have to travel to play in the tournament unless it reaches the NIT Final Four, which will be in Las Vegas. But, due to an arena conflict at Gallagher-Iba Arena, the Cowboys will play at Youngstown State.
If Oklahoma State wins, it would play either No. 4 seed Washington State or Eastern Washington.
Before Selection Sunday for the NCAA Tournament, Oklahoma State coach Mike Boynton Jr. made the team's case for the tournament after his Cowboys lost in the Big 12 quarterfinals. At the time, the Cowboys had 18 wins and a NCAA NET rating of No. 41, the latter being one of the primary tools the NCAA Tournament uses to select the field.
"Yeah, I thought we did enough coming into the tournament to be perfectly honest," he said. "I mean, this league presents challenges that, I've been in several others, that no other league does. And I think it's historically good this year. It's not just a good league and not just a league that is better than the others, but it's far and away better than the other leagues. And with all due respect, because there's really good basketball around the country, but to get eight wins in this conference, three in a row, three sweeps, to play the schedule we played overall is a testament to the character of these guys. I think we certainly deserve inclusion into the event."
In the end, the NCAA Tournament disagreed. Even the open letter Boynton and his team wrote to the NCAA Tournament Committee over the weekend didn't sway them.
So, now, the Cowboys will have to settle for a run in the NIT.
You can find Matthew Postins on Twitter @PostinsPostcard