Basketball
Postscripts: Pac-12's Eerily Quiet Week, Bill Self's Health, Big 12 Eats and Media Moving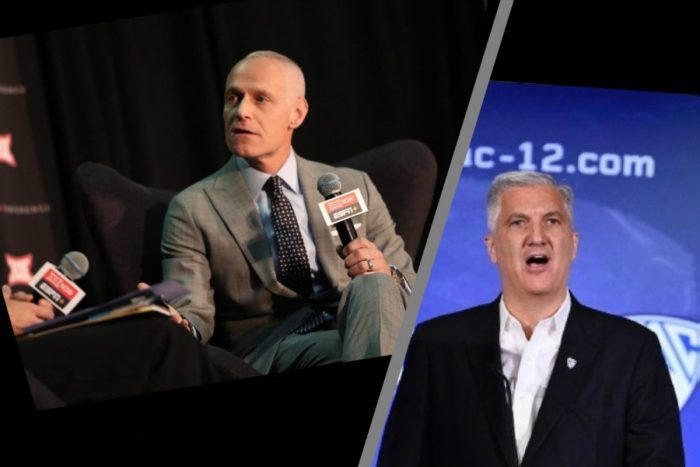 What's going on in the Big 12 and beyond? I expand and explain every Sunday in Postscripts at Heartland College Sports, your home for independent Big 12 coverage.
This week, coaches are reflecting on health in the wake of Bill Self's health emergency, what's up with the Pac-12, I (nearly) ate my way around the Big 12 and here's the logical reason WHY the Big 12 moved the media at the Big 12 Tournament.
Bill Self's Health Emergency
Kansas coach Bill Self had a health emergency the night before Kansas' first Big 12 Tournament game on Thursday and the rumor mill was rampant, so much so that I had to tell the Condon and Miller on KXNO Radio in Des Moines that things I heard on the concourse at T-Mobile Center was straight up "crazy town."
Self didn't have a heart attack, as some feared. But he did have what Kansas athletics termed a "standard procedure" and is doing well. My guess is Self will give more context when he's ready. To me, that's his prerogative. It's his health. That's personal.
Many coaches had well-wishes for him. West Virginia coach Bob Huggins had the most to say, as someone who has known Self for years and talks with him regularly. He also has experience with health emergencies. He had a heart attack when he was coaching at Cincinnati in 2002 and collapsed on the court in 2017 when his defibrillator momentarily stopped working properly.
But other questions were about the job. Coaching at this level is hard. It's hard to find time for family, to eat healthy, to get exercise. By the looks of Self, you would say he's one of those coaches that has figured it out. He doesn't look 60. But he is. And he leads perhaps the most-recognized basketball program in the country, one with extraordinarily high expectations and one whose founding coach was, you know, the guy that invented basketball (James A. Naismith).
Oklahoma State coach Mike Boynton Jr. had plenty to say about trying to find that balance between a high-demanding job and staying healthy.
"As coaches, we talk to young people about taking care of their bodies and their health all the time, and we probably don't live that as well ourselves," Boynton said. "I am probably one of the worst sleepers, and I'm not complaining at all. I don't — you know, I don't wish for more sleep. But I do take a lot of pride in trying to stack up and be as good as the people I know we have to compete against and giving our guys the best chance."
Self missed the rest of the Big 12 Tournament. As of Saturday night, Kansas coach Norm Roberts did say Self is expected to return for the NCAA Tournament. Huggins said it best:
"I want Bill to get well, you know, I want to say as soon as he can, but really I think what I need to say or mean to say is that I want him to come out of there the way he's always been," he said.
Couldn't have said it better.
This Week in 'As The Pac-12 Turns'
Let's start with this. The administrative meetings that were supposed to take place in Las Vegas during the Pac-12 Tournament didn't happen. I take that as a not-so-great sign. But it could also be that they simply want to focus on their basketball tournament.
Former ESPN CEO John Skipper says the Pac-12 and the ACC should merge. He has no skin in the game anymore, so feel free to hot take all you like.
There was also a Big 12 and Pac-12 basketball attendance comparison that, well, didn't go well for the Pac-12. Let's put it that way.
Perhaps the biggest story of the week was by CBS Sports' Dennis Dodd, who just happened to be at the Big 12 Tournament this week. The main headline was about the Big 12 being ready to "pounce" if the Corner Four schools (Arizona, Arizona State, Colorado and Utah) were ready to depart. Dodd even got Self (pre-emergency) and Kansas State coach Jerome Tang to talk about the Arizona schools, with Tang saying "Who doesn't want visit Arizona" and Self saying that Arizona "is the one we have to get."
Well that's … direct.
Plus, there was a Colorado Board of Regents meeting on Wednesday, which some took as a smoke-signal that something was up because there was a Pac-12 update on the agenda. Based on what I can see, nothing came out of that meeting — at least not publicly.
Look, the Big 12 has been through this on the Pac-12's side of it. One thing covering those discombobulations is that decisions don't get made nearly as fast as everyone wants, and you can't drive schools like the Corner Four to 'make' a decision on your timetable. It has to be on theirs. So, if you're the Big 12, you just put your arm around them and say, 'Hey, I've been where you are. I'm here for you. Whatever you need."
I do believe the Big 12 has its eye on the situation. I read a lot into Big 12 commissioner Brett Yormark's quote about Gonzaga on Wednesday, saying "… as I prioritize our next move might be in expansion there's other things right now that I'm focused on."
I legitimately believe those four schools don't want to leave the Pac-12. But, thanks to the Pac-12's inability to get a credible TV deal and its inability to agree on a path for expansion, they may face a decision soon that's about their institutional needs and not about conference camaraderie.
Eating My Way Around the Big 12
On Friday, as promised, I ate myself around the Big 12 (well, most of it). Myself and our site's owner, Pete Mundo, got a few minutes with the executive chef of Levy Restaurants, which caters events at T-Mobile Center, and he walked us through the different dishes they created as a nod to each of the Big 12 schools, which they called "Big 12 Eats."
Here's the entire thread of the tastings. Call it "Proof of Food."
Shout out to West Virginia. Y'all robbed us of pepperoni rolls. They were sold out by Friday. I mean, good on you for representing. But, dang. Save one for a struggling journalist, will ya?
Just gives me an excuse to go to Morgantown, I guess.
The $5,000 Question
During Brett Yormark's 'state of the conference' address on Wednesday, a member of the media asked him if the Big 12 had sold all of the premium seating the conference installed at T-Mobile Center, the seating that forced the media to be moved from the floor to the hockey press box.
His response was immediate.
"Every single one," Yormark said.
The Big 12 sold 208 seats as part of what they call the 'Champions Club.' Off the floor there's a curtained bar area where media used to eat their meals.
The total revenue generated — at $5,000 per seat — was $1.040 million, assuming it was an all-tournament ticket. If the Big 12 broke it up by session, it could be more.
So that horse is out of the barn.
But this is what Yormark promised when he took over — revenue generation in every respect. At the end of the day, that's more than $1 million the league didn't have last season. The league's TV contract will never keep up with the SEC or the Big Ten. So he must squeeze every dime he can.
As I wrote last week, I've covered plenty of events from a hockey press box (though I'm not sure I was aware T-Mobile had one until this week). Yes, we were high up. And, as I wrote last week, I did miss some nuance that I would get covering the game from the floor. But, I found it easier to pick out defenses, offensive sets and big-picture pieces while up there. Plus, I found myself doing most of my work in the interview room anyway.
I enjoyed covering the tournament. I always do. If the Big 12 is interested in feedback on the media experience — and they say they are — I have suggestions, ones that I think would help my beat writer brothers and sisters that cover a team every day.
But an extra $1 million per tournament and all you have to do is move the media? Honestly, I'd make the same choice.
You can find Matthew Postins on Twitter @PostinsPostcard