Big 12 News
TCU Slotted as No. 6 Seed in 2023 NCAA Tournament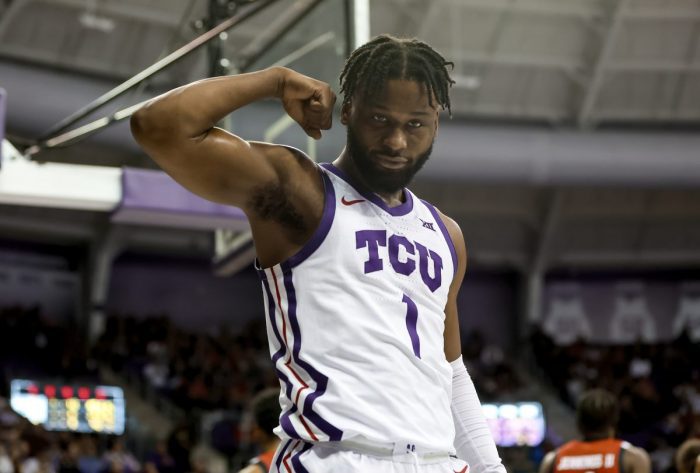 The 2023 NCAA Tournament selection committee has placed the TCU Horned Frogs as a No. 6 seed in the West Regional.
TCU will take on either No. 11 seed Arizona or Nevada, as they play as part of a play-in game, on Friday in Denver, Colorado.
That's after the Frogs advanced to the semifinal round of the Big 12 Conference Tournament. TCU defeated Kansas State quite handily in the quarterfinals, rolling to an 80-67 victory. Then came a 66-60 setback to eventual Big 12 Tourney Champion Texas.
Still, while stopping short of its goal to take down the league tournament crown, TCU completed the regular season with a solid 21-12 record. That included a 9-9 mark in Big 12 play.
The season hasn't come without some recent turmoil, however. Center Eddie Lampkin didn't travel with the 'Frogs to Kansas City, as the big man seemed to be alleging abuse and misconduct within the program, via a series of social media posts.
With those comments out there publicly, TCU head coach Jamie Dixon was asked about them and didn't offer much.
"I haven't seen it," Dixon said, via Frogs Today. "No comments on it."
The seventh-year head coach did mention that upon the news surfacing there hasn't been conversation between the two.
"I haven't talked to him," Dixon said. "I haven't talked to him since today [when that report came out]…You know, we've been talking about it for a while on different things. So, I mean, obviously the injuries and some things, so yeah. It's just what the word is. I've got to talk to him. I haven't talked to him today."
Speaking of injuries, star guard Mike Miles battled through one for quite some team in the middle of the season. But he's back and is a critical contributor with his team-leading 17.8 points per game. Fellow guard Damion Baugh leads TCU with 5.8 assists per game. Both were All-Big 12 Second Team selections, and both will have to be on point for TCU to advance where it wants to go.
The Horned Frogs have now punched a berth in the NCAA Tournament 10 times, but they've yet to make a Final Four appearance. They're 6-9 in the Big Dance all-time.