Baylor Bears
Big 12 Baseball Power Rankings: Cowboys Retain Top Spot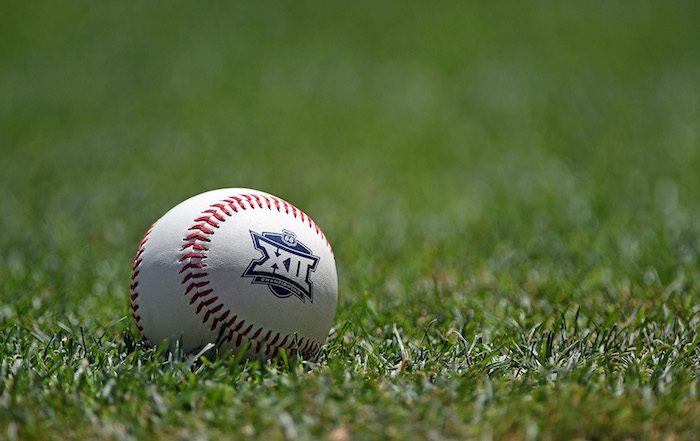 Baseball is back as we just wrapped up week four of the season. It was a busy weekend full of surprises and big moments.
Each week, Heartland College Sports will release its Big 12 baseball power rankings, and here are this week's rankings.
1. Oklahoma State Cowboys (Last Week #1)
For the first time this season, we have the same team on top of the power rankings. The Cowboys are on an 11-game winning streak and completed a sweep over Utah Tech this past weekend. The pitching has gotten better and their bats have stayed red hot. Right now, they look like the best team in the Big 12.
2. TCU Horned Frogs (Last Week #2)
After a rough Friday night (lost 14-2), the Horned Frogs rallied to win back-to-back games to take the series against San Diego. Their offense has slowed down a bit but the emergence of pitcher Kole Klecker has been huge for this team on the mound. If TCU can put it all together at once then they will be tough for any team to handle.
3. Texas Tech Red Raiders (Last Week #3)
If Texas Tech would have swept Iowa last weekend then I would have had no choice but to move them up. The Red Raiders raked all weekend against a Top-25 Iowa team that has solid pitching. Their offense is good enough to win against anyone but if they can improve on the mound then watch out.
4. West Virginia Mountaineers (Last Week #4)
I keep saying that the Mountaineers are the best Big 12 team outside of the top 25. All they do is win and they continued that trend against Minnesota last weekend by sweeping the Gophers. Their bats are getting better, and the pitching duo of Blaine Traxel and Ben Hampton have been fun to watch.
5. Oklahoma Sooners (Last Week #5)
You are looking at one of the hottest teams in the Big 12 right now. The Sooners just completed a sweep over Houston on the road and are winners of five straight. Easton Carmichael, Anthony Mackenzie, Dakota Harris, and Jackson Nicklaus have been outstanding at the plate this season and could carry this team a long way.
6. Texas Longhorns (Last Week: #6)
Nothing changes with the Longhorns after their sweep of Manhattan. I like the way this team has played over the last week but I want to see them do better against tough competition. They have a matchup against New Orleans coming up in a few days which will be a nice test before conference play arrives.
7. Kansas State Wildcats (Last Week #7)
It's hard to move a team up when everybody in front of them wins. That is the case for Kansas State as they have won seven games in a row after their sweep over Youngstown State. While I do have concerns about their pitching, they scored 45 runs this past weekend. This offense is for real folks.
8. Kansas Jayhawks (Last Week #8)
The Jayhawks went out to South Carolina and got roughed up in both of their games against Michigan State and Western Carolina. After a nice start to the season, Kansas has really struggled as of late.
9. Baylor Bears (Last Week #9)
If you have kept up with last weeks list, then you have realized that nothing has changed. There were plenty of sweeps last weekend including Baylor who got swept by Mercer. I know I keep saying it but this team is really struggling.