Trending Now
Incoming Oregon President on Conference Future: 'I Cannot Answer That Right Now'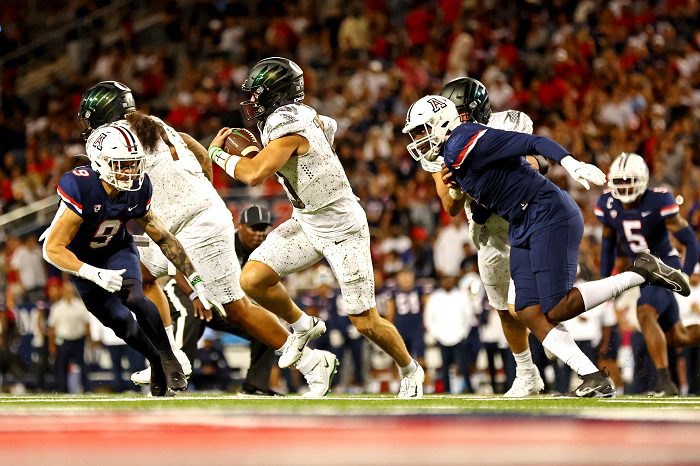 When it comes to commitment to the Pac-12 Conference, don't look at the Oregon Ducks. Despite many Pac-12 voices insisting there is unity in the league, the conference's staple program doesn't appear to feel that way.
Incoming Oregon President John Karl Scholz was asked this week on if he has a preference for the University's conference affiliation, and he said, "I cannot answer that question right now. I am a hardcore Oregon Duck, but very much want to see what's in the best interest," according to The Oregonian.
This comes off an eerily quiet week for the Pac-12 Conference. The administrative meetings that were supposed to take place in Las Vegas during the Pac-12 Tournament last week didn't happen.
There was also a Big 12 and Pac-12 basketball attendance comparison that, well, didn't go well for the Pac-12. Let's put it that way.
Perhaps the biggest story of the last week came from CBS Sports' Dennis Dodd, who just happened to be at the Big 12 Tournament. The main headline was about the Big 12 being ready to "pounce" if the Corner Four schools (Arizona, Arizona State, Colorado and Utah) were ready to depart. Dodd even got Self (pre-emergency) and Kansas State coach Jerome Tang to talk about the Arizona schools, with Tang saying "Who doesn't want visit Arizona" and Self saying that Arizona "is the one we have to get."
Plus, there was a Colorado Board of Regents meeting last Wednesday, which some took as a smoke-signal that something was up because there was a Pac-12 update on the agenda. Nothing public has come out of that meeting, at this point.
But add all these things together, and it's hard to put together a picture of a bright and rosy future for the Pac-12. Things can change quickly, if they cobble together a strong TV deal, but based on macroeconomic headwinds, along with a diminished product, time is not on the league's side.