Big 12 News
Bill Self Still 'Day-to-Day' with NCAA Tournament Opener Less Than 24 Hours Away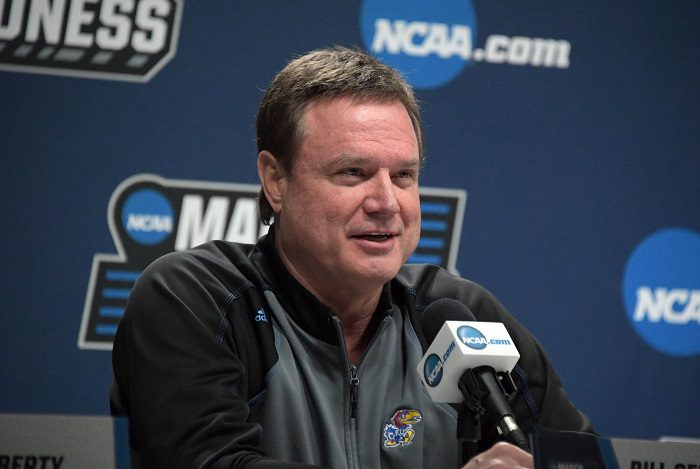 The West Region's top-seeded Kansas Jayhawks appear poised to get Bill Self back for the opening round of the NCAA Tournament Thursday. Still, it's not yet official with less than 24 hours before tip off, even though Self has coached the team each of the past three days.
"He's doing well today," assistant Norm Roberts told KU247 following practice Wednesday, after he filled in for the legendary head coach during the Big 12 Tournament. "He was at practice today, he was at practice last night and all of our meetings. He's doing well, he's getting better all the time. We're hopeful and everything is day-to-day with him, but if you ask our guys he got after them pretty good today so he was doing really well."
Unanimous Big 12 Player of the Year and forward Jalen Wilson serves as one of those. He fully expects to have his head man back.
"He's looking great, feeling great," Wilson said. "We were able to talk to him today at practice and, you know, he's excited. We're all excited. It's great to have him back on the court with us. For him to be able to coach us and start off tomorrow with a bang…He will be coaching. He's doing everything he's been doing. He was down for a while for the Big 12, but he's back, he's energized and excited and ready to get this going again. We're super excited to have him back, so we know we will have him."
Self, who was in the hospital during the Big 12 Tournament last week, was released on Sunday.
"KU Coach Bill Self was discharged from The University of Kansas Health System today in good condition," the hospital started in the statement three days ago. "He arrived at the emergency department Wednesday evening March 8, complaining of chest tightness and balance concerns. Clinical Service Chief for Cardiovascular Medicine and Interventional cardiologist Dr. Mark Wiley said Coach Self underwent a standard heart catheterization and had two stents placed for the treatment of blocked arteries. Coach Self responded well to the procedure and is expected to make a full recovery."
Self also expressed his gratitude for the care.
"I'm so thankful for the amazing staff at the University of Kansas Health System for the excellent care I received," Self said in a statement. "I am proud of our team and coaching staff for how they have handled this and am excited to be back with them as the best time of the season gets underway."
Most likely with Self back, Kansas will take on No. 16 seed Howard at 1 p.m. CT Thursday in Des Moines. Howard is in the NCAA Tournament for the first time since 1992. The winner will play either No. 8 seed Arkansas or No. 9 seed Illinois.
The Jayhawks are fresh off a run to the Big 12 Tournament Title Game where they ended up losing to the Texas Longhorns by 20 points. Despite losing to Kansas twice in one week, the committee was still most impressed by Kansas' body of work, which included a Big 12 regular season title.