Big 12 Previews
Iowa State vs. Pittsburgh NCAA Tournament Prediction and Preview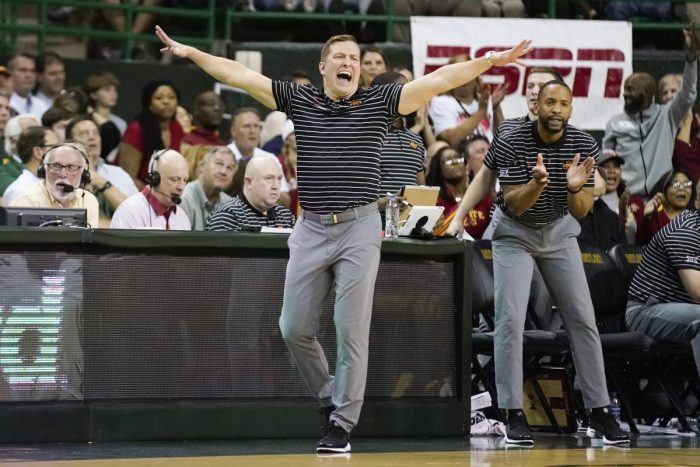 Here's everything you need to know about Iowa State and Pittsburgh in our Cyclones vs. Panthers NCAA Tournament men's basketball preview and prediction.
NCAA TOURNAMENT
MIDWEST REGION – FIRST ROUND
No. 6 Iowa State (19-13) vs. No. 11 Pittsburgh (22-11)
Game Info: Friday, March 17; 2:10 PM CT, truTV
How They Got Here: Iowa State received an at-large bid out of the Big 12, while Pittsburgh advanced after taking down Mississippi State in the First Four, 60-59.
Winner Gets: A second-round game against the winner of (3) Xavier vs. (14) Kennesaw State.
PROJECTED STARTING LINEUPS
Iowa State: G Tamin Lipsey, G Gabe Kalschuer, F Jaren Holmes, F Aljaz Kunc, C Osun Osunniyi
Pittsburgh: G Nelly Cummings, G Greg Elliott, G Jamarius Burton, F Blake Hinson, C Guillermo Diaz Graham
PLAYER TO WATCH
Iowa State
G Tamin Lipsey: Iowa State makes its money playing defense, but will need someone to step up and make plays on the offensive side of the ball as well. Enter Tamin Lipsey. In the Big 12 Tournament, Lipsey showed why he is such an integral part of what Iowa State does. Not only did he defend well against Baylor top-of-the-line backcourt, but also made impacts in other ways. With 13 points, 11 rebounds, five steals, and five assists against Baylor last week, the freshman was an unsung hero and a major part of Iowa State winning the game. Look for him to make plays again in the Big Dance.
Pittsburgh
G Jamarius Burton: An All-ACC First-Team selection in 2022-23, Burton is one of the key cogs that makes Pitt work this season. Burton ranks second on the team in points (15.3) rebounds (5.6), and second in assists (4.4), and leads in steals (0.9) per game, all while shooting 49.9% from the field. The senior guard from Charlotte, North Carolina has appeared in more than 120 games for Pitt and has 82 in his career. That experience and consistency will make his a player to watch on Friday afternoon.
KEY STORYLINES
Iowa State
Can Iowa State find consistent offense? The Cyclones led the Big 12 defensively and it won several games for them this season when their offense wasn't humming. Now, with the postseason upon us, Iowa State will be in win-or-go-home mode, which means the offense has to show up too. The Cyclones have been spectacular on the road this season, and I expect them to continue to guard with great enthusiasm under T.J. Otzelberger. If they can get consistent scoring from Lipsey, Kalschuer, and Osunniyi, this team can easily make the second weekend.
Pittsburgh
How will the Panthers react to the style of play that T.J. Otzelberger's group has become known for? The Cyclones hustle, and defensively, they are downright suffocating at times. When looking at the offensive and defensive numbers, it's clear that these teams play very different styles of ball. Iowa State allows just 62.8 points per game, while Pitt is giving up 70.5 points per game. Meanwhile, Pitt scores 76.1 points per game to Iowa State's 68.4 points per game. Defense typically prevails at this point in the season, so Pitt had better find a way to crack the Cyclones code.
PREDICTION
Iowa State 71, Pittsburgh 64
Iowa State has played a much tougher schedule and comes into this game battle-tested from a brutal Big 12 slate. Typically, the ACC is brutal as well, but the conference as a whole was down in 2022-23. Against Mississippi State, the Panthers were outrebounded by 21 boards and still managed to eke out a win. That won't happen against an Iowa State team that has made opponents pay off the glass all season. Give me Iowa State to distance itself a bit at the end, and move on to the second round to face Xavier.