Baylor Bears
Big 12 Baseball Preview: Conference Play Begins This Weekend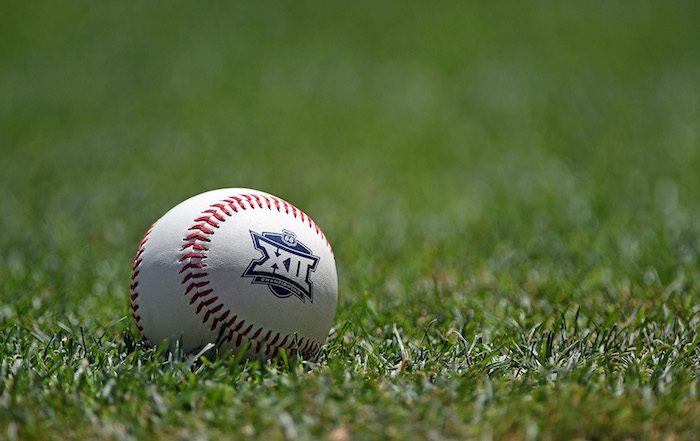 It felt like just yesterday opening weekend was here and now we are entering the fifth full weekend of college baseball. While last weekend was a little slow, conference play is finally here!
Let's take a look at the upcoming weekend for Big 12 baseball.
#12 Oklahoma State at #22 Texas Tech
If you can only watch one series in the Big 12 then this is the one to watch. These two teams are considered to be two of the top three teams in the conference and rightfully so. Both of them have the firepower at the plate to beat anyone in the entire country. Oklahoma State has four of the top seven home run hitters in the conference with Nolan Schubart, David Mendham, Roc Riggio, and Nolan McLean. That should give Tech pitchers Mason Molina and Brendan Girton a great challenge over the weekend. But Oklahoma State's pitchers will also have a tough task ahead of them going up against the bats of Gavin Kash, Austin Green, and Gage Harrelson. Unfortunately Dillon Carter is out due to injury but it still will be one heck of a battle considering the fact that Oklahoma State pitchers Isaac Stebens and Juaron Watts-Brown have been lights out this season.
My Pick: Texas Tech
#11 TCU at Oklahoma
The Sooners may not be ranked but they are one of the hottest teams in the Big 12. They had a great weekend in Frisco a couple of weeks ago and swept Houston on the road last weekend. Their offense is hot with the bats of Easton Carmichael, Anthony Mackenzie, and Dakota Harris. That should make for an interesting matchup against TCU pitchers Cam Brown and Kole Klecker. On the flipside, Oklahoma's pitching has been a little shaky but TCU's bats have gone cold as of late. If the Horned Frogs don't get the bats going then they may end up dropping this series.
My Pick: Oklahoma
West Virginia at UNC Greensboro
West Virginia hasn't played the toughest schedule, but they do have nice test upcoming with UNC Greensboro. The Spartans have plenty of offense to give anyone trouble as they have five guys in their lineup hitting over the .300 mark. However, their pitching has been shaky at best. That should give guys like JJ Wetherholt and Caleb McNeely some opportunities at the plate. Plus, I am really interested to see UNC Greensboro's lineup face the pitching duo of Blaine Traxel and Ben Hampton.
My Pick: West Virginia
New Orleans at Texas
Before Big 12 play arrives for Texas, they will face New Orleans in a three game series in Austin. Texas has looked better over the past couple of weeks thanks to the bats of Peyton Powell, Eric Kennedy, and Porter Brown. I also really like the way Lucas Gordon has looked on the mound as well. New Orleans isn't a team that should scare Texas. They have beaten up on a lot of bad teams yet have been demolished by good ones. New Orleans doesn't have the arms to beat Texas in a three game series in my opinion.
My Pick: Texas
Kansas State at Baylor
Out of all the Big 12 matchups this weekend, this one is by far my least favorite. The Bears are one of the worst power five teams in college baseball and they have the worst offense and pitching staff in the conference. That should be good for Kansas State because they have done a great job hitting the ball lately. The Wildcats aren't going to scare anyone with their pitching, but Nick Goodwin, Brady Day, Brendan Jones, and Cash Rugely have be raking this season.
My Pick: Kansas State
Kansas at The Citadel
The good news is that Citadel isn't very good but the bad news is that Kansas isn't very good either. However, I believe that Citadel can hit the ball better here as they have a much bigger spark offensively. Travis Lott, Noah Mitchell, Thomas Rollauer, and Luke Montenery have all started the season off hot for the Bulldogs and I am not sure if Kansas has the pitching to cool them down.
My Pick: The Citadel