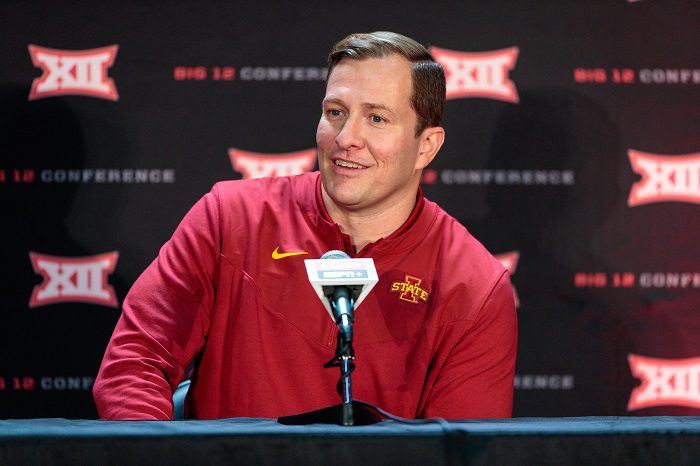 The sixth-seeded Iowa State Cyclones are getting ready to open up the NCAA Tournament against No. 11 seed Pittsburgh on Friday. And in advance of that, head coach T.J. Otzelberger took a moment to talk up the Big 12 Conference.
"I would say the Big 12 is certainly over the last few years solidified that standing as the best league in the country," Otzelberger said. "Whether you look at metrics, percentage of teams in the tournament, all those sort of things, it seems apparent that the Big 12 is at the top. We've played 20 games against Big 12 teams over the last three months, and that helps prepare you for an opportunity like this.
"We take a lot of pride to represent our conference, and to do it in such a way that represents all the effort-based things that the teams in our league do: getting loose balls, taking charges, rebounding the basketball, playing with tremendous passion and enthusiasm. That's what we experience night in and night out in our conference, and that's what we hope to carry forward into this game tomorrow."
Guards Gabe Kalscheur and Jaren Holmes echoed that sentiment about the league's toughness and carrying its torch.
"Yeah, it prepares us drastically," Kalscheur said. "I think the Big 12 is one of the best conferences in the country. You know, day in and day out, night in, night out you get to play a quad one win, top 25 team every night. So, just having that physicality is going to prepare us for March. Whatever team we face, we haven't really seen anything that we haven't played before. We had a great non-conference as well. I think we're really prepared for this moment."
Said Holmes: "Yeah. I think in my opinion the Big 12 Conference is the best in the country with the physicality and the players and teams and the legendary coaches that are in that conference. You go against those players night in, night out, and it prepares you for years to come in my opinion. So it's exciting to play somebody new. You play everybody twice in the Big 12, which everybody kind of figures each other out at the end of the season. So, I'm excited to see some new faces and go some new teams."
This also isn't the first time Otzelberger has been vocal about how good the Big 12 is. After the Cyclones' road victory in their Big 12 finale against Baylor, he too sang praises for the league.
"I think our league, you could take everybody," Otzelberger said. "I know that's not what the metrics say and I know that's not where things stand right now, but we've been on the court with the nine other teams and we know what they can be on their best night. And that's a team that can go and win not only a game but win two games.
"So, however it all shakes out, there's people that are a lot smarter than me that do the math and the metrics and the numbers and all that stuff. But what I can tell you is this is the best league in the country, it's an honor to coach in it, it's an honor for our young men to play in it and we're excited to go embrace this tournament."
The Big 12, of course, landed a very modest seven teams in the NCAA Tournament. However, Oklahoma State was the first team left out. Oklahoma and Texas Tech, meanwhile, missed out on postseason play altogether.