Big 12 Previews
TCU vs. Arizona State NCAA Tournament Prediction and Preview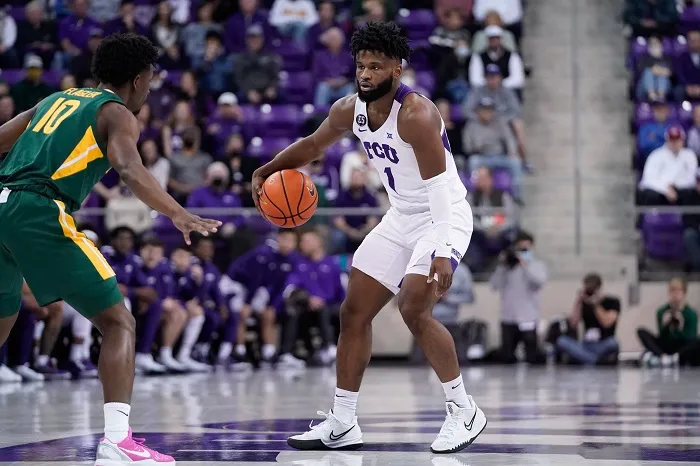 Here's everything you need to know about TCU and Arizona State in our Horned Frogs vs. Sun Devils NCAA Tournament men's basketball preview and prediction.
NCAA TOURNAMENT
WEST REGION – FIRST ROUND
No. 6 TCU (21-12) vs. No. 11 Arizona State (22-12)
Game Info: Friday, March 17; 9:05 PM CT, truTV
How They Got Here: TCU received an at-large bid as the fifth-place team out of the Big 12, while Arizona State advanced to play the Horned Frogs after getting past Nevada in the First Four, 98-73.
Winner Gets: A second-round game against the winner of (3) Gonzaga vs. (14) Grand Canyon.
PROJECTED STARTING LINEUPS
TCU: G Mike Miles, G Damion Baugh, F Charles O'Bannon, F Emanuel Miller, C Xavier Cork
Arizona State: G Frankie Collins, G DJ Horne, G Desmond Cambridge, F Devan Cambridge, C Warren Washington
PLAYER TO WATCH
TCU
G Mike Miles:
TCU's offense will go where Mike Miles takes them, and with him back in the lineup, the Horned Frogs are dangerous. After Miles was injured against Mississippi State, the Horned Frogs went on to lose of its next five games. Then, when he returned, TCU won three of its next four and went on to beat Kansas State in the first round of the Big 12 tournament. Miles leads the Frogs with 17.3 points per game and gives TCU another gear that they are missing otherwise.
Arizona State
G Desmond Cambridge: Arizona State is coming of a blowout win over Nevada in the First Four game and got 17 points from its best player, Desmond Cambridge. Cambridge leads the Sun Devils in scoring with 13.8 per game, and also averages 3.5 rebounds, 2.3 assists, and 1.7 steals per contest while shooting 39.6% from the field. If TCU is going to win this game, it will need to make sure that Cambridge doesn't get established early on.
KEY STORYLINES
TCU
Which TCU squad shows up? With Mike Miles in the lineup, Jamie Dixon's squad is 18-7 on the year. When he scores 18 or more points, the Horned Frogs are 10-2. So, what does this mean? Get Miles involved in this game early and often, and it will likely end well for TCU. There aren't many players out there that are as big a difference-maker as Miles is when 100%. On the flip side of things, TCU has been good defensively in 2022-23, and defense travels.
Arizona State
Can the Sun Devils' offense catch fire against an excellent defensive team in TCU? Nevada pretty much gave Arizona State whatever they wanted offensively as the Sun Devils neared triple-digits in that game. However, TCU is a totally different animal and isn't likely to let Arizona State get that hot. The Horned Frogs force many turnovers and a brutal Big 12 schedule has prepared them for this moment, or at least it would seem so.
PREDICTION
TCU 73, Arizona State 68.
I am a firm believer that the Big 12 slate has prepared its teams for success in the first round, and this game between TCU and Arizona State is a great example. Mike Miles is the best player on the court in this game, and I believe he carries Jamie Dixon's squad to a second-round appearance over the upstart Sun Devils. The win over Nevada will give ASU a ton of confidence coming into this one, but a stifling Horned Frogs' defense will quickly deflate their hopes of advances for a second time.