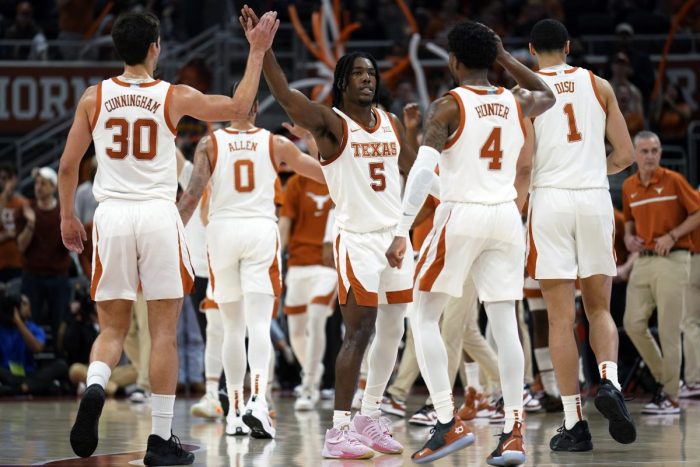 Here is everything you need to know about Texas and Colgate in our Longhorns vs. Raiders NCAA Tournament men's basketball preview and prediction.
NCAA Tournament
Midwest Region – First Round
No. 2 Texas (26-8) vs. No. 15 Colgate (26-8)
Game Info: Thursday, March 16; 6:25 p.m. CT, TBS
How They Got Here: Texas won the Big 12 Tournament and secured the league's auto-bid, while Colgate did the same by winning the Patriot League Championship.
Winner Gets: A second-round game against the winner of (7) Texas A&M vs. (10) Penn State.
PROJECTED STARTING LINEUPS
Texas: G Tyrese Hunter, G Marcus Carr, F Timmy Allen, F Dillon Mitchell, C Dylan Disu
Colgate: G Braeden Smith, F Ryan Moffatt, F Keegan Records, G Tucker Richardson, G Oliver Lynch-Daniels
PLAYER TO WATCH
Texas
G Marcus Carr: The Texas Longhorns led the Big 12 in scoring (78.8 ppg), and it all starts with senior guard Marcus Carr. Carr leads Texas in points (15.9), minutes (33.7), assists (4.8), and steals (1.8) per game. If a play is made by the Longhorns, Carr is likely right in the middle of it. Carr has the ability to take over games and where he goes, Texas follows.
Colgate
G Tucker Richardson: Colgate senior guard Tucker Richardson was selected as the Patriot League Player of the Year after leading the Raiders in points (13.9), assists (5.8), and steals (2.1) this season. In the Patriot League Championship game, Richardson earned MVP honors with a triple-double performance with 14 points, 12 rebounds and a championship-game-record 11 assists.
KEY STORYLINES
Texas
The Texas Longhorns went cold to finish the regular season, going 3-3 over its final six games. Then, in Kansas City, the Longhorns caught fire and won the conference tournament. Which team will show up in Des Moines, the squad that struggled away from home to finish out the regular season, or the team that blew out Kansas twice in the span of a week? Prior to the Big 12 tournament, Texas was just 4-6 away from the Moody Center, and that's a concern heading into the tournament.
Colgate
Colgate can shoot the ball better than anyone in this year's tournament, leading the country from three-point range at 40.8% from behind the arc. A trio of Oliver Lynch-Daniels (50.3%, 1st nationally) Ryan Moffatt (45.7%) and Tucker Richardson (31.9%) will test the Longhorns. However, the Raiders have struggled defensively at times, and that it a cause for concern when playing a team as athletic as Texas.
PREDICTION
Texas 80, Colgate 68.
The Longhorns will get a scare early in this one, but the length and athleticism for UT will be too much for an upstart Colgate squad that has the offensive weapons to make a run. Texas is coming off a much-needed week of success away from home and I think that will provide the springboard that Texas needs to eventually pull away in this game and meet up with arch-rival Texas A&M in the second round.