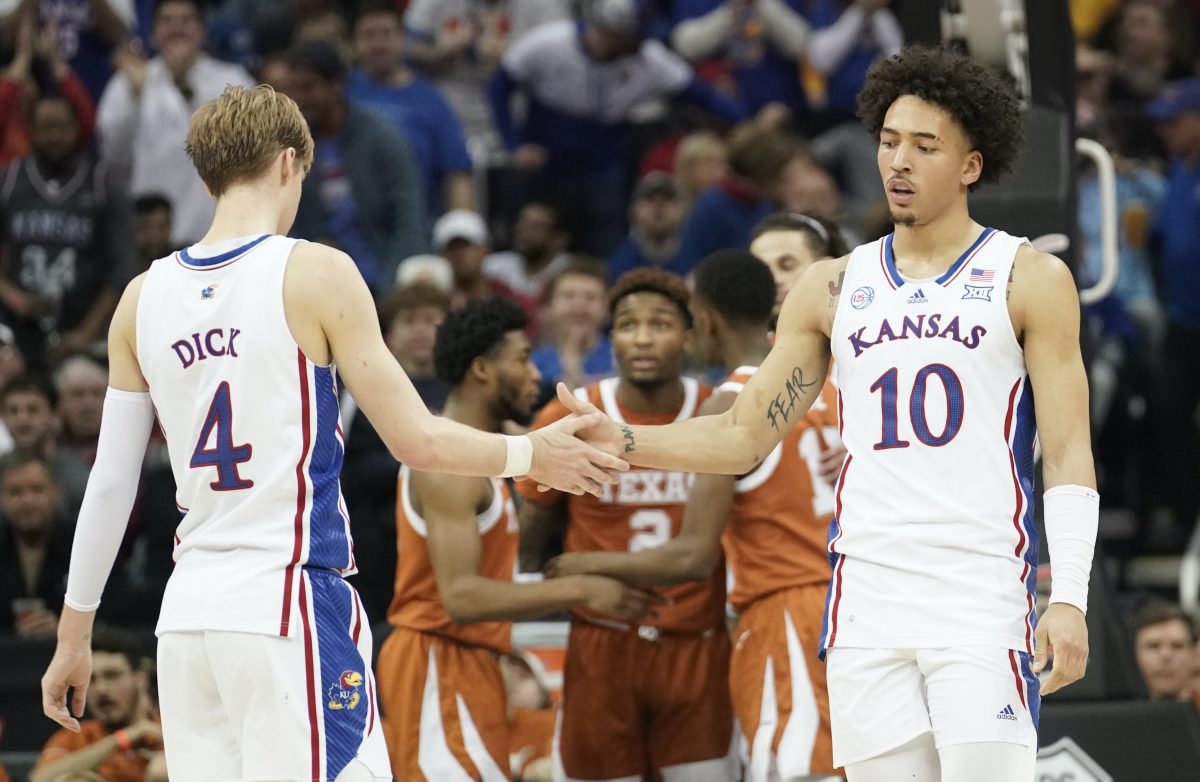 The Kansas Jayhawks defeated the Howard Bison, 96-68, in the first round of the 2023 NCAA men's basketball tournament in Des Moines, Iowa. Here are three thoughts on the game.
Kansas (28-7) advances to the second round of the tournament, where it will face either Arkansas or Illinois on Saturday.
How Kansas Won
Because Kansas is a No. 1 seed and one of the best teams in the country. To be blunt, that's why. This was not Virginia-UMBC (but then again, nothing ever will be again). And Howard wanted a quick pace to this game and got it early. But Kansas' overall talent prevailed, even without Bill Self on the bench.
The good news for Kansas was that forward Kevin McCullar Jr. was able to return. Even though the Jayhawks could have done without him today, this was a good opportunity for him to get moving again after an off-and-on Big 12 Tournament in Kansas City where he dealt with back spasms. He finished with 10 points, seven rebounds and five assists.
Four other Jayhawks were in double figures, including guard Gradey Dick, who had his first career double-double (19 points and 11 rebounds). Forward Jalen Wilson had 20 points, forward K.J. Adams had 13 points and guard Dajuan Harris Jr. had 11 points.
This is exactly the sort of first-round game you want if you're a No. 1 seed — no drama.
How Howard Lost
The Bison (23-12) pushed the envelope early and played as freely as possible. For a little while, it kept them close. In fact, the Bison were down by just two points midway through the first half. But Kansas had a 50-37 halftime lead.
Howard committed too many turnovers (18) and didn't shoot well enough (39 percent) to keep up with a Kansas team that was firing at 50 percent the entire game. Margins are so small in games like this for a No. 16 seed. The Bison needed to be near-perfect and the Jayhawks needed to be off. Neither happened.
Forward Shy Odom led the Bison with 15 points, while Steve Settle III added 13 points. Elijah Hawkins and Marcus Dockery each had 12 points.
It was a quick end to the Bison's third NCAA Tournament appearance and first since 1992, when it lost in the first round to, oddly enough, Kansas, 100-67.
Will Bill Self Return on Saturday?
That seemed to be the buzz entering the game. About 90 minutes before tip-off Kansas announced that Self would not be on the bench for the first-round game with Howard. He is still recovering from last week's heart procedure, which included a standard heart catheterization and two stents to open blocked arteries.
While Self didn't coach, he is in Des Moines and took part in every team activity leading up to the game. Plus, he spoke to the Jayhawks' radio crew during pre-game.
The general consensus of the interview was that Self is getting better but isn't quite up to returning to the bench. Self also said he's getting his energy back, but he's doing a lot of sitting right now in practice, and if you've ever watched Self coach, he's not much for sitting during games.
So, whether we see him or not on Saturday is up to his body. It will tell him when he's ready. Right now, the Jayhawks look responsive to Roberts, who is now 8-1 in Self's place this season.
You can find Matthew Postins on Twitter @PostinsPostcard