Trending Now
Watch: No. 15 Seed Princeton Pulls Off Shocking Upset of No. 2 Seed Arizona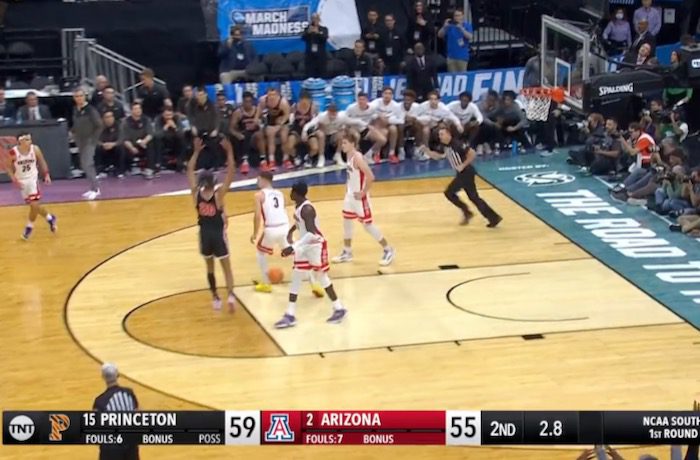 Smiles and grins extended ear to ear for one side, and tears rolled down the face of the other, such as is the case in March Madness. A frenzied opening day of the NCAA Tournament continued with No. 15 seed Princeton rallying past the second-seeded Arizona Wildcats 59-55 Thursday evening in Sacramento.
Never leading until guard Ryan Langborg's layup with 2:03 remaining, the Tigers forced multiple 3-point misses in the final seconds and snared the rebound to hang on. In the process, they ended the Pac-12 Tournament Champion Wildcats' National Championship dreams and shattered millions of brackets.
"We were just trying to get it to four with four minutes left. We were hanging on," said head coach Mitch Henderson. "Then we fought, which is what we've been able to do lately. We fought really hard. I thought the last five minutes of the game, two 3's wide open that would have gotten us a lead.
"The group makes eye contact with me all the time. Tosan [Evbuomwan] allows me to challenge him regularly. He's just filled with great humility, and so are we. We take the lead of the seniors. I was just so happy for them."
Evbuomwan led the way and actually finished as the only scorer in double figures for Princeton, with 15 points on 7-of-15 shooting. He also collected seven rebounds, as the Tigers won that category 38-37.
For Arizona, forward Azuolas Tubelis poured in a game-high 22 points. Center Oumar Ballo joined him in double figures with 13.
So, now it'll be Tigers vs. Tigers in the second round. The upset-minded victors will take on No. 7 seed Missouri. Arizona finishes its season at 28-7.