Big 12 News
Bill Self Leads Team Again in Practice Friday, as Kansas Still Awaits His Return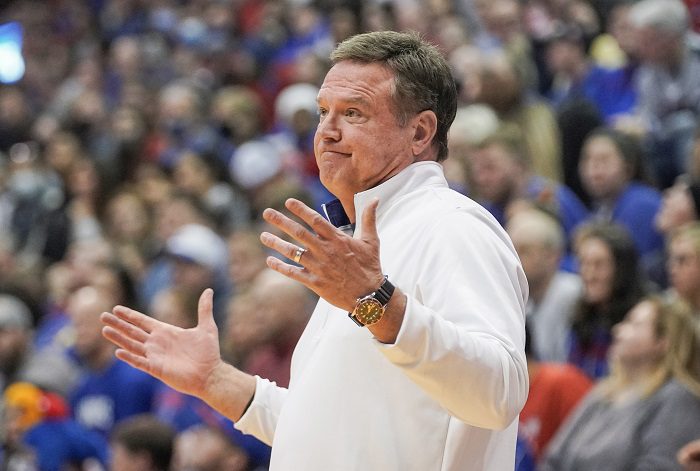 During the pre-game show for the top-seeded Kansas Jayhawks' 96-68 NCAA Tournament opening round victory over No. 16 seed Howard, head coach Bill Self said he anticipated being back for the second round. The latest out of practice indicates he continues to trend in that direction, as he once again directed the squad during their workout Friday.
Self now has led several practices since getting out of the hospital last Sunday. But he wasn't on the bench for that blowout win, which sets up a matchup with No. 8 seed Arkansas.
"Coach is doing well," said assistant Norm Roberts in a media scrum following practice. "It's a day-to-day situation with him and everything, but he's doing good. He was in practice with our guys just a little while ago and coaching them, so we will see what happens."
In Self's latest absence against Howard, Roberts ran the Jayhawks' bench for the fourth straight game. Kansas announced Self would miss the contest about 90 minutes before tip-off in Des Moines, Iowa.
Self told Jayhawks pre-game host Brian Hanni that while his recovery is moving in the right direction, he's not quite ready to be on the bench.
"Everything is moving in a positive direction," Self said. "It's just taking longer than I had hoped it would to get me back to the point where I can be out there every day. If we are able to do some good things today, then hopefully Saturday will be a different story in that regard."
Self's comments were reported by the Kansas City Star.
Before Thursday's game, Roberts said that Self had attended practice and all team meetings on Wednesday. He characterized Self's status to be on the bench then as "day-to-day."
Self missed the entire Big 12 Tournament after a health emergency last Wednesday night forced him to go to the hospital.
He went to the hospital complaining of chest tightness and balance concerns. After an assessment, Self underwent a standard heart catheterization and had two stents placed for the treatment of blocked arteries. As mentioned, Self was discharged from the hospital on Sunday and is expected to make a full recovery.
Without Self, the Jayhawks also beat West Virginia and Iowa State in the first two games of the Big 12 Tournament before losing to Texas in the championship game on Saturday night.