Big 12 Basketball
Five Thoughts on the 2022-23 West Virginia Women's Basketball Season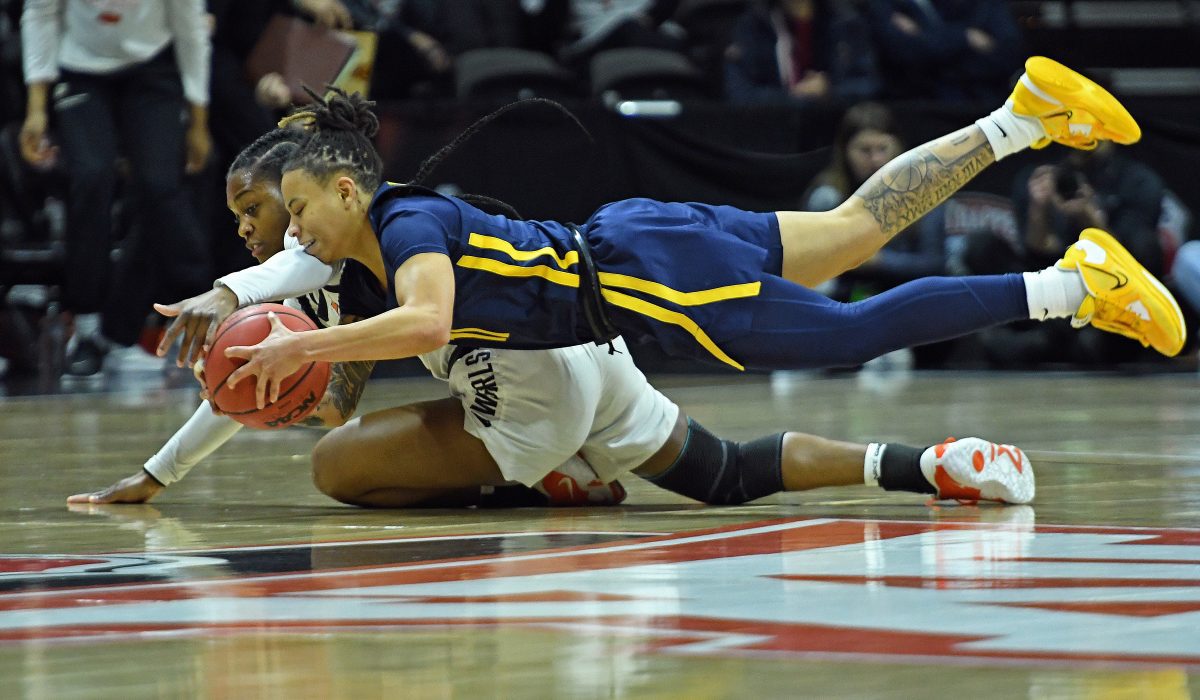 The West Virginia Mountaineers finished 19-12 in 2022-23 in Big 12 women's basketball and here are five thoughts on the team and the future with the season concluded.
The Wrap
With a new coach in Dawn Pliztuweit and several new transfers, the Mountaineers got off to a 4-0 start to the season before running into a Top 25 team in NC State, which ended in a 78-40 loss in Cancun. The Mountaineers' only other loss in non-conference came to another Power 6 team in a road loss to Penn State.
But, the Mountaineers could hang their hat on a neutral-site win over Georgia in a 49-45 victory that showed they could win with their defense when the offense isn't firing. Georgia, by the way, won its first NCAA Tournament game on Friday.
In Big 12 play, WVU started slowly but built up some steam as the chemistry on the team started to come together, especially on the defensive end. A win at home over then-ranked Baylor on Jan. 15 capped a three-game winning streak to move the Mountaineers to 3-2 in league play.
WVU nabbed its second ranked win when it beat then-No. 21 Iowa State on Feb. 11, a win that jump-started a 5-2 run to the end of the regular season, which included a sweep of Baylor. After falling to Oklahoma State in the final seconds in the quarterfinals of the Big 12 Tournament, WVU lost to Arizona in the first round of the NCAA Tournament, 75-62.
WVU fell just shy of 20 wins in Plitzuweit's first season. But it will be her ONLY season in Morgantown. On Saturday, the day after WVU's elimination from the NCAA Tournament, Plitzuweit reportedly accepted the Minnesota job.
The Leaders
The Mountaineers were built around three holdovers from coach Mike Carey's last team. Guard Madisen Smith and guard JJ Quinerly were the Mountaineers' one-two punch, with Quinerly leading with 14.5 points and Smith just behind her at 14.1 points. A third guard, Jayla Hemingway, had 9.4 points.
Hemingway led the Mountaineers with 5.9 rebounds, Smith led with 3.0 assists and Quinerly led with 2.1 assists.
Two other players scored at least six points per game — guard Kyah Watson (7.3) and forward Kylee Blacksten (6.0). Nine different Mountianeers averaged at least 10 minutes per game.
Who's Leaving
The Mountaineers have three fifth-year players that appear to be out of eligibility (this being the era of the COVID waiver you never truly know). Smith, guard Sarah Bates and guard Danni Nichols. Smith was a five-year player at WVU. Bates and Nichols transferred in for this season. In addition, guard Savannah Samuel stepped away from the program earlier this season.
There are two seniors on the roster — Hemingway and forward Tavy Diggs. Both have played four years and would appear to have a COVID waiver to use, if they wish.
Who's Staying and Coming In?
Let's assume Hemingway and Diggs return. The Mountaineers also have back redshirt sophomore forward Isis Beh, junior forward Kylee Blacksten, redshirt freshman forward Messiah Hunter, Quinerly, redshirt freshman guard Wynter Rogers, freshman guard Imarianah Russell, and redshirt sophomore guard Kyah Watson. That's nine players in-house, barring any transfers.
In the early-signing period, Pliztuweit's first recruiting class featured an ESPN Top 100 recruit in forward Grace Grocholski out of Wales, Wis. Plitzuweit also stayed in the state of Wisconsin to get a signature from forward Ayianna Johnson.
That leaves WVU with 11 players carrying over to next season. It would appear the Mountaineers have a little room to either add a recruit or take in a transfer or two (or, frankly, more).
What's Next?
Well, it WAS player development. But now it's time to find a second head coach in two offseasons, and one that hopefully wants to stay more than one season. Then, that new coach has to try and keep what talent is in Morgantown. Quinerly and Hemingway would be the top priorities as the top two remaining scorers.
Before the new coaches is hired, if history is a guide, players will be making decisions before the hire. If Hemingway and Quinerly have COVID waivers, they could transfer easily since they've been at WVU their entire careers. What Plitzuweit built in a year could go under fast. We'll have to see.
You can find Matthew Postins on Twitter @PostinsPostcard