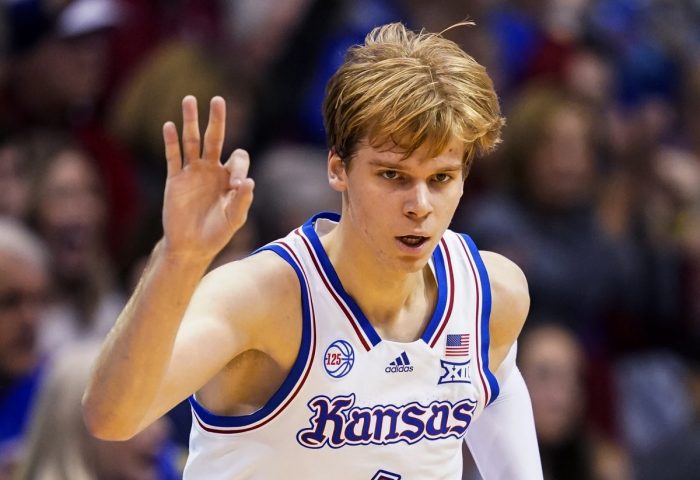 Here is everything you need to know about the Kansas Jayhawks and the Arkansas Razorbacks in our NCAA Tournament men's basketball preview and prediction.
NCAA TOURNAMENT
West Region – Second Round
No. 1 Kansas (28-7) vs. No. 8 Arkansas (21-13)
Game Info: Saturday, March 18; 4:15 PM CT, CBS
How They Got Here: Kansas defeated No. 16 seed Howard, 96-68, to advance. Meanwhile, Arkansas took down No. 9 seed Illinois, 73-63, to get to the second round.
Winner gets: A trip to the Sweet Sixteen.
PROJECTED STARTING LINEUPS
Kansas: G Dajuan Harris, G Joseph Yesefu, G Gradey Dick, F K.J. Adams, F Jalen Wilson
Arkansas: G Davonte Davis, G Nick Smith, F Anthony Black, F Makhi Mitchell, C Makhel Mitchell
PLAYER TO WATCH
KANSAS
G Gradey Dick: For the first time in his collegiate career, Gradey Dick recorded a double-double in the opening round of the NCAA Tournament with 19 points, 11 rebounds, five assists, and three steals. Sure, Jalen Wilson is a first-team AP All-American and the Big 12 Player of the Year. If Gradey Dick can ascend to another level, as he did on Thursday, this Kansas team is going to be very hard to decipher.
ARKANSAS
G Ricky Council IV: In Arkansas' opening-round contest against Illinois, guard Ricky Council IV was electric, scoring 18 points and tacking on 10 rebounds for a double-double of his own. Council also went 11-12 from the stripe, helping the Razorbacks to a 10-point victory. Kansas will provide an entirely different challenge, but I expect Council to continue to try and get to the line as much as possible against a more talented Kansas roster.
KEY STORYLINES
KANSAS
We know, as of Saturday morning, that Bill Self won't be coaching in this game on Saturday. But Kansas has been just fine under Norm Roberts. At this point, the Jayhawks are comfortable with Roberts, who coached them for the entire Big 12 Tournament and then in the first round win over Howard. It's a veteran group that has had their coach as part of practice, however he just won't be there on the sidelines on Saturday. Roberts has been around the game for decades and will be completely comfortable leading this team.
ARKANSAS
After dropping four of their last five games entering the tournament, Arkansas found life against Illinois to keep dancing. Now, can they keep that momentum and stay hot from the field? Over the course the year, Arkansas shot 47.5% from the field but cooled off towards the end of the year. Against the Illini, Arkansas shot 38.1%. I'm not sure that will get it done against the Jayhawks.
PREDICTION
KANSAS 74, ARKANSAS 67
Call me a Big 12 apologist, but I feel like Kansas just presents too many issues for Arkansas to handle with how the Hogs came into the tournament. Sure, Thursday night looked better, but I don't think they can keep it up with Kansas' defense and Gradey Dick and Jalen Wilson driving to the basket. If Trevon Brazile was healthy, this game would've likely been much deeper in the tournament, but a second-round exit for Arkansas will have to do for this year.