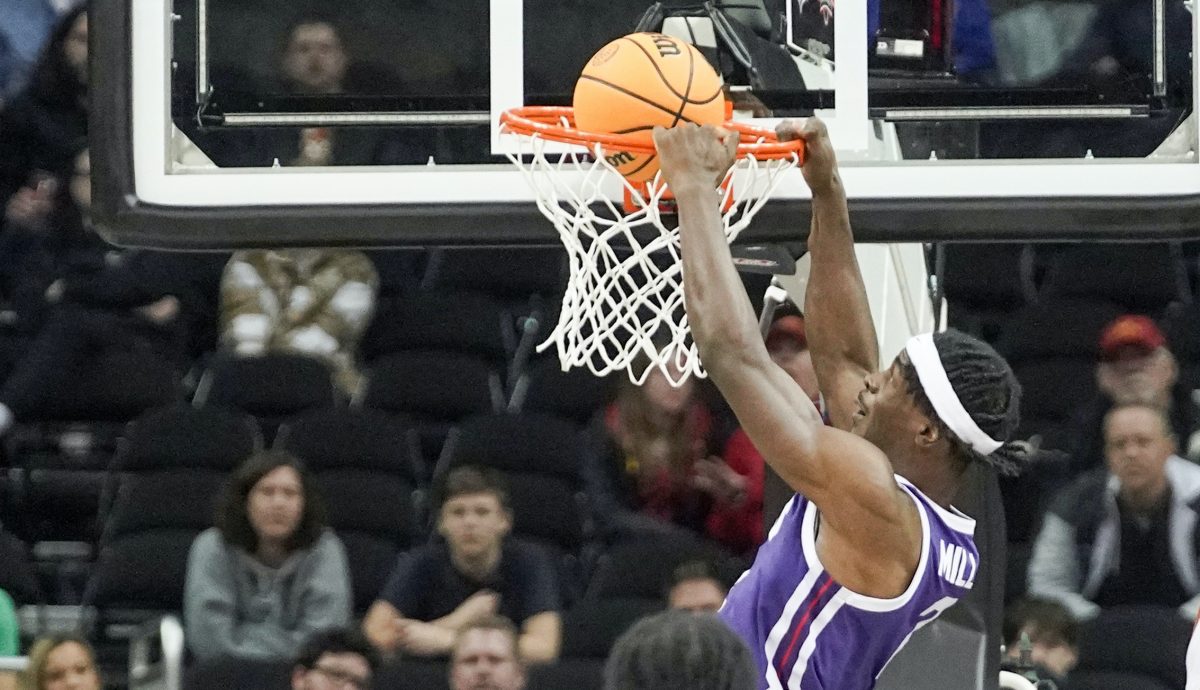 Here is everything you need to know about TCU and Gonzaga in our Horned Frogs vs. Bulldogs NCAA Tournament men's basketball preview.
NCAA Tournament
West Region – Second Round
No. 6 TCU (22-12) vs. No. 3 Gonzaga (29-5)
Game Info: Sunday, 8:40 p.m. CT, TBS
How They Got Here:
NCAA Tournament Results — TCU: def. No. 11 seed Arizona State, 72-70 (first round); Gonzaga: def. Grand Canyon, 82-70 (first round).
Winner gets: A Sweet 16 game against either Northwestern or UCLA.
Projected starting lineups
TCU: G Mike Miles Jr., G Damion Baugh, G Chuck O'Bannon Jr., F Emanuel Miller, F Xavier Cork.
Gonzaga: G Rasir Bolton, G Julian Strawther, G Nolan Hickman, F Drew Timme, F Anton Watson.
Player to watch
TCU
G Mike Miles Jr.: It's a broken record, but the Horned Frogs live and die by their leading scorer, and it was never more evident than in their first-round win over Arizona State, a come-from-behind victory. Miles re-aggravated his hyperextended right knee on a thunderous dunk in the first half but played through it. Miles had 26 points, went 12-of-14 from the free-throw line and made the game's most fateful decision. With seconds remaining and the game tied, Miles accepted a screen from teammate Ja'Kobe Coles, accepted a double-team and instead of trying to force a shot he passed to Coles, who hit a floater for the game-winner. It was an example of the maturity of Miles' game and the trust he has in his teammates. He's averaging 17.6 points per game.
Gonzaga
G Julian Strawther: You know all about forward Drew Timme, one of the top forwards in the country. But it was Strawther who had the big game in the Bulldogs' win over Grand Canyon. Strawther had a double-double — 28 points and 10 rebounds. Strawther was an All-West Coast Conference First-Team selection and is averaging 15.5 points and 6.1 rebounds per game. The quality of his play makes it hard for teams to commit too much in defensive resources to slowing down Timme. That was Strawther's first game of 20 or more points since a three-game streak of 20-point games in mid-February.
Key storylines
TCU
The Horned Frogs have never had expectations like they had this season, and they managed them well considering they finished .500 in Big 12 play. TCU scored some big wins, including a 23-point blowout of Kansas in Allen Fieldhouse. TCU also absorbed some big losses, including a four-game losing streak after losing Miles to injury. That included three straight losses to ranked teams. The Horned Frogs won three of their last five entering the Big 12 Tournament.
In Kansas City the Horned Frogs beat Kansas State and then lost to Texas in the semifinals. The pendulum swung mightily against Arizona State in the first round.
TCU was red-hot for five minutes, fell behind by as much as 11 points in the second half and then needed Coles' floater with a few seconds left to win. It was a big gut check game for the Horned Frogs who are trying to advance to the Sweet 16 for the first time since 1968, when the tournament hosted just 36 teams.
Gonzaga
The Bulldogs are used to being in this position. Gonzaga hasn't failed to get out of the first round of the tournament since 2008. The Bulldogs had another great season built around Timme, the WCC Co-Player of the Year and one of the best back-to-the-basket players in the college game. Gonzaga played a murderous non-conference schedule, with games against Michigan State, Kentucky, Purdue, Xavier, Washington and Alabama. Curiously, the Bulldogs played two Big 12 teams — Texas and Baylor — and lost both. Texas was a road game, but Baylor was a neutral site game the Bulldogs lost by just a point. Gonzaga also fell to Purdue, Loyola Marymount and Saint Mary's. They also have a player on their team with Big 12 experience — former Iowa State guard Rasir Bolton.
Prediction
TCU 81, Gonzaga 80. This should be an entertaining game. Miles' health is a storyline to follow and could influence the outcome. Gonzaga fell to both Big 12 teams it faced, and TCU to me feels more like a Baylor-type of team, so don't expect a blowout. The key for TCU is to get Timme in foul trouble. The Horned Frogs have quick, versatile forwards inside that can do just that.
You can find Matthew Postins on Twitter @PostinsPostcard.