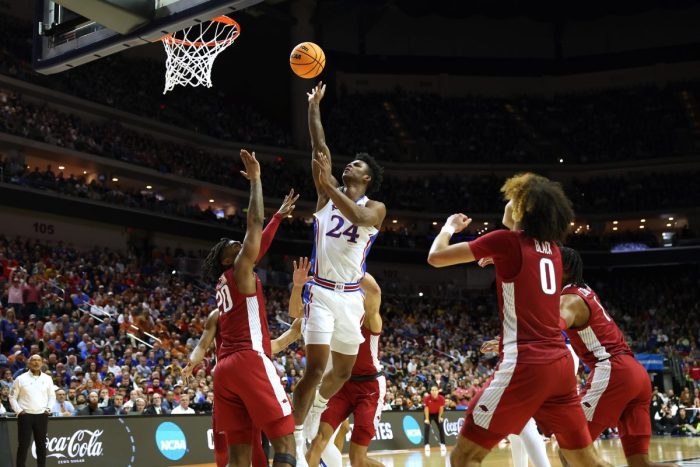 The Kansas Jayhawks lost to the Arkansas Razorbacks, 72-71, in the second round of the 2023 NCAA men's basketball tournament in Des Moines, Iowa. Here are three thoughts on the game.
Kansas (28-8) saw its national championship title defense come to and without head coach Bill Self, who missed the Big 12 Tournament and the NCAA Tournament after a medical emergency last week.
How Arkansas Won
By staying the course and overcoming losing three players to foul trouble, despite an awful night from the 3-point line (3-for-15).
Arkansas fell behind at halftime by eight points and at one point was down 12 points. There were a couple of adjustments. First, Arkansas amped up the defensive pressure in the second half and while it only led to 12 Kansas turnovers, it did slow down Kansas' offense enough to give the Razorbacks a chance to get back into the game.
Second, Davonte Davis had a huge second half. He led the Hogs with 25 points and his second half was exceptional. Considered more of a defensive stopper, his offense was key for Arkansas — until he fouled out.
Davis was one of three Arkansas players to foul out in the game. One was Jordan Walsh (more on him in a bit), who had 10 points, and the other was Makhi Mitchell, who had six points.
Fortunately, Arkansas didn't lose Ricky Council IV, who had 21 points and hit some enormous free throw down the stretch. He went 3-for-4 at the line with 7.1 seconds left to give Arkansas a three-point lead.
Kansas had shots to tie or win but couldn't pull it off. Council ended up with 21 points and was 10-of-11 from the free-throw line.
How Kansas Lost
At one point Kansas was up 12 points. At that point, I didn't think Kansas had it but the Jayhawks were definitely dictating tempo. Then it flipped.
As noted above, Arkansas' defensive adjustments helped. Losing K.J. Adams to four fouls early in the second half didn't help. It took Kansas' best interior player out of the game for a long stretch. And, while Ernest Udeh Jr. and Zuby Ejiofor did their best, Kansas missed Adams. It helped Arkansas get more paint penetration and close the gap. Plus, Arkansas ended up plus-6 on the glass.
You hate to pick apart late-game execution and decision-making, but I felt Kansas made a key error down three with in the last 30 seconds by not working harder for a 3-pointer. We see it too often in college basketball now — coaches waiting until the absolute last second to shoot the 3-pointer.
The fact is while Arkansas didn't want penetration and contact because of foul trouble, they weren't going to shy away from it. As good as Wilson and Gradey Dick are from the 3-point line, I think I would have almost trusted that more than trying to get two's and put a Razorback at the line and hoping someone would miss.
But the game got away from Kansas midway through the second quarter when the Razorbacks rallied and the Jayhawks weren't able to meet the moment. This game became plodding down the stretch and that suited Kansas less than Arkansas.
Wilson had 20 points, Adams had 14 points, Kevin McCullar had 13 points and Dajuan Harris Jr. had 12 points. Dick was relatively absent, scoring just seven points but grabbing seven rebounds.
About the Defense
Before the game, Arkansas's Jordan Walsh dropped into the chat and said this:
"My first—I noticed first that when they play and the team that they're playing against, they're not really pressured to make mistakes," Walsh said. "Like every team has kind of like backed off letting them into their motion, letting them into their offense, letting them get set and do all this stuff.
"But I feel it's different when you come to the SEC. Dudes are going to push up on you full court, like 6'9" wings, 6'9" guards that are going to push up on you and make you turn the ball over. So, I feel like that's one place we have an advantage to push up full court and cause an uncomfortable feeling for them."
I withheld judgment until I saw Arkansas play, because frankly I hadn't seen Arkansas play all season.
Was Arkansas' defense great? Yes. Did it put an immense amount of pressure on Kansas? Yes.
Did Arkansas push them up full court? No.
Was what Arkansas did ANY different than what Kansas faced in the Big 12 this season? Sorry, no.
Arkansas did not pressure Kansas into the amount of mistakes that I think Walsh thought they would. This was not a turnover-riddled game. Kansas had 12 and Arkansas had 10. It was physical, tight and four players fouled out.
In other words, it was a typical Big 12-SEC game that both teams were well-prepared for. And sometimes those games come down to a possession. On Saturday, Arkansas had that one possession.
You can find Matthew Postins on Twitter @PostinsPostcard