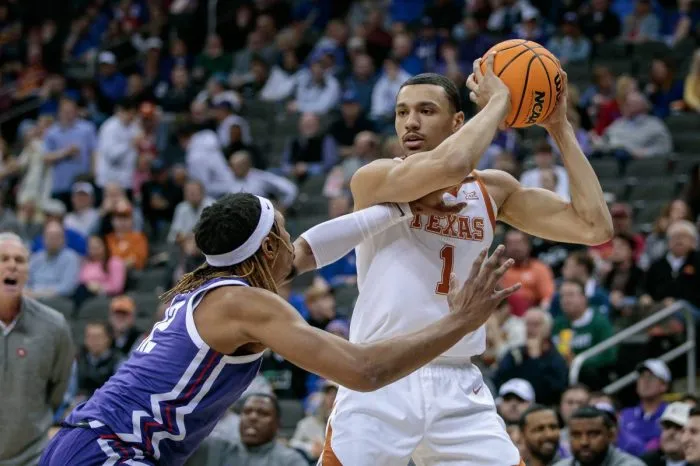 Earning praise from one of the greatest scorers of all time isn't easy, but in the case of Texas forward Dylan Disu, he was granted that from Phoenix Suns forward Kevin Durant.
Durant is not only one of the best players of all time in the NBA, but he also is one of the greatest college basketball players of all time. And through his time at Texas, Durant was a monster, averaging 25.8 PPG and 11.1 RPG.
Durant took to Twitter following the Longhorns' victory over the Penn State Nittany Lions in the Round of 32 to advance to the Sweet 16 in Kansas City.
Durant likened Disu's game to a young Lamarcus Aldridge, another Longhorn great who left Texas to enter the NBA Draft the year before Durant was on campus. Aldridge averaged 13.5 PPG to go along with 8.2 RPG in his two years in Austin.
Disu, who has really bloomed as of late, started his hot streak off in the Big 12 Tournament, taking down Oklahoma State with ease 61-47 in what proved to be the nail in the coffin for the Cowboys' March Madness hopes.
Disu has made a major impact down the stretch for the Longhorns with three straight double-doubles, including last night's big showcase scoring 28 points and snagging 10 boards. The uptick in Disu's performance has shown, as the senior forward had previously averaged 8.4 PPG and 4.3 RPG through this point.
The love for Disu didn't stop there, as Aldridge joined the conversation with a tweet of his own, commending Disu for stepping up.
Disu and the Longhorns are headed to KC to take on the winner of three-seed Xavier and 11-seed Pittsburgh in what should be a tight contest regardless of who ends up as the winner. That game takes place on Friday, March 24.