Basketball
Postscripts: Pac-12's Media-Filled Week, Big 12-NFL Pro Day and a Surprise in Morgantown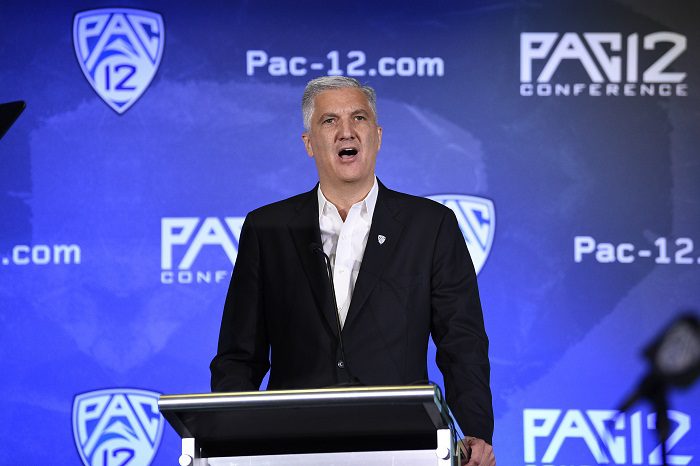 What's going on in the Big 12 and beyond? I expand and explain every Sunday in Postscripts at Heartland College Sports, your home for independent Big 12 coverage.
This week, coaching movement in Morgantown, the Pac-12 basically hosted its own talk show and the Big 12 is leading the way in conference football combines.  
This Week in 'As The Pac-12 Turns'
Remember last week when the Pac-12 was relatively quiet?
Well, we're done with that.
This week brought a torrent of stories from different outlets as the Pac-12 tries to get to the finish line on its media rights negotiations.
Need an Arizona State angle? Well, ASU president Michael Crow said the school hasn't had any discussions with the Big 12 about moving. Here's the full quote:
"There have been no discussions with the Big 12 conference on moving," Crow said. "I mean, there's been discussions between everyone everywhere on all things related to where our conference is going and where stuff's going to end up and what's happening. We are committed to the Pac-12."
So, no discussions with the Big 12 but there's been discussions between everyone everywhere on all things related to where our conference is going? I think someone was still drunk on Everything Everywhere All At Once winning an Oscar on Sunday because that's Jerry Jones-level word salad.
How about the good folks in Oregon? Well, the school has a new president, John Karl Schloz, and he said that "I cannot answer that question right now. I am a hardcore Oregon Duck, but very much want to see what's in the best interest."
That's level-headed and makes sense.
But no one was chattier this week than Arizona president Robert Robbins. In one piece written by Jon Wilner at the San Jose Mercury-News, he said the Pac-12 and Big 12 did consider a merger in 2021 — and he was in favor of it. He was also the only Pac-12 president in favor of it.
Then, Robbins did dueling interviews with The Athletic's Stewart Mandel and CBS Sports' Dennis Dodd, both of which came out the same day. Both were Q&A formats and Robbins was about as honest and forthright about this situation as anyone in his position could be.
In fact, the Pac-12 should just appoint this guy the spokesperson for the entire league until the media rights thing is resolved. He gets it. No fluff. Just straight shooting.
Does he expect the Pac-12 to have a media rights deal in the next couple of weeks? Yep.
Can he make a decision about conference membership until he sees the particulars of said Pac-12 deal? Nope.
"We've got to see what deal we're getting, and then I'll be able to make an informed decision," he told Mandel.
Does he think the current economic climate has hurt the Pac-12's ability to get a deal done sooner? Yes.
Does he like the Big 12? Yes. Robbins said he has some good friends in the conference.
Does he know what the Big 12's "number" is, in terms of revenue? Yep. He also believes the Pac-12 can at least match it.
Is there a deadline for all of those? Not a firm one, Robbins said, but he felt April 15 — which just happens to be tax day — could be a line in the sand, so to speak (he's actually OK with waiting a little longer on the TV deal, if it gets the Pac-12 a better deal).
You could spin both interviews any way you like. But Robbins cut to the brass tax of it all.
He can't make a decision — in fact, no one in the Pac-12 can make a decision — until the league has a final number on the TV deal.
It's like my parents taught me — you don't make a decision until you have to make a decision.
And the Pac-12 doesn't need to make one yet. I mean, that time's coming. But it's not here yet.
Oh, by the way. Two expansive interviews with two major outlets on the same topic on the same day? That's not at all strategic, right?
Then, Robbins did some TV in Sacramento and went full Kumbaya on the Pac-12, saying "We're not going to the Big 12."
I will say this. This path to wherever the Pac-12 ends up has been FAR more entertaining than what the Big 12 went through two years ago. Once those eight teams decided to move forward, expansion happened fast. The TV deal followed the next year.
But the show has to end at some point. And it's coming, one way or the other.
A Big 12 NFL Combine
The Big 12 announced earlier in the week that it was partnering with the NFL to host a Big 12 scouting combine next spring at The Star in Frisco, which is the Dallas Cowboys' training facility.
I can't believe no one hasn't thought of this sooner.
I've covered school pro days before. They've very … informal. I went to Florida's once when I was covering the Buccaneers and you could just grab a coach or player and talk to them for a few minutes.
I doubt this combine will be that informal. I've covered the NFL Scouting Combine before. VERY formal. But I think this will be a great opportunity for Big 12 players that aren't invited to the main NFL Scouting Combine, or ones that are hurt when that combine occurs, to get noticed by NFL scouts.
It's in my neck of the woods, so I guess I'll need to take that day off to cover it.
A New Dawn in Morgantown
I hadn't been able to interact much with Dawn Plitzuweit this season. But it was clear she was moving West Virginia in the right direction when it came to its women's basketball program.
I felt the Mountaineers were a NCAA Tournament team come March and I was glad to see them get the bid, even if it did end in the first round with a loss to Arizona.
So, imagine my surprise when I woke up Saturday morning (Friday night was late with Kansas State and TCU playing at the same time) to see that she was on her way to Minnesota.
It puts her closer to home (she's from Wisconsin), and I get that. But this stinks for West Virginia.
Mike Carey was there for 21 seasons and he turned that program into a consistent postseason participant. Plitzuweit was coming off taking South Dakota to a Sweet 16 run and beating Baylor along the way.
Along with the NCAA bid, she mined her Wisconsin roots for a Top 100 signee in November. She had the needle pointing the right way.
Now? If job changes have shown us anything in this era the Mountaineers could look totally different next season, both in the way they play and the personnel they have.
Plitzuweit is a quality coach and I think she'll have success at Minnesota. But it also opens the door for new athletic director Wren Baker to make his first coaching hire. Aside from the statement he released on Saturday, he'll meet with the media on Monday.
He'll look to make a splash, the right splash. And one that he hopes will stick around.
You can find Matthew Postins on Twitter @PostinsPostcard